December 17, 2007 - 10:02am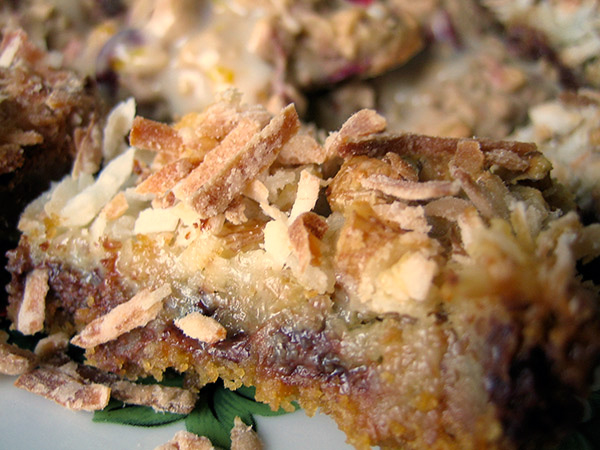 This has been a family holiday favorite since I was around 10 years old. I believe it was a recipe off the side of a graham cracker box, but we got it from a family friend.
Magic Squares

1 stick of butter
1 package graham crackers (1/2 box of crackers)
1/2 bag chocolate chips
1 cup chopped walnuts
1 can sweetened condensed milk
1 bag shredded cocoanut
Place the stick of butter in a large baking pan (9 x 13) and place in a warm oven until the butter melts. Make graham cracker crumbs by placing the graham crackers in a blender, a food processor, or by smashing them by hand (I've done all three). Pour the graham cracker crumbs into the baking pan full of butter and spread them around until you have a full layer of crumbs. Press down to compact it into a crust. Spread a layer of chocolate chips over the crackers. Sprinkle a layer of walnuts over the chocolate chips, then pour the sweetened condensed milk over the walnuts. Sprinkle shredded cocoanut on top. Bake at 375 for approximately 20-25 minutes, until the cocoanut has begun to brown. Remove from the oven and allow to cool before slicing into squares.