Viennese Potato (and Raisins) Bread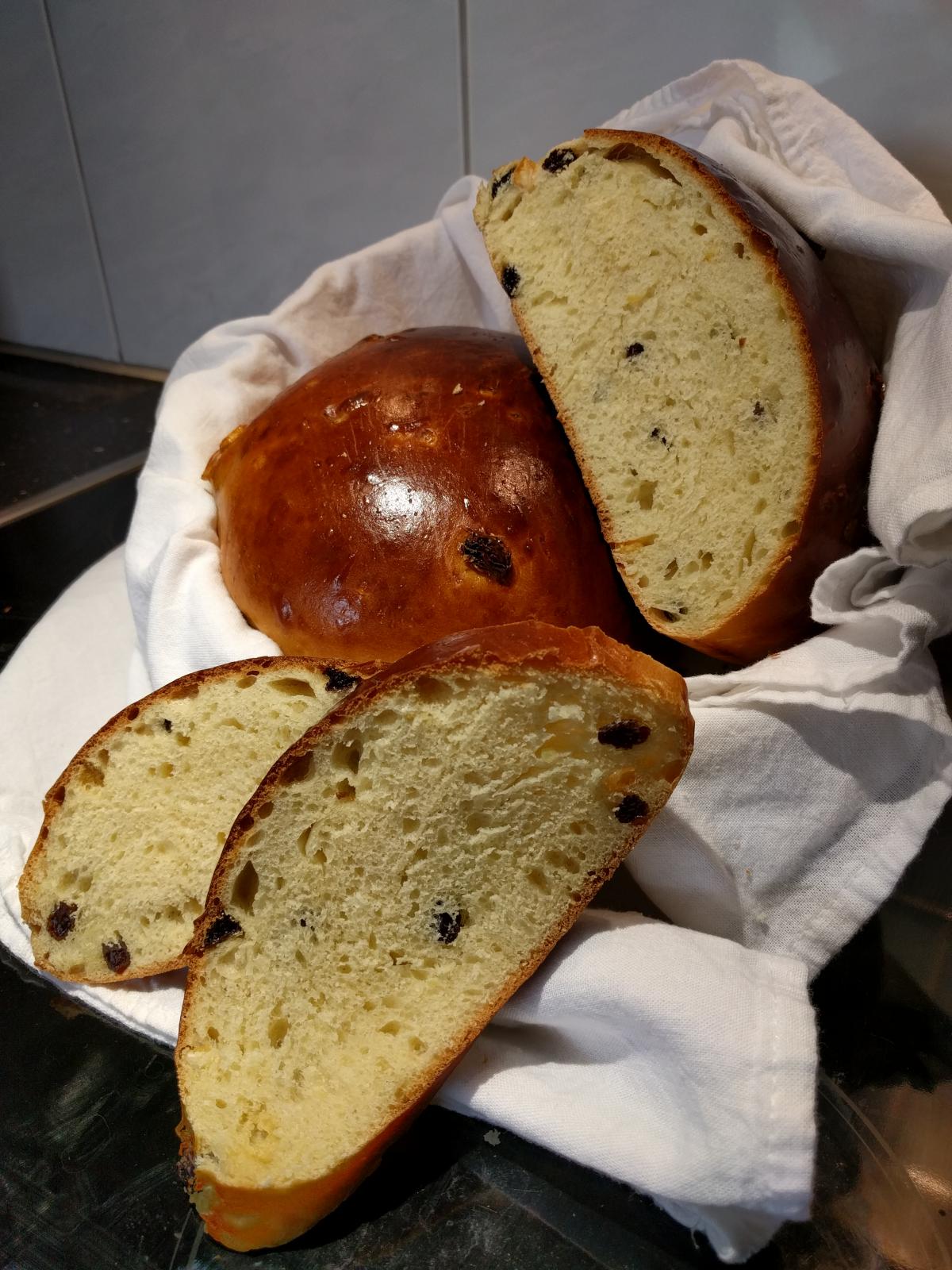 I was really excited after being able to buy  Barbara van Melle's book "Der Duft von frischem Brot" ("The Aroma of Fresh Bread") last week in Vienna.  It's a wonderful collection of recipes from the supposed best master bakers of Austria.  So I was really itching to try out a recipe this weekend and it did not disappoint!
I decided on something easy: Wiener Kartoffelbrot (Viennese Potato Bread, although I prefer adding Raisins to the title since it makes much more sense) from Josef Schrott.  Even though it has potatoes in the bread, you really can't taste that they are there.  The raisins, candied oranges, and other flavors of the bread really make you think it is something entirely different.  Although, I found it slightly too sweet; so I think I'll have to add slightly less sugar next time.  But regardless! it is incredibly delicious and very light (contrary to it being a potato bread).  It reminds me of a brioche with flavoring added to the dough and less fat content.  It makes for a really great dessert bread or perhaps something sweet with breakfast.
Flour (APF)                        100%
Eggs                                    28%
Potatoes (peeled, cooked)  20%
Milk (80°F)                          20%
Raisins                                20%
Butter (softened)                 10%
Sugar                                  10%
Yeast (fresh)                         8%
Candied Orange Pieces       3%
Vanilla Sugar*                       2%
Salt                                    1.5%
Lemon Juice                         1%
Distastic Malt Powder          1%
-------------------------------------------
Total                               224.5%    (1122.5g for a large round loaf or can be divided into two med. sized loafs)

*Can be substituted with 1.5 tsp sugar + 1tsp vanilla extract.
Dissolve yeast in milk.  Mix all ingredients except raisins.
Speed 1 - 4 mins
Speed 2 - 8 mins
Add raisins
Speed 1 - 2 mins
Bulk Rise - 45 mins
Divide, shape, proof - 45 mins
Brush with (1 egg yolk + 1 Tbsp milk), dry - 5 mins
Bake 350°F - 30 mins
Remove and cool
Guten Appetit!