Italian bread with currents, fennel and pine nuts
Italian bread with currents, fennel and pine nuts
May 6, 2017
David M. Snyder
When I started baking sourdough breads, Susan Tenny's "Wild Yeast Blog" was, along with The Fresh Loaf, a major source of inspiration. Susan was also very active on The Fresh Loaf as "susanfnp." Well, sadly, Susan has not kept up her blog, but it does remain accessible and worth a visit.
In November, 2007 Susan blogged on a somewhat accidental bread (You just will have to read her blog to understand.) It was a 50% semolina bread with currents, pine nuts and fennel seeds. I was starting to explore sourdough breads with various nut/dried fruit combinations at the time, so I gave this one a try. I liked it a lot, although my wife doesn't like fennel or pine nuts as much as I do. So, I only made this bread the one time.
Today, I attended a pot luck at a home that has a very large wood-fired oven. The group is mostly Italian, so Susan's semolina bread came to mind as one they would enjoy. I have had good success with an "Italian Bread" based on my San Joaquin Sourdough, so I used that approach rather than Susan's for this formula.
| | | |
| --- | --- | --- |
| Final dough |   |   |
| Ingredient | Wt (g) | Bakers' % |
| AP flour | 300 | 60 |
| Fine durum flour | 200 | 40 |
| Water | 350 | 70 |
| Salt | 10 | 2 |
| Active Liquid levain | 100 | 20 |
| Olive oil | 14 | 3 |
| Whole fennel seeds | 9 | 1.7 |
| Dried currents | 115 | 21 |
| Pine nuts (lightly toasted and cooled) | 72 | 13 |
| Total | 1170 |   |
Notes:
I know the table above does not fit current BBGA conventions. So sorry. I hope this doesn't place my membership at risk.

Hydration is 73%, taking into account the levain.

The liquid levain is my usual 100% hydration levain made with a flour mix of 70% AP, 20% Whole Wheat and 10% Whole Rye flours. 9% of the total flour is pre-fermented.

I generally mix the levain late at night and ferment it a 70-76ºF overnight, and mix the final dough in the morning. If I mix the levain early in the day, I ferment it then refrigerate it until an hour or so before mixing the final dough. If it is still cool, I compensate by using warmer water for the final dough.
Procedure (using a stand mixer)
Dissolve the levain in the water using the paddle at slow speed.

Add the flours and mix to a shaggy mass.

Cover and rest (autolyse) for 20-60 minutes.

Switch to the dough hook. Add the salt and mix at Speed 2 for 6-7 minutes or until there is moderate gluten development.

Add the olive oil and continue to mix. The dough will first come apart and then reform a ball incorporating the oil.

Add the currents, pine nuts and fennel seeds. Mix at low speed until they are evenly distributed – 1-2 minutes.

Transfer the dough to a clean, lightly oiled bowl. Cover and ferment at 70-76ºF for 3-4 hours with stretch and folds on a well-floured board at 50 and 100 minutes. The dough should have increased in volume by half and be filled with small bubbles and feel puffy, although it will also remain a bit sticky.

Refrigerate the dough 8-12 hours.

Divide the dough into four equal pieces. Pre-shape as balls, cover them, and let them rest for 1 hour.

Shape as baguettes.

Proof on a couche for 45 minutes.

Bake at 460ºF for 20-22 minutes with steam for the first 12 minutes.

Transfer to a cooling rack. Cool thoroughly before slicing.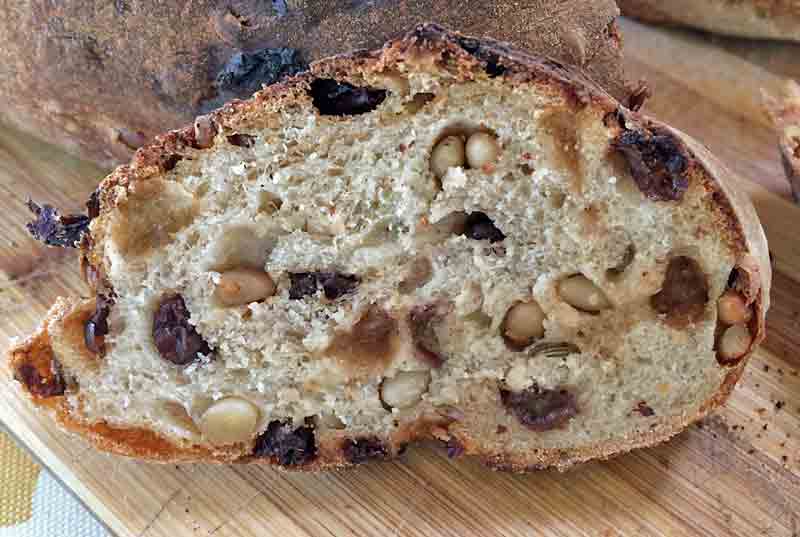 This bread was very well received. Actually, they loved it. In my estimation, while the taste was really good, there is lots of room for improvement. The dough was underfermented. I haven't yet been able to adequately humidify this huge WFO when baking such a small amount of bread. My next step is to make this again, probably using the same formula, fermenting the dough more completely and baking it in my familiar home oven. Stay tuned!
David