Baguette/higher protein flour troubleshooting help?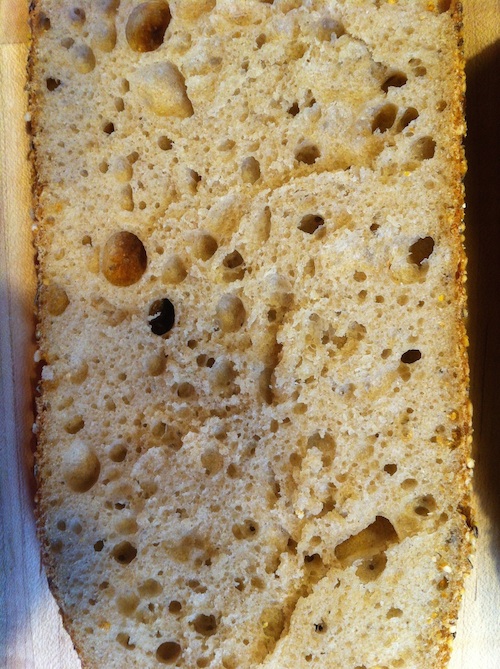 Hey bakers,
My biggest wholesale account is all-organic, so I'm in the process of switching over my flours and test baking like a madwoman. Yesterdays' mix and shape, today's test bake: 2 baguettes (600g) and a 750g boule. The baguettes turned out terrible, and the boule was unimpressive! I have previous successful baguette bakes (with conventional flour) under my belt and also did a production run today of 500g boules with my old (conventional) flour and workhorse formula that turned out beautiful and exactly as expected, so I'm pretty sure it's not the shaping (at least with the boules...?).
The rundown (formula and method is the same for all of the loaves, both new and old flours):
Formula:
18% levain (half-and-half bread flour/whole wheat, 100% hydration)
80% total hydration
27% whole wheat
64% bread flour
2% salt
Method:
AM mix levain, let sit at room temp til airy (about 4-5 hours usually)
2pm mix doughs without salt, autolyse 45 minutes
mix in salt with bassinage
bulk proof 4-5 hours depending on ambient temp, s and fs every 30 minutes for two hours; every hour for 2-3 hours
pre-shape, 20 minute bench rest
shape, into fridge for overnight cold proof at about 38 degrees, 8-12 hours
loaded straight from fridge into preheated oven, steam for 15 minutes then vents open
15-20 minutes more
________________
Old flours: conventional Gold Medal bread flour (12.7% protein), Bob's Red Mill whole wheat flour
New flours: Giusto's Ultimate Performer Organic (13-14.5% protein), Fairhaven fine ground whole grain bread flour
________________
So I'm 100% certain it's not the whole grain flours, as I've been switching those out all over the place and they're not affection performance at all. If I hadn't baked the baguette and the boule at the same time and been disappointed in both I might've thought it was my shaping or proofing of the baguettes alone that was the culprit, but since they're both looking sad I'm at a loss! Is it hydration maybe, what with the higher protein percentage? During proofing and shaping the Giusto's dough handles exactly the same way as the Gold Medal dough.
The pictures show, but in a nutshell: weird crumb pattern; a few half-hearted larger holes and then patches of tight crumb (this is far more pronounced in the baguette, but is definitely present in the boule, too). Pronounced lack of oven spring, again especially in the baguette but also in the boule. Leader picture and first two pictures are baguette; last two pictures are boule.
Any thoughts you guys have would be greatly appreciated, so I can target my troubleshooting bakes!
Thanks in advance....
p.s. I apologize if the pictures show up weird or huge or tiny, I had some trouble getting the image uploader to work for me. Or if they don't show up at all- for some reason they're present in the draft, but not present in the preview.