HELP! Giant caverns, dense outer crumb
Hello! Heavy lurker of TFL since January, first time posting!
A little background: I've wanted to take a stab at sourdough bread baking for a while and finally took the plunge in January, made my own starter, and began baking. I watched numerous videos on bread baking, read articles/blogs, and kind of started winging it. My first couple loaves were failures (too much starter, too long room temp proof). Following a different process (less starter, shorter room temp bulk, overnight fridge proof) my next few loaves were AWESOME! Loaf 5 I encountered what I'm dealing with now - huge cavern inside with dense crumb all around- fed my starter rye for the first time on the first refresh, thinking that's what happened there. Loaves 6-14 were great, even got a couple ears during the bake, tender consistent crumb, good flavor, good oven spring. I thought I was killing it! I've attached a couple photos of my best bakes.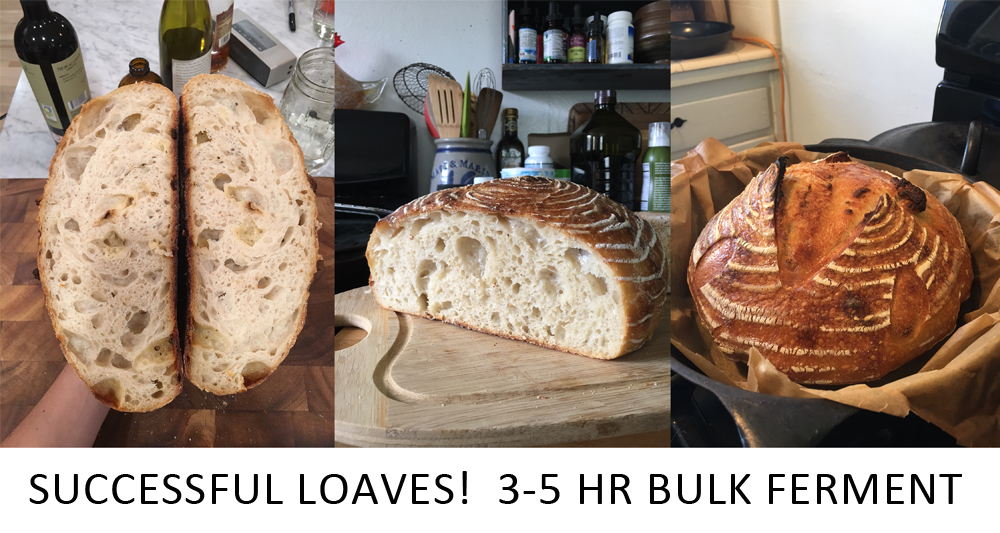 Now, my past three bakes have been total failures, leading me to realize that I really have no idea what I'm doing. My successes thus far have manifested through pure luck, NOT my understanding of the process. I'm currently in an experimental phase where I'm baking everyday and changing one variable in each bake to see if it makes a difference. I'm currently in bread cavern hell, where the inside is a giant cave and the outer 1/2 - 1 inch is a dense chewy crumb. Pics attached. The flavor is nice, but overall epic fails. Is this indicative of over-bulk fermenting? Under proofing? Over proofing? I'm struggling with knowing when the bulk ferment is done. My good bakes bulk fermented for a shorter period of time (3-4 hours with S&Fs every 40 mins); these recent bakes for longer (5-7 hours), so I'm wondering if this is the culprit. I finger poke test for proof doneness (after about 12-16 hours in a cold fridge overnight) and the indentions fill in slowly to about half - sounds about right?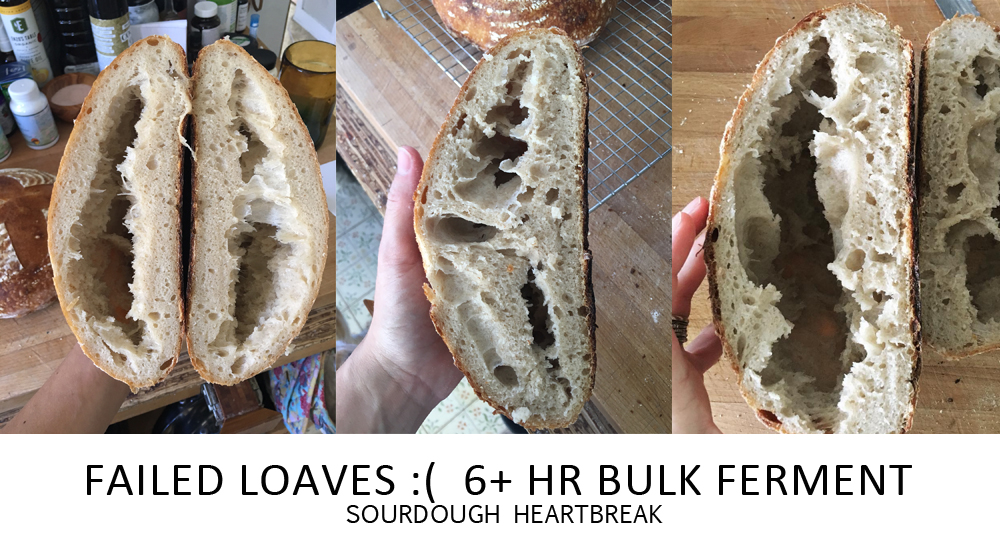 My starter is an organic all purpose, 100% hydration, and doubles in 6-8 hours after refreshment.
Here's my most recent failure process:
1150 g organic all purpose
50 g dark rye (I've found just a little bit adds the flavor I want, without overpowering)
900 g purified water
223 g 100% hydration starter
38 g salt
1. Autolyse flour and water for 1 hour; 2. Add starter and mix, let sit 1 hour; 3. Add salt and mix, and perform first stretch and folds; 4. Perform stretch and folds once per hour, for 6 hours (which is what I'm doing differently than before after reading about other's methods); 5. Pour, cut, and pre-shape after a 6 hour room temp bulk; 6. Bench rest for 30 mins; 7. Shape and put in bannetons; 8. Into fridge for 17 hour overnight cold proof (fridge is quite cold); 9. Bake at 450, 25 mins with lid on, 25 mins with lid off. 
The main difference between my successful methods and failed methods is my bulk ferment time... but I've read so many methods that allow for a 6 hour bulk time. I'm in Northern California where the ambient temp is around 65F. Does this issue even look like a fermenting time problem? 
Over bulk-fermenting? Over-proofing? Under-proofing? What should I be looking for to indicate bulk ferment is done? Has my starter gone wacky? ANY advice is welcome!! I REALLY want to get this right, and bake consistently good loaves! 
**EDIT- I might also mention that i'm not getting much of a rise during bulk or in the banneton**
THANK YOU in advance!!!