September 15, 2016 - 7:06am
A Challenge For Everyone On TFL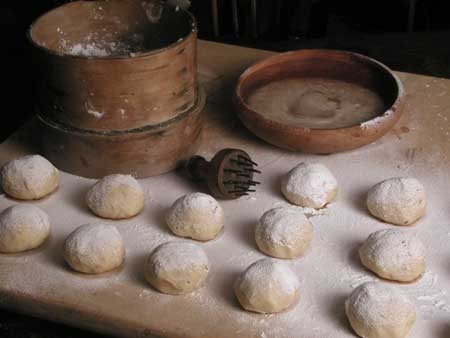 I thought it might be a nice idea for everyone to have a challenge, should you choose to accept it (very Mission Impossible like).
Here is a recipe from 1699 for "Wiggs".
These are little "cakes" leavened with barm, or ale yeast, enriched with butter and eggs, flavoured with caraway and coriander seed and sprinkled with sugar.
Barm or Ale Yeast (is there a difference?) will be difficult to come by for many so feel free to be inventive here.
Without further ado here is the recipe...
To make little Cakes 1699
Take a pound of New Butter and a pound of Wheat flower, one halfe peniworth of Caraway seeds, and another of coriander seeds, 3 yolks of Eggs and one white, 2 spoonfulls and a halfe of New Ale yeast, mixe all these together to a Past, but knead it not, nor mould it but beat it with your hand till it be thin, and cut it in what formes you please and pricke them on the wrong side, strew some searced sugar on them before you sett them in the oven, and when you take them out you must strew some more searced sugar upon them.
From Elizabeth Brown's (Birkett) Receipt Book 1699
P.s. I shall not be attempting these as I do not like butter.