November 18, 2007 - 10:20am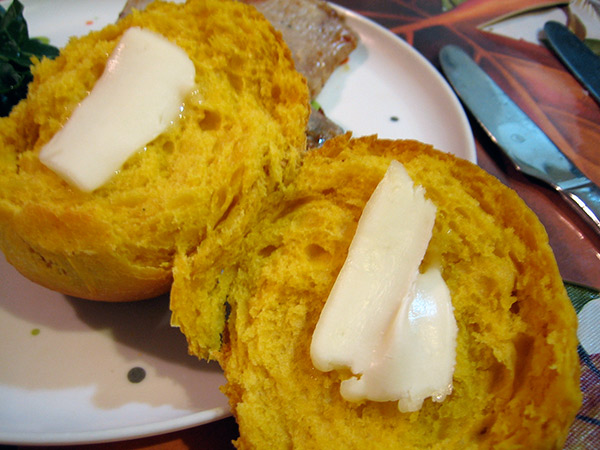 I made this recipe up last night. We thought they were great, so I think I'll make them again for Thanksgiving.
The sweet potatoes give the rolls a beautiful orange color. They also give off a nice earthy smell. You don't taste them very much, though they do keep the rolls soft and supple.
I made mine too large, more like hamburger buns than rolls. Next time I'll divide the dough into smaller pieces.
Sweet Potato Rolls
makes 12 to 18 rolls

1 sweet potato, baked
1 cup milk
1/2 cup white or brown sugar
3-4 cups all-purpose flour
2 teaspoons instant yeast
2 teaspoons salt
1/2 teaspoon ground cinnamon
1/8 teaspoon ground nutmeg
Bake the sweet potato for approximately 45 minutes at 375. Remove the oven and let cool.
Combine the sweet potato, sugar, and milk and stir to make a paste. Mix in 2 cups of the flour, the salt, the yeast, and the spices until thoroughly combined. Add more flour a quarter cup at a time. Mix in after each addition until you have a dough that is tacky but which you can handle with wet hands. When you hit the proper consistency, remove from the bowl and knead by hand for 5 to 10 minutes.
Set the dough aside to rise in a covered bowl for 45 minutes to an hour. Divide into a dozen or so pieces, shape, and then again allow to rise until they have roughly doubled in size, another hour or so.
I suspect they would be lovely if coated with an egg wash. I did not do so, but I may next time.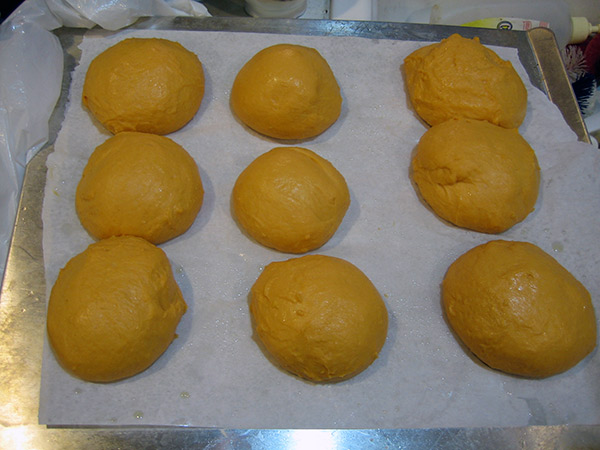 Bake at 375 for approximately 20 to 25 minutes until they are beginning to turn brown.