Deconstructing Muesli Bread
Hi Everyone!
I'm looking for some "crowd sourced" bread help! I'm in Toronto and there's a remarkably delicious "Swiss Raisin Muesli Bread" that's sold at the St. Lawrence Market. It's actually beyond delicious, and I've long wanted to learn how to make it. I'd like to try! Before the questions, here are some pictures.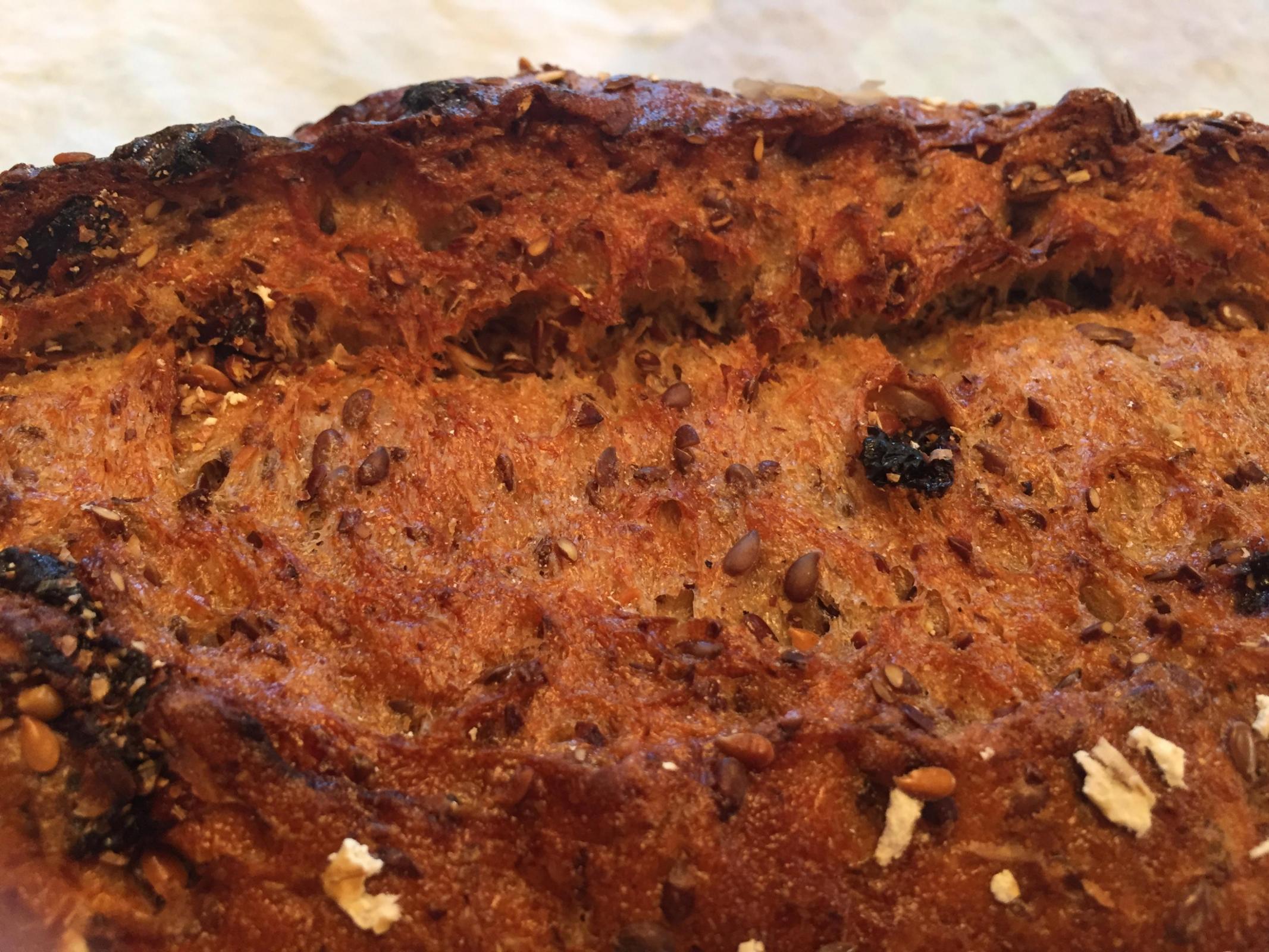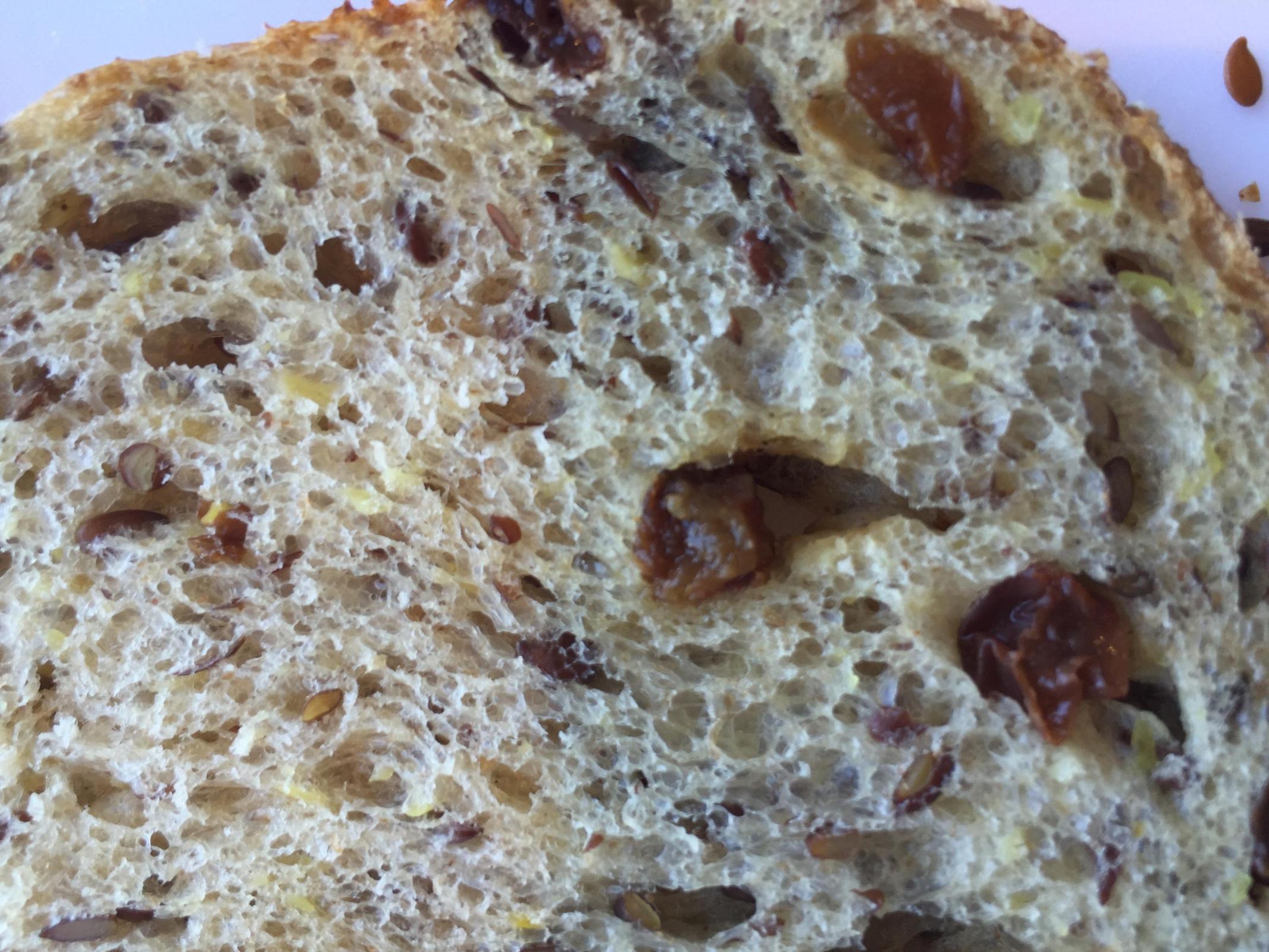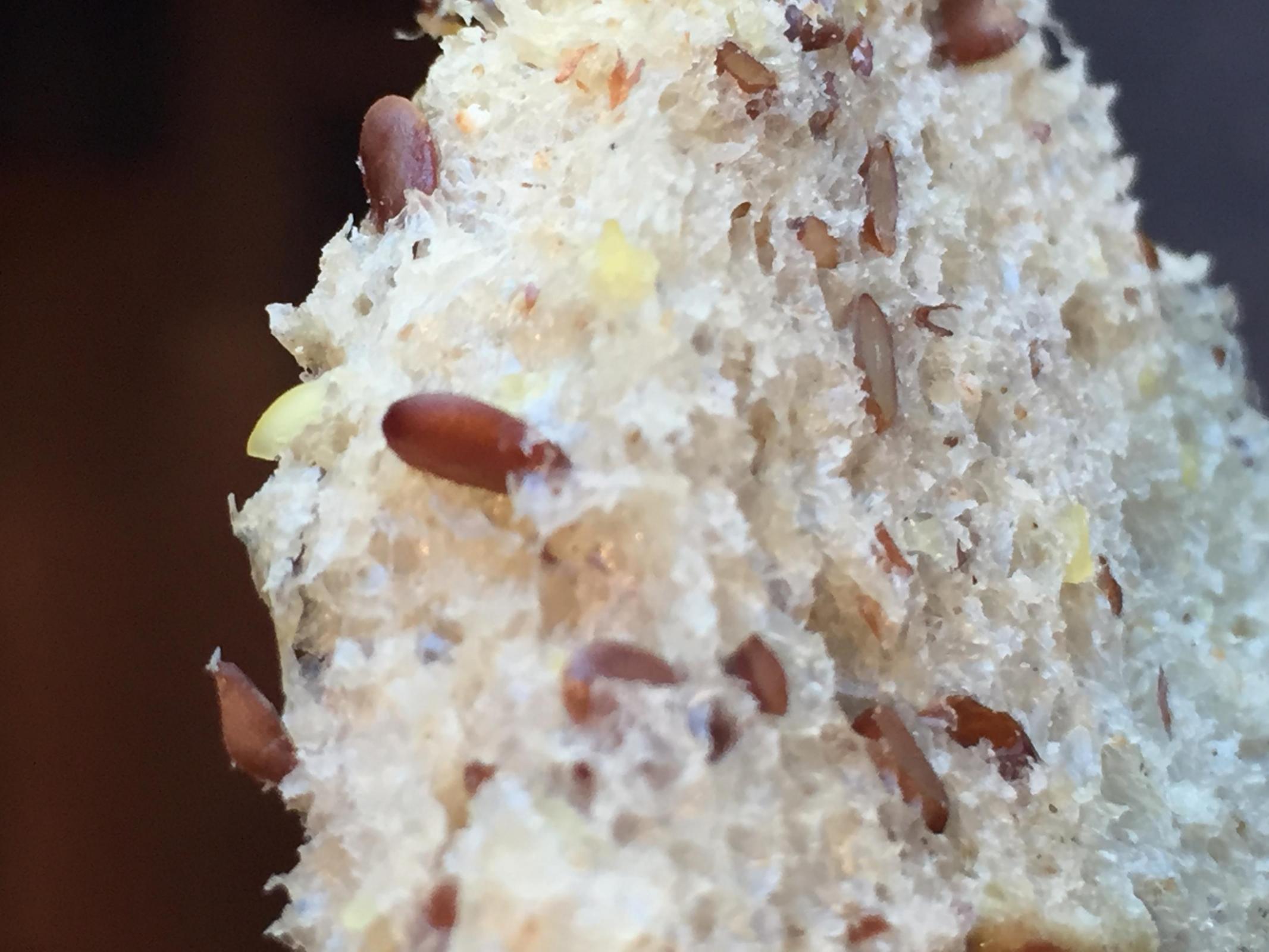 So here's what I believe I know to be true:
Weight - 500 grams
Exterior - rolled in oats, sunflower seeds, brown flax seeds, yellow flax seeds; I don't think anything else
Interior - dark raisins, light raisins (much more moist than the dark ones), brown flax seeds
Smell - no sour notes to be able to tell that it uses a natural starter over yeast; but this is a commercial production loaf not an artisan small batch so I'm not sure what they use. I would use a natural starter. Nutty and sweet gentle smell. Definitely rye influenced smell.
Now here's what I don't know, but think could be in it..
Flour - I think it's a blend of white, whole wheat, whole rye, but then if you look at the pictures there are yellow flecks.. I've never baked with semolina flour, but it makes me think of the pictures in the first Tartine book that has a recipe using semolina flour. What amounts would you use of each? If those yellow flecks aren't semolina, what else could they be? But then again, why use semolina flour in a bread like this?
Raisins - what do you think the light coloured raisins are soaked in? They're so moist they might be treated somehow. Maybe they're just soaked in water.
Sweetness - would you think they'd add honey or something to it? I once made date muffins that required me to warm soak, then puree the dates and raisins, into the recipe. It kind of reminds me of that flavour.  I'm wondering if they did something like that with the raisins here. But if they pureed raisins, then the crumb would be darker in colour. So I don't think so. Maybe they soaked the raisins in plane water and then used that water as the water for the dough? This makes more sense and I'll try that.
Next steps - how do I make it? I'm not experienced enough that I could make this from scratch "eyeballing" it. So I am asking you for some help please! Here is what I think, can you advise?
Levain -  I would build an active levain with the following ratio: 1 part active starter; 4 parts white flour; 1 part whole wheat flour; 4 parts water.  And the night before I would also soak the light coloured raisins in water. 
Bakers percentage math - have never built my own recipe, but may as well start now. For a 500 gram loaf I think it works out to:
white flour - 40% or 200 grams (AP or bread?)
whole wheat flour - 20% or 100 grams
whole rye flour - 20% or 100 grams
semolina flour - 10% or 50 grams
water - 70% or 350 grams (from raisin water) (how do I know what hydration to use? I'm guessing)
salt - 2% or 10 grams (even for this sweeter loaf I think this should be the salt %)
raisins (both) - 15% or 75 grams
brown flax seeds - 10% or 50 grams
Levain - 20% or 200 grams of levain (is this too much and will create big holes in the crumb?)
If i understood what I read about bakers math, the levain percentage should be the flour in the levain as a percentage of the total flour weight in the recipe. So that would mean my 200 grams of levain, has about 100 grams of flour so 100/500 is 20%. As I'm starting with a 1:2:2 starter I know it's not exactly correct that it's only 100grams of flour, but I think that's how it's done. Correct?
Not included in the recipe is the weight of external oats, seeds in which I'd roll the final dough.
Process would look like:
- saturday morning feed an active starter to build the levain, and soak raisins;- 6 - 8 hours later autolyse the flours and water (warm) for at least an hour;
- then add salt and levain, mix well to incorporate and then let rest of 20 minutes;
- incorporate raisins and seeds;
- stretch and fold over every half hour, three times and leave on counter covered;
- once dough has doubled some hours later, shape into a loaf;
- role shaped loaf in sunflower seeds, brown and white flax seeds, and oats;
- put into a sealed plastic bag in fridge overnight, then bake next morning
Ok. That's it from me this morning.. any comments, corrections, thoughts, advice?
In advance, and as always, thank you !
bread1965