February 8, 2016 - 3:53pm
SJSD Baguette attempt with issues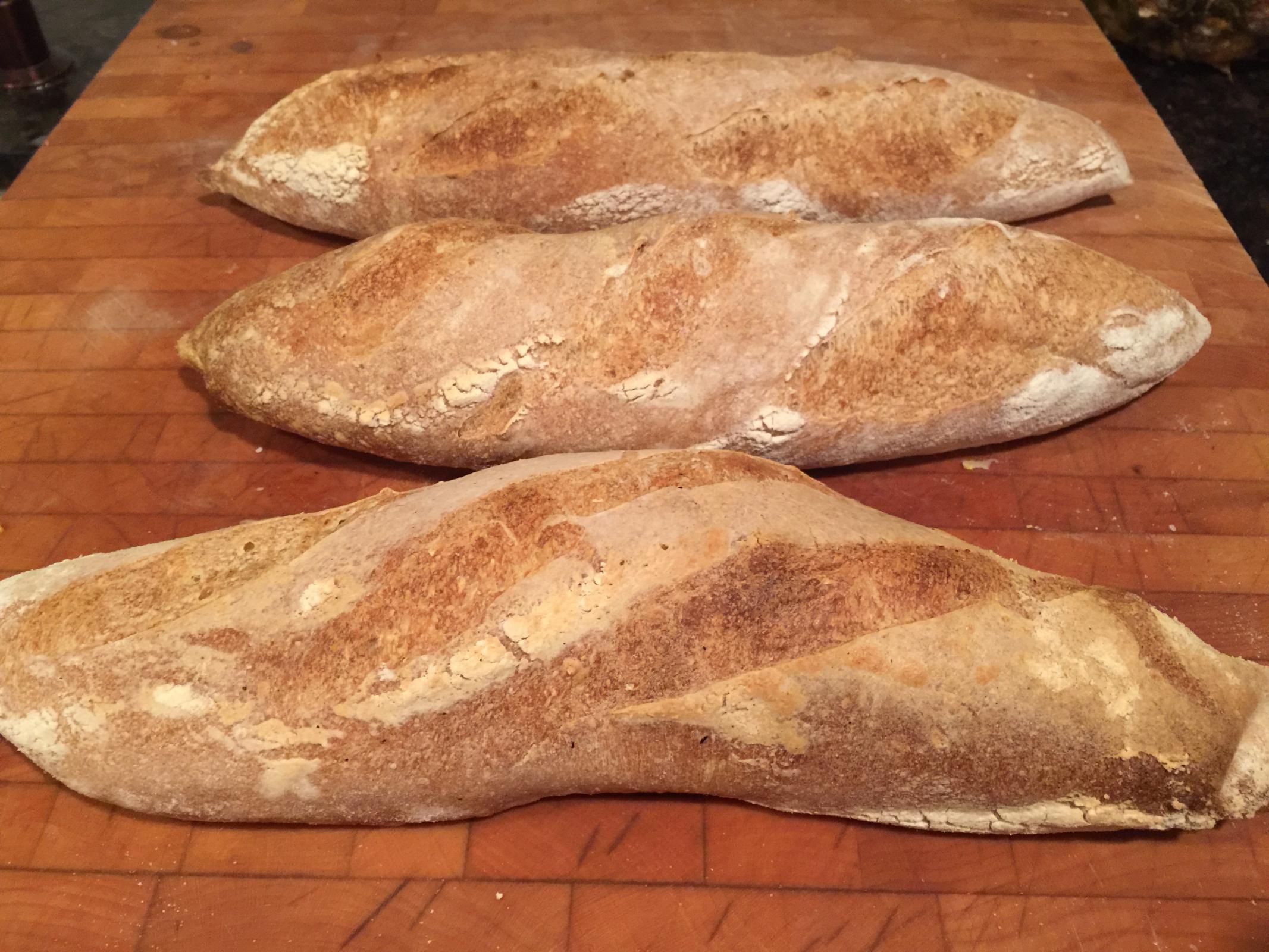 Need some help. I have the same oven as David does (the gas version I believe) and I have a horrid time getting that perfect oven steam. I know this is one of the biggest topics here. What I use:
Gas Oven set to 500F for 1 hour
1 tray of lava rocks placed at the bottom of the oven
I mist the oven with filtered water before peeling onto my stone
I also pour 1 cup of hot water in the pan after I peel
After 20 min, I flip oven to Convection @ 425F.
My oven spring happens, but my slashes are missing and the bread has a dull flour appearance and not the perfect round tube I see on David's posts.
The issues I think I am having with the dough may be some methods I may not be following properly. Looking for David to chime in here. Much appreciated.
Friday I take my starter thats living on my counter. I feed it every other day using Maggie Glezer's formula for a stiff starter (works for me). 
1/4c starter + 3T water + 1/3c flour (using KA MP) knead, ball, cover with wrap in a bowl every other day.
On Friday I took the starter out and added a little bit of water to fake a wet starter. Then I followed David's formula for the levain. It seemed really small volume, like a total of 350g but appeared like 1/4c total of the starter. I let it sit in the pan overnight. Saturday morning it looked like it already fermented and was beginning to fall. Lots of bubbles and activity.
Mixed up the rest of the dough per the recipe for the single batch. Tried the French kneading method, worked ok. Have to work on my rhythm. I let it rest for 2 hours but folded every 30 min. Placed in a plastic container and into the fridge overnight. 
18 hours later pulled out the dough. Cut into 4 pieces and shaped cold saggy baguettes. Placed on my well floured linen cloche. Let rest for 2 hours and saw really no activity so decided to peel into the above oven method described earlier. I got rise and the taste was awesome, but they were pale with burnt bottoms. The slashes disappeared.
Sending up an image in the reply from my phone.
Help?