December 17, 2015 - 6:41am
Sourdough serendipity - creating my starter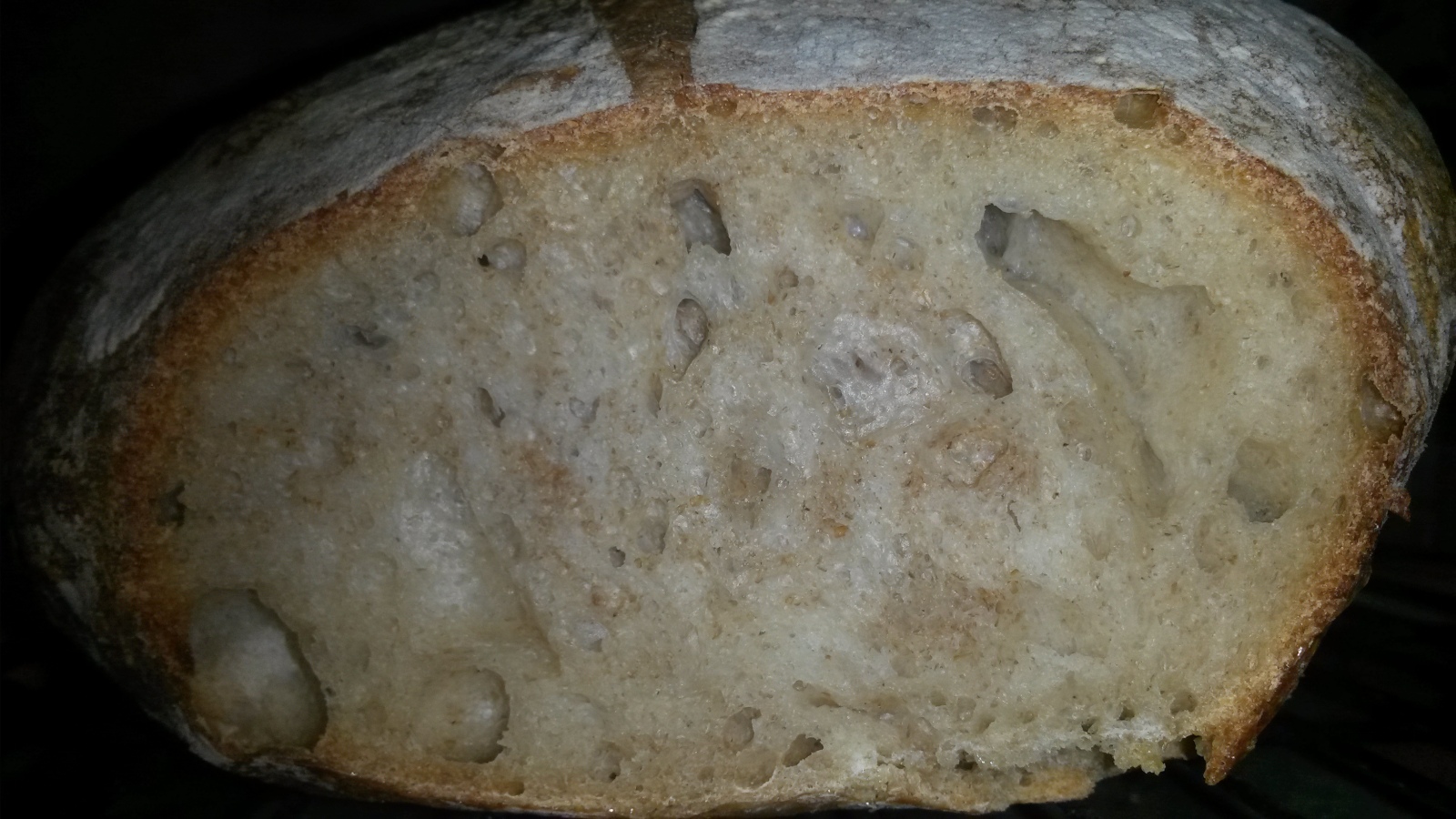 I created the starter November 23 or 24, at 100% hydration with tap water and whole wheat flour. I was patient the first week - quickly saw bubbling activity and could tell the pH was lowering because it took on a lovely clean sour smell.
Kept feeding it once or twice a day, diligent to discard, and continued seeing big fat bubbles form freakishly quickly after feeding. I noticed I could stir it and it'd bubble up like the oxygenation kicked off more feeding, so I thought it a sign of aerobic respiration.
But... no rise.
During the first week or so I had to switch from exclusively whole grain to bleached AP (it was all I had!). I also thought the extra gluten would help reveal any "hidden" rising power.
Nope!
I had thought maybe the starter was being deceptive due to its level of hydration, "not catching the bubbles," as I read on a number of TFL threads. So I went ahead and made a test loaf - a disgusting flat brick. No rise whatsoever (although I had a lot of success developing the dough strength using S&F so it wasn't a complete loss!).
Because of a work trip, I had to refrigerate them about two weeks ago, so I fed them with a 1-2-4 starter-water-flour ratio to follow dmsnyder's formula. We live in the same general region, Central California, so I was hopeful that it would magically take off. I also thought the decreased hydration would positively influence its ability to rise.
After a day or two in the fridge both the jars had a small amount of hooch, the first I had seen - signs of yeast! - so I fed and discarded with the same ratio. About 12 days old at this point.

Went into the fridge glutenous and strong, came out a week later nice and creamy. There was an interesting change in its texture and color, it was really sexy to put it in a weird way, but it still smelled primarily sour.
Repeated the 1-2-4 feeding and returned it to the fridge another week to see the same beautiful creaminess emerge upon its removal.

I fed it, making two separate samples, again with such hope in my heart that they would rise. I cranked up the heater and got my house 67 degrees or a little higher.
Nope - no rise whatsoever. I was so disappointed.
At this point I had to regroup. I had commandeered about 75% of the house's glass jars, and needed to downsize my operation, so I decided to make two tiny starters with just about a tablespoon of culture in each. Put them in plastic containers while cooking that Saturday - and my diligent brother stacked them and moved them into a corner.
I completely forgot they existed for about a week.
When I opened them up yesterday, I could immediately tell there was a change. Lots of tiny bubbles instead of the big fat ones, and a new fruity alcoholy smell instead of the sour acidity that characterized it before. It smelled awesome, not even sour at all, so I was hoping my yeast were finally coming to life!
I had two containers, and they smelled the same, so I fed them both to double my chances for success. I took 1 tbs water, 3 tbs flour and 3 tbs starter, and mixed until comhined.
I could see small bubbles through the sides of the containers after about an hour. I wasn't certain, but it looked like they were starting to peek up over the rubber band.
I woke up this morning to the picture above!
Both of them more than doubled overnight. There has to be a lot said for taking cues from the smells! I knew I was initially getting lactobacillus activity, and the lowered pH had to bring out the yeast sooner or later, but those big early bubbles were such a tease.
I think now that it was as my brother said - the house is too damn cold! We've been between 60-65 degrees the last month, and I don't think my best efforts to warm them gave the yeast enough time to multiply. I was scared of underfeeding them, so I refrigerated them but this probably delayed the process even more (although the only time I saw hooch was after the first two days in the fridge).
I just had to share this with everyone because it was quite a journey but I feel that I may have finally achieved a stable starter that will let me join the ranks of wild yeast bakers of the past and present! At this point, I am going to feed it a couple more times using the same method that I did last night. I won't have a chance to refresh it until this evening, so it will be a little less than 24 hours after its last feeding. Any suggestions as to how to take it from this point would be greatly appreciated. I just can't wait to test it out with a loaf!