September 26, 2007 - 9:09pm
What in damnation is a northern boy doing trying to make a traditional New Orleans Po-Boy? I haven't scarfed down one of those delicious handfuls in quite a while. But once bitten it's near impossible to get past the memory. After many failed attempts, I now believe that I am on the right track and have found a formula and procedure that gets pretty darn close. There is still some adjustment needed with the time and temp to get the crust at the right color when the crumb is just right but it's close now. At least to my recollection. I'll post the bread formula below.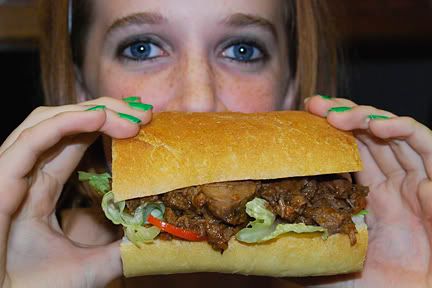 Daughter Gabrielle is ready to try her first Po-Boy!

Crusty close up shows the stratified surface that makes a mess-a good thing!

This is sooo good, I totally understand why it's a secret.

400 F for 20 minutes and 375 for another 15. Door cracked open last 5 minutes.

150 year old dutch oven and chuck roast done NO style.

Po'Boy Roast Beef with Debris. So tender it falls apart just looking at it!
Blue Ribbon French Bread recipe from Bernard Clayton's "New Complete Book of Breads".
Ingredients:
2-1/4 t dry yeast
2T Nonfat Dry Milk
1T Sugar
1T Salt
5C AP flour (I plan to try swapping 1 Cup of cake flour next time)
2C Hot Water (120-130 F)
1T Butter
1T cold water
Method
Mix together 2 Cups flour, yeast, dry milk, sugar and salt.
Pour in the hot water and butter, mix well (2 min with beater blade) then add remaining flour 1/2 cup at a time. Switch to hook near the end of flour.
Add additional flour if needed to get to a shaggy elastic but not sticky mass. I had to add an additional 1 Cup of AP flour approx.
Cover and rest for 10 minutes.
Knead on speed 2 for 10 minutes. Dough should clean sides of the bowl, adjust flour accordingly.
Turn out into a lightly oiled bowl with at least 2-1/2 times the capacity and cover. Let rise until doubled (1-1-1/4 hrs.
Punch down and turn out onto a lightly floured surface. Knead briefly to degas. Divide into 2 pieces, preshape into a loose rectangle and cover loosely, rest 10 minutes.
Press and roll into a 10X16 rectangle. Using fingers, roll up into a 10 inch jelly roll. seal the seam and ends.
Roll and stretch to longest dimension of your parchment (about16") and place on parchment lined sheet. Cover loosely with saran and proof for 45-60 minutes. The dough should double easily in 45 min.
Pe heat oven to 400F 20 minutes before bake time.
Brush dough with cold water, slash, steam oven and bake for 35 Minutes. Rotate half way through for even color. I lowered the temp after 20 mins. to control color. Clayton says to bake to a golden brown. For me that was just 35 Mins. Cool on a rack.
Clayton says this is a smooth creamy crusty bread. I would add it has a great flavor with complex after taste. I can't imagine this being much better. Honestly I didn't change a thing from Claytons suggestions and formula. It was perfect the first time. I plan to purchase the book to see what other great things he has to say.
I would appreciate any comments from those who try this.
Eric