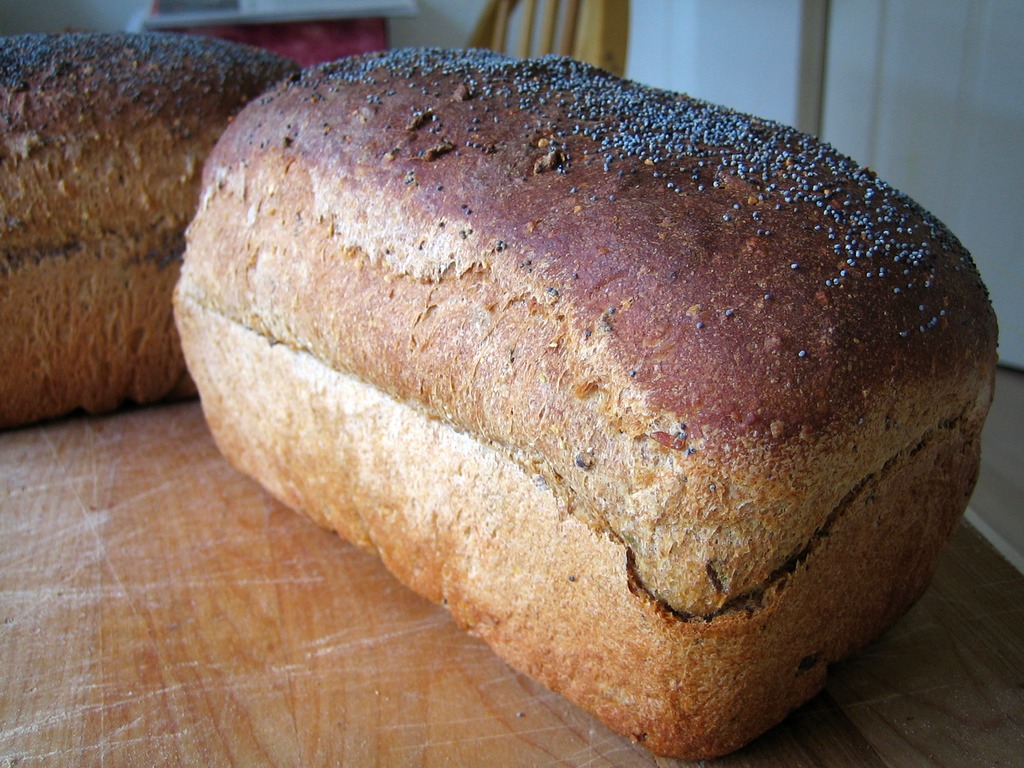 I still recall hearing the buzz around my hometown, Forestville, California, about the new cafe that had opened there when I was growing up, Brother Juniper's.
Inevitably people's comments sounded something like "My sandwich/chili/coleslaw was excellent, but did you try the bread? It was incredible!" The bread people were talking about was Struan Bread, Peter Reinhart's attempt to recreate a Scottish harvest bread he had read about known as Struan Micheil.
The original Struan was baked on Michaelmas (Spetember 29) and would contain small amounts of all of the grains being harvested that season. So, if you've never tried it, this is definitely the time of year to try baking Struan.
In his latest book, Peter Reinhart's Whole Grain Bread, Peter offers an updated whole wheat, multigrain version of Struan Bread (a previous version of Struan is available here). I baked a double batch of it this evening using a mixture of cooked brown and wild rice as well as uncooked coarse ground corn meal as the grains. Handily, along with volume measurements his book includes weights (in both metric and imperial) as well as the baker's percentages for all recipes. I'm posting just volume. If you want the weights or Peter's more in-depth instructions, get the book!

Multigrain Struan
makes 1 large loaf
Soaker
7 tablespoons whole wheat flour
1 1/3 cups cooked and uncooked grains (rice, quinoa, millet, etc.)
1/2 teaspoon salt
3/4 cup milk or buttermilk
Biga
1 3/4 cup whole wheat flour
1/4 teaspoon instant yeast
3/4 cup water
Final Dough
Soaker
Biga
7 tablespoons whole wheat flour
5/7 teaspoon salt
2 1/4 teaspoon instant yeast
3 tablespoons honey or sugar
1 tablespoon melter butter or oil extra whole wheat flour as needed
DAY ONE Soaker: Mix all of the ingredients ingredients to make a thick porridge-like dough. Cover and leave at room temperature for 12 to 24 hours.
Biga: Mix all of the ingredients to form a ball of dough. Knead for a minute or two by hand until all flour is fully hydrated. Let the dough rest for 5 minutes, then knead again for 1 minute. Place the dough in a bowl, cover, and refrigerate overnight.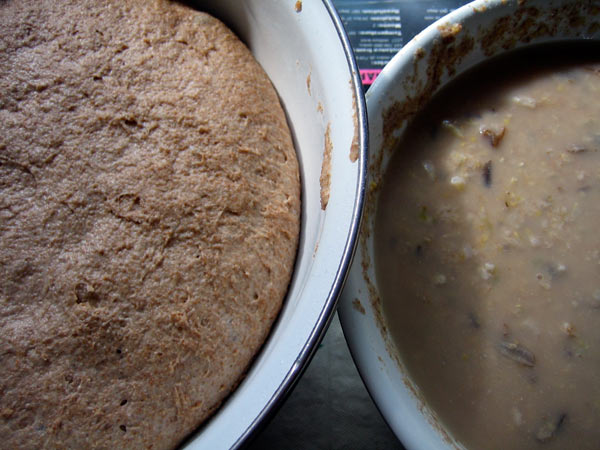 biga and soaker
DAY TWO
Remove the biga from the refrigerator an hour or two before preparing the final dough. Chop or tear the biga into smaller pieces and combine with the soaker. Add the remaining ingredients and mix well. Knead by hand or machine for roughly 5 minutes until all the ingredients are evenly distributed. Add additional flour or water to achieve the proper consistency (a slightly sticky dough that'll hold its shape). I added as much as a cup of extra flour because the grains I added were precooked and did not absorb a great deal of moisture.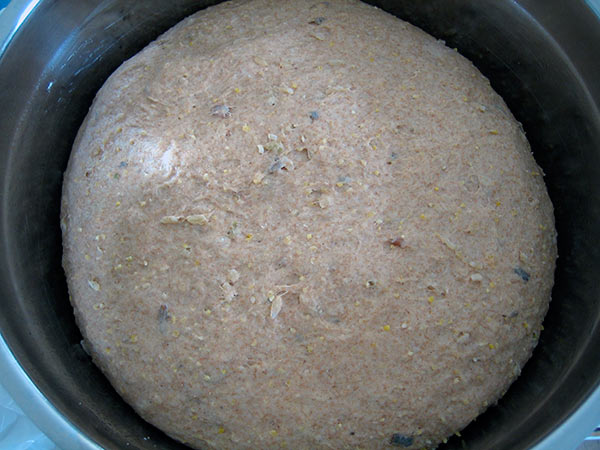 Place the dough in a greased bowl and allow to rise until 1 1/2 times its size, roughly 45 minutes to an hour.
Shape the dough and place in greased pans for the final rise. If you want poppy seeds on top, spritz the loaf with water and sprinkle seeds before the final rise.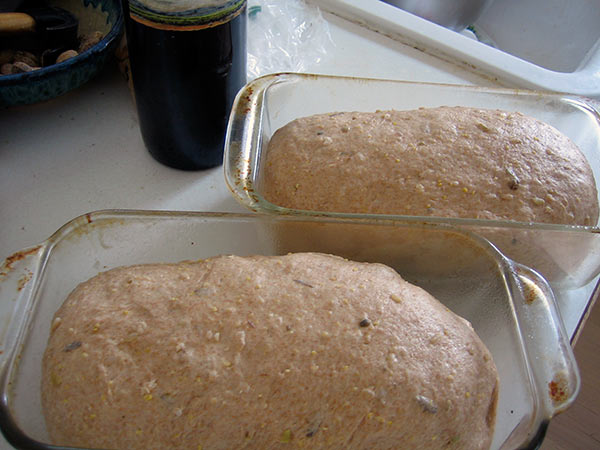 Pre-heat the oven to 425 while the loaves are rising.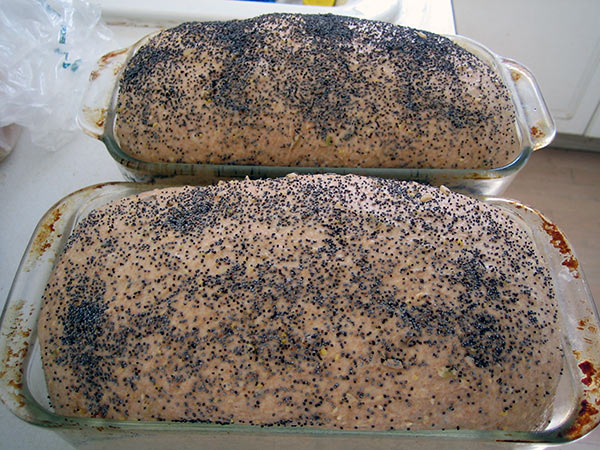 To bake, place the loaf in the preheated oven. After 5 minutes, reduce the temperature to 350 and bake for 20 minutes. Rotate the loaf 180 degrees and bake about 20 to 30 minutes until the loaf is deep brown, makes a hollow sound when tapped on, and when the internal temperature reads at least 195 degrees. Remove the bread from the oven and allow to cool for at least one hour.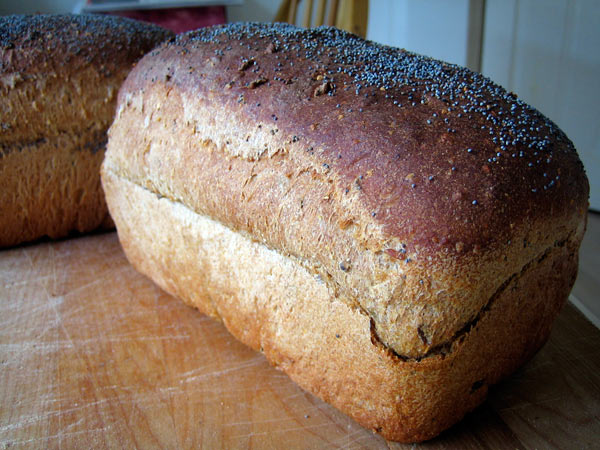 Peter Reinhart's Whole Grain Bread is now available from Ten Speed Press.