January 19, 2015 - 5:04pm
My Everyday Bread in the Cuisinart Combo Steam and Convection Oven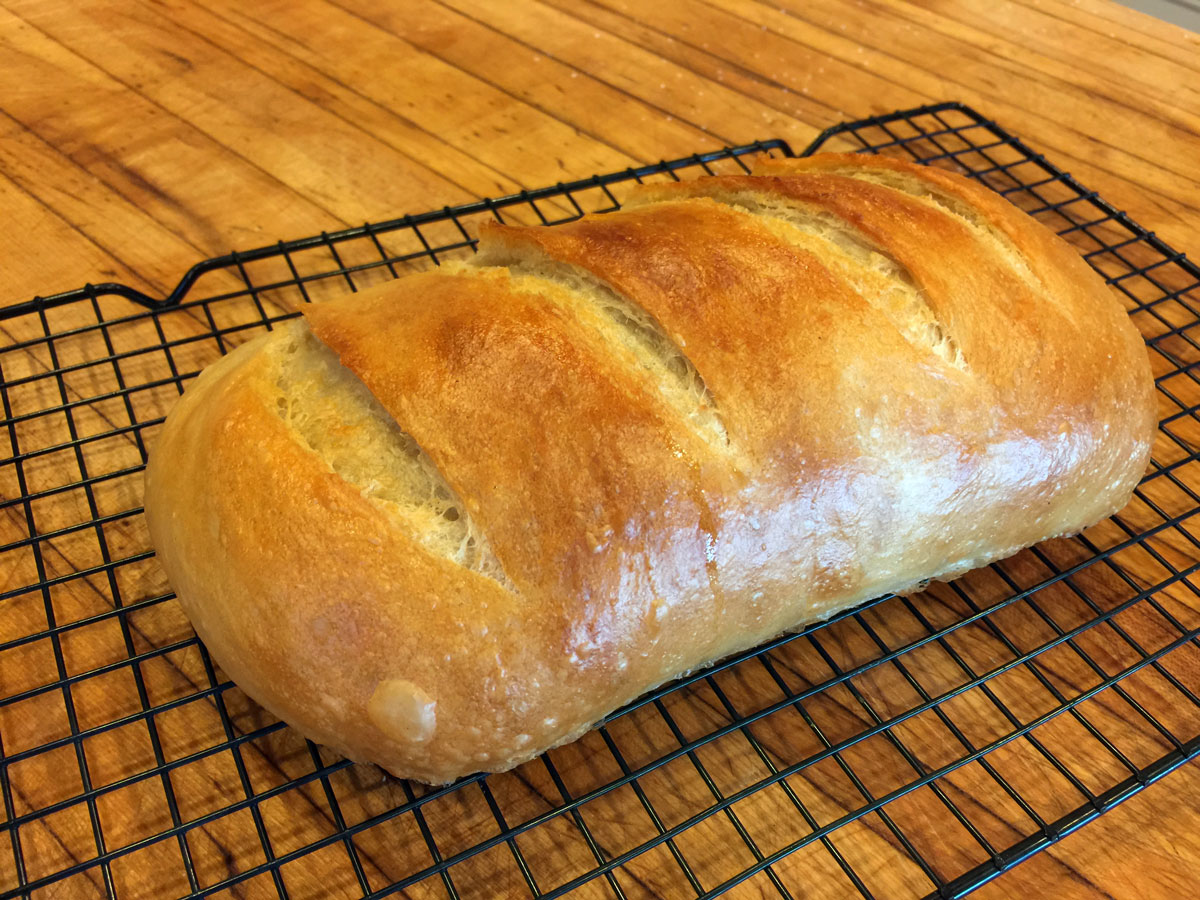 I bought one of the Cuisinart Combo Steam and Convection Ovens about a year ago. There are two baking features that fascinated me. First of all, a steam cycle that could be set to 100F, perfect for a proofing oven. The steam keeps bread dough moist when rising and maintains an ideal temperature. Secondly, a built-in bread baking cycle that bathes the loaf in steam during the early baking stages and turns off the steam a bit later. Ideal for forming a nice crust.  Steam conducts heat much better than air, which is why this works so well.
Here are the details on the oven http://www.williams-sonoma.com/products/cuisinart-combo-steam-and-convection-oven/
My goal was to be able to put a small loaf of good bread on the table more often, several times a week, with a minimal effort. I didn't want to mess with feeding starters or getting out the mixer for heavy kneading. I knew that refrigerated no-knead dough was the way to go.
I loaded up a food grade plastic shoe box from the Container Store with 2 lbs King Arthur Sir Gallahad flour, 1.5 TBLS kosher salt, 1.5 TBLS instant yeast, and 26 ounces luke warm water. Mixed those ingredients just enough to wet the flour. No more than 5 minutes from start to finish. Set the shoe box out on the counter for several hours until the dough had risen and was full of bubbles. 
I could tear off about one fourth to one third of the dough at this point, proof it in the Combo oven for about 45 minutes, and then bake it for 30 to 50 minutes depending on the size of the loaf. If using cold dough from the refrigerator, the proofing time increases to about an hour and a half.
The shoe box then goes into the refrigerator for up to three weeks. When time to refill it with a new batch of dough, I leave at least a cup or two of the old dough to mingle with the new dough. That enhances the yeasty flavor of the bread.
To bake a small loaf, I simply tear off enough dough to make a small loaf and shape it into an oblong loaf shape. I use the metal pan that comes with the Cuisinart oven with a piece of parchment paper between pan and loaf.  I put it into the oven and set the steam proofing cycle at 100F for 30 minutes if fresh dough or 90 minutes if refrigerated dough.
After the proofing cycle, I reset the oven to the Bread Cycle for 30 minutes if a small loaf or 45 to 50 minutes if a larger loaf. I don't slash the top of the loaf until the bread has been in the hot oven for about 7 to 9 minutes and has partially risen. I use a serrated knife smeared with oil. I hot slash my loaves because it is so much easier than slashing uncooked wet dough.
Always comes out great and so very easy