December 20, 2014 - 11:30am
I tried my hand at another loaf today, this one with a bit higher hydration (although I'm not quite sure how to calculate that exactly.) I roughly used the Ken Forkish Overnight Country Blonde recipe that I found on the internet (off to buy his book today).  It wasn't exact and to be honest, I rarely weigh flour when I bake bread, I usually go by feel, but I did try following this recipe except for the way he does his starter/levain.
I took my starter out of the fridge on Thursday afternoon and left it to warm up, then fed it a bit and left it overnight. Friday morning, I took out 40g, fed the rest and returned it to the fridge.
Then I fed the 40g starter with 40 g water and 30 g rye flour and went to work.  It tripled in size before I even got home from work on Friday.
I mixed 402g AP flour, 38g rye flour with 342g water and let it sit for 30 minutes. Then I added 11g of salt and my 110g starter and mixed it with the dough arm of my kitchenaid.  I dumped it into a container and did a stretch and fold every 30 minutes for about 3 hours and then left it on the counter overnight. The dough rose so high that it popped the lid off (the lid wasn't closed tight). This photo is about 7 hours later, 10 hour bulk ferment total. I'm not sure if letting it rise this much is a good thing or a bad thing. It just rose a lot more than the first loaf so I judged the timing by that loaf.  Your thoughts/comments?
Notice the green line near the bottom that shows where it started.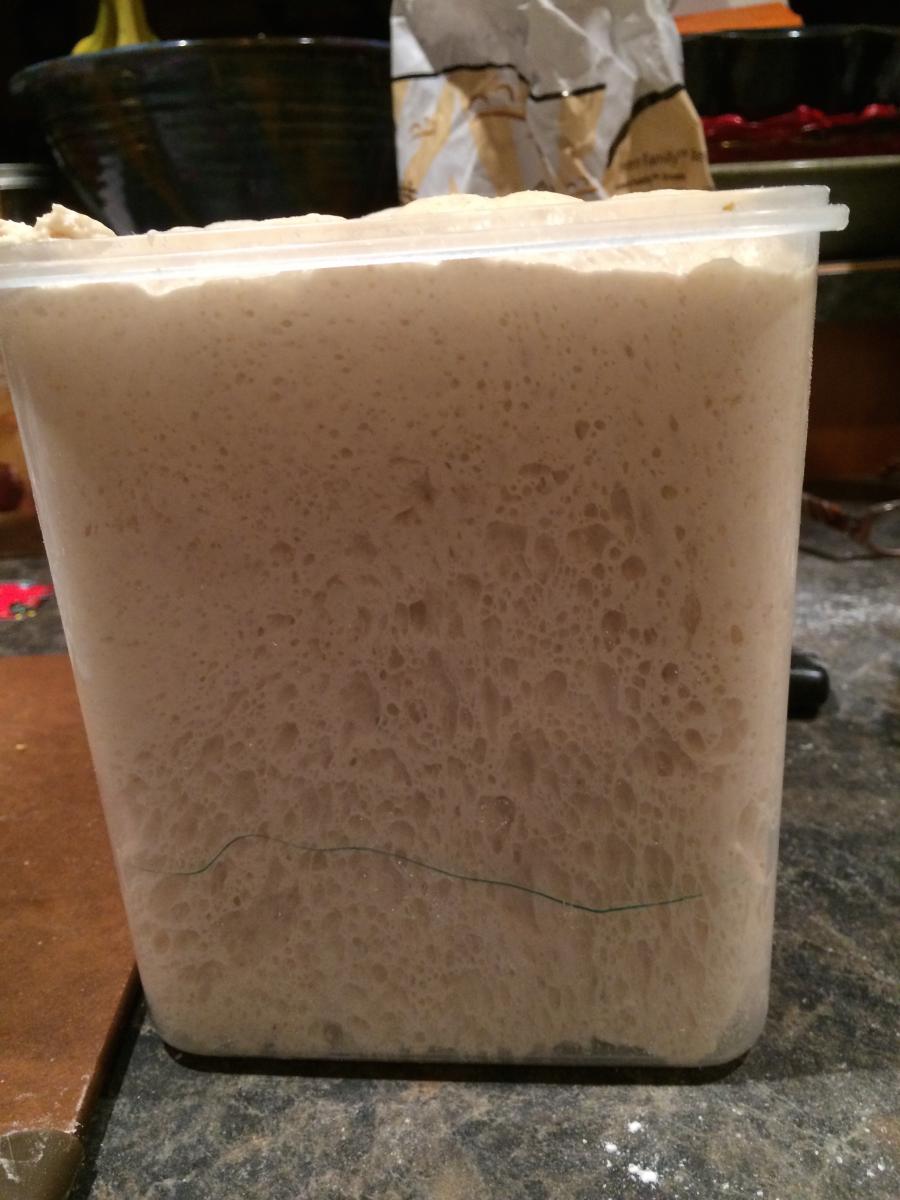 This morning, I formed it into a longer loaf instead of a boule (what is that shape called?) and let it rise.  It rose much more quickly than the first loaf and it was ready to bake in 90 minutes but I hadn't heated the baking stone yet so it sat for another hour. 
I baked it at 450F on parchment on the stone for 20 minutes (spraying water into the oven a few times), then turned it around and planned to bake it another 20 minutes, but it seemed ready in 10 so I took it out after a total of 30 minutes. 
This time I let it cool fully before cutting.
I like this loaf even better than the first. It is a little lighter in texture (assumably due to higher hydration) and the crust isn't quite as heavy, but it is still chewy and has amazing flavour. I am SO stoked about this bread.
Thanks again for all of your help!
Here are a few pics.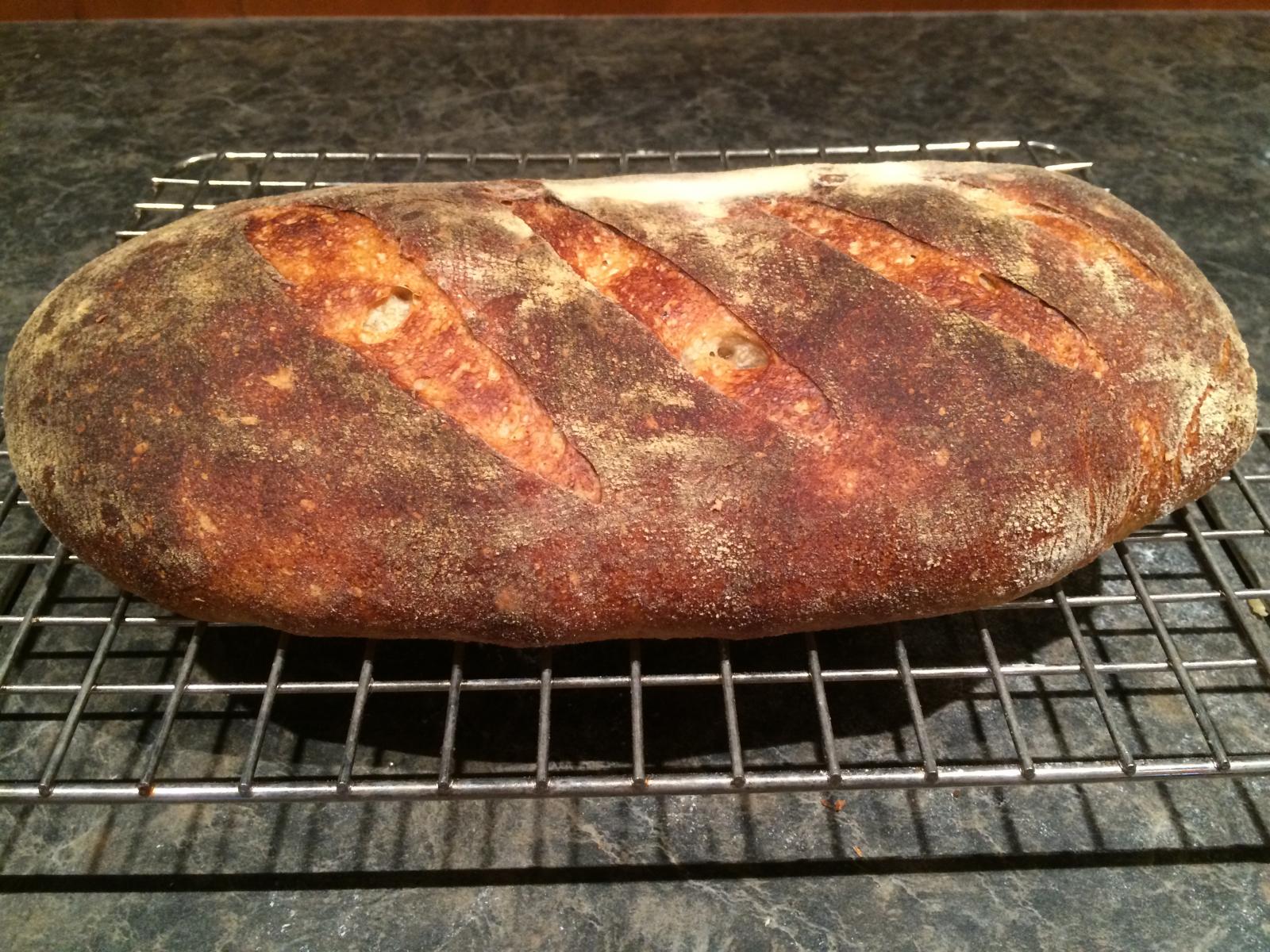 And here's a close up of the crumb.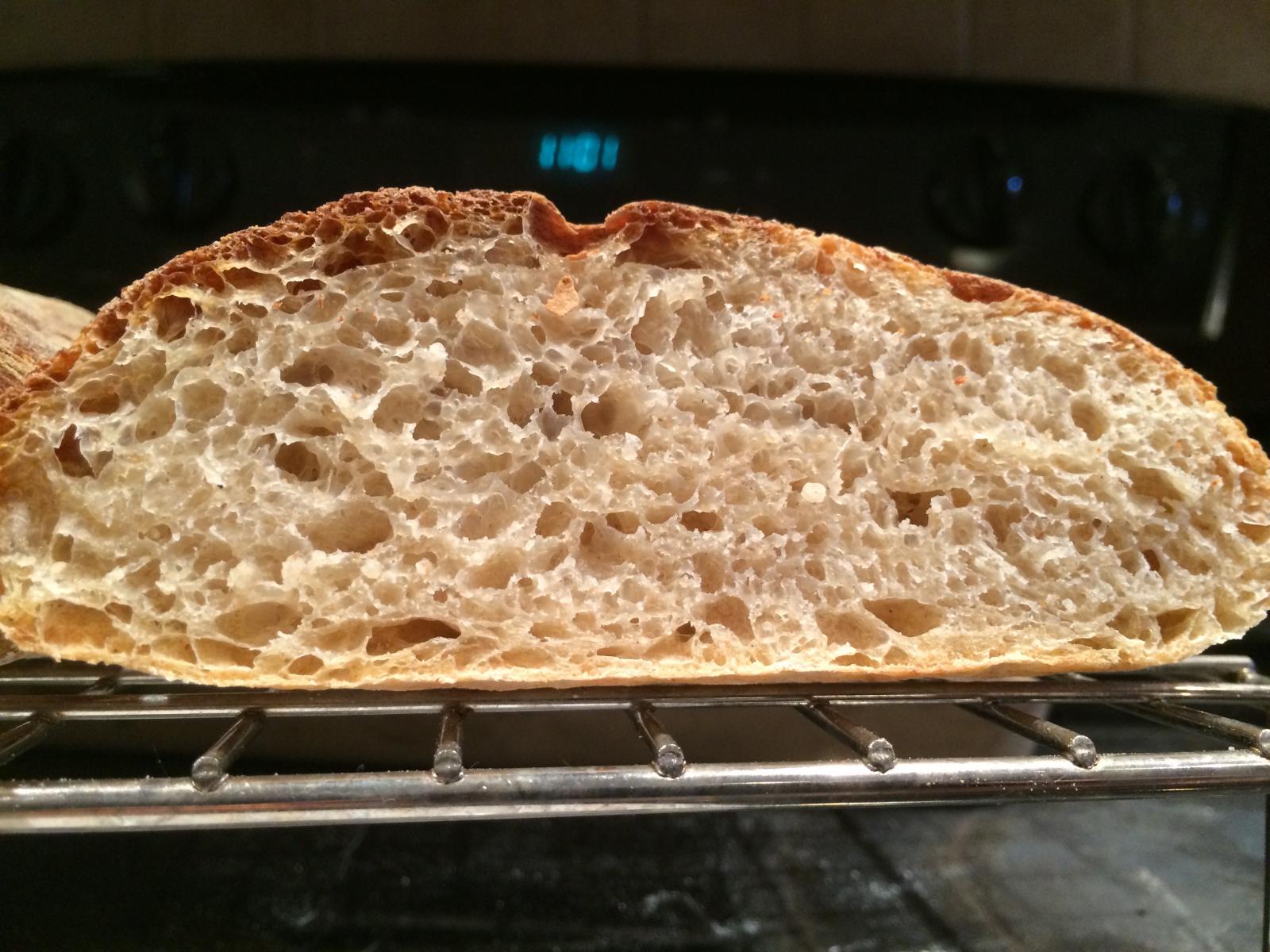 Today I am off to the book store to buy some of the books people recommended, as well as a banneton, a scraper, and razor bade, and a spray bottle. (Merry Christmas to me :)
A few people have mentioned an instant read thermometer.  I have an electronic thermometer I use for meat (the probe goes into the meat and the device sits on the kitchen counter). Would that work?