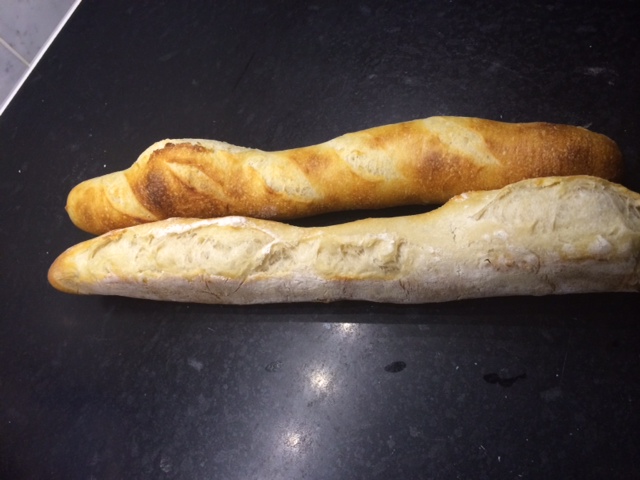 So I used my usual SD recipe that I typically form into a boule and tried baguettes using a shaping technique where you make a rectangle, de-gas, fold lengthwise to the middle, roll/pinch, roll/seal, elongate as found on you tube.

I skipped the elongate step because my loaves were already long enough after taking my pre-forms to the first rectangle. I guess I could have made them too long and cut them then. In the past I simply made a long tube and didn't do any other kind of forming.


From I see it looks like the baguettes rolled, split on the bottom (now side)seal.
1. do more homework ahead of time (directions?, what directions?)
2. portion loaves smaller (half or less of the 275g I used)
3. elongate
4. slash deeper, or at least across a greater portion of the perimeter
5. seal better
6.-10. practice, practice, practice

The crumb wasn't terrible, at least not where the loaf had a chance to expand.

Are the odd shapes just a result of poor forming and irregularly de-gassing?

One thing I noticed here, and when I also form boules, is that I tend to get a fair amount of surface bubbles when forming. The baguettes looked like warted frog skin, I popped a couple but didn't like how it looked. During the final proof the bubbles seemed to go away.

Thanks for your help.
Jim

ps (What's the best way to include photo's) Other than the thread avatar it seems a bit cumbersome.