July was a very busy month. I had family in town, the Open Source Conference to attend, many things to take care of at work and many summer activities to participate in. I have been baking, I just haven't had the time to post about what I've baked.
In the past couple of weeks I've baked:



my standard white sourdough


a light rye and a dark rye from Daniel Leader's new book, served with roast pork


my baked potato bread, served with a grilled steak


blueberry muffins and blueberry coffeecake and blueberry pancakes and blueberry waffles. Guess what is in season here?


Today I baked an Italian white loaf with biga from Leader's book and Hamelman's sourdough semolina bread: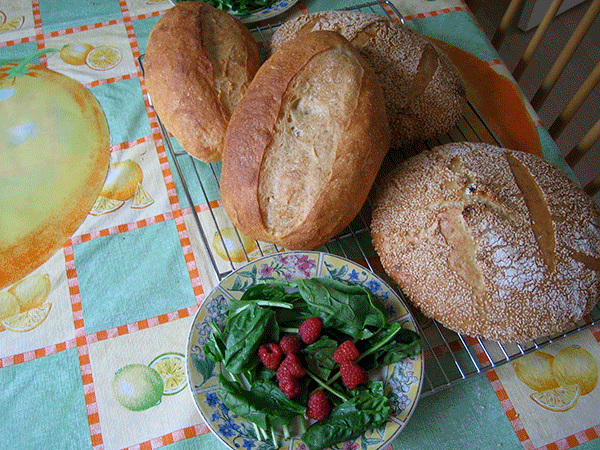 I didn't do a good job shaping the semolina bread so I got the lazy baker cavities, but they tasted great. Wonderful with manicotti, a bottle of Barbera Montferrato, and spinach raspberry salads.
I know I said I was going to post a full review of Daniel Leaders's Local Breads, but I don't know when I'm going to have a chance to. Let me just say for now that it is a very nice book: authentic formulas from European bakers (France, Italy, Germany, Poland, Czech Republic) that includes helpful shortcuts for the home baker. I can't think of another book that does a better job of providing useful instructions for both amateur and advanced bakers: if you want to execute a recipe authentically this book tells you how, but for every complex step or difficult-to-find ingredient Leader provides a shortcut. It has helpful FAQs, beautiful photos, nice layout and typography, and is probably the most professionally executed bread book I've read. As I mentioned before, it reminds me of the now out-of-print Village Baker, but coming 15 years later in the artisan bread revolution than The Village Baker (and after the Internet became mainstream) it is much more mature. I know the last thing many of us need is another baking book and most of recipes are traditional European recipes that can be found elsewhere, but it is worth checking out the next time you are in a bookstore. If nothing else, it'd be a good one to give a friend for the holidays rather than trying to track down a battered old copy of Village Baker.