Pane Valle Maggia, ver. 2 3/7/2014
Pane Valle Maggia, ver. 2
March 7 , 2014
Last month, I made Pane Valle Maggia, inspired by Josh's "Pain Maggiore." It was a very good bread, but I wanted to make it again using freshly milled whole wheat flour. Also, I thought it would be improved by pre-fermenting the rye component. So, I made both changes for today's bake. The Total Dough ingredients were basically unchanged.
The whole wheat flour was milled with the KitchenAid mixer's Grain Mill attachment. I put Hard Red Winter Wheat Berries purchased in bulk at Whole Foods Market through 4 passes, starting with the coarsest setting and progressing to the finest setting.
The rye sour was elaborated in 3 builds from my refrigerated rye sour.
| | | |
| --- | --- | --- |
| Whole Wheat Levain | Wt. (g) | Baker's % |
| Active liquid levain (70% AP; 20% WW; 10% Rye) | 16 | 48 |
| Fresh-milled Whole Wheat flour | 33 | 100 |
| Water | 36 | 109 |
| Total | 85 | 257 |
| | | |
| --- | --- | --- |
| Rye Sour | Wt. (g) | Baker's % |
| Active Rye Sour (100% hydration) | 54 | 50 |
| KAF Medium Rye flour | 109 | 100 |
| Water | 109 | 100 |
| Total | 272 | 250 |
Both levains were mixed in the late evening and fermented at room temperature for about 14 hours.
| | |
| --- | --- |
| Final Dough | Wt. (g) |
| Fresh-milled Whole Wheat flour | 141 |
| KAF AP flour | 544 |
| Water | 566 |
| Salt | 17 |
| Both levains | 357 |
| Total | 1625 |
| | | |
| --- | --- | --- |
| Total Dough | Wt. (g) | Baker's % |
| AP flour | 550 | 64 |
| Whole Wheat flour | 175 | 20 |
| Rye flour | 137 | 16 |
| Water | 746 | 86 |
| Salt | 17 | 2 |
| Total | 1625 | 188 |
Procedures
In the bowl of a stand mixer with the paddle installed, disperse the two levains in 500g of the Final Dough Water.

Add the flours and mix at low speed to a shaggy mass.

Cover and allow to autolyse for 1-3 hours.

Add the salt and mix at low speed to combine.

Switch to the dough hook and mix to medium gluten development.

Add the remaining 66g of water and continue mixing until the dough comes back together.

Transfer to a well-floured board and stretch and fold into a ball.

Place the dough in an oiled bowl and cover.

Bulk ferment for about 3-4 hours with Stretch and Folds on the board every 40 minutes for 3 or 4 times. (Note: This is a rather slack, sticky dough. It gains strength as it ferments and you stretch and fold it, but you still have to flour the board and your hands well to prevent too much of the dough from sticking. Use the bench knife to free the dough when it is sticking to the bench.)

Divide the dough into two equal pieces and pre-shape round.

Cover with a damp towel or plasti-crap and allow to rest for 15-30 minutes.

Shape as tight boules or bâtards and place in floured bannetons, seam-side up.

Put each banneton in a food-safe plastic bag and refrigerate for 8-12 hours.

Pre-heat the oven for 45-60 minutes to 500 dF with a baking stone and steaming apparatus in place.

Take the loaves out of the refrigerator. Place them on a peel. Score them as you wish. (I believe the traditional scoring is 3 parallel cuts across a round loaf.)

Transfer the loaves to the baking stone.

Bake with steam for 13 minutes, then remove your steaming apparatus/vent the oven.

Continue baking for 20-25 minutes. The loaves should be darkly colored with firm crusts. The internal temperature should be at least 205 dF.

Transfer to a cooling rack and cool completely before slicing.
The whole wheat flour particle size was much larger than that of the Giusto's fine whole wheat flour I had been using. It had a sandy consistency, not unlike Semolina flour. When mixed, the dough was slack but also soft like an semolina semolina dough. It did pass an early window pane test after mixing. The dough gained strength during bulk fermentation with 3 stretch and folds on the board, but it remained more extensible and less elastic that the dough made with fine whole wheat flour. I was concerned that the crumb would be too dense.
I baked these loaves right out of the refrigerator.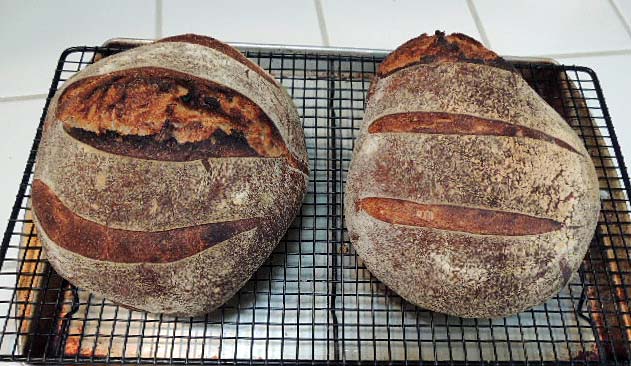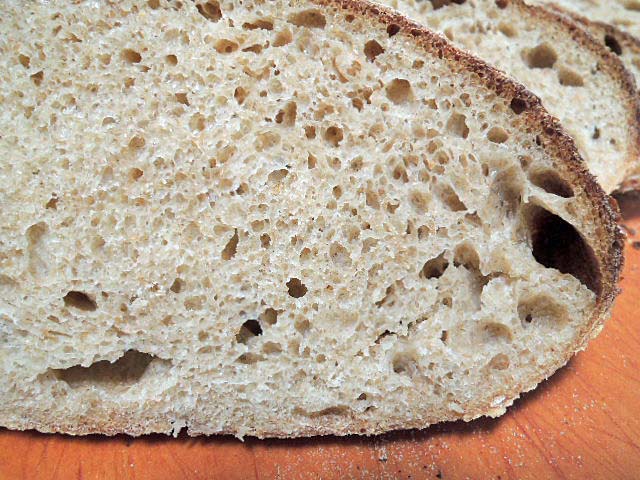 The crust was thinner and less crunchy than the last bake of this bread. The crumb was less open than last time and had fewer large holes than ordinarily expected of a dough at this high-hydration level. I really can't attribute the denser crumb to the coarser whole wheat flour. This bread is 20% whole wheat, while the San Francisco Sourdough I made with the same flour has 30% whole wheat. I really am unable to nail any of the other "usual suspects" at the moment. I'll just have to make this bread again and see. Oh, the sacrifices we make! 
This bread had a wonderful aroma. It was very tender and less chewy than the last bake.The flavor was extraordinary. When first sliced after cooling, the bread was very sour, which I attribute particularly to my use of rye sour. It was not so sour as to mask the delicious, complex flavor. A wonderful sweet, wheaty flavor predominated. I could not discern a distinct rye contribution to the flavor. In fact, the flavors were well-balanced and integrated. I am accustomed to this kind of mixed flour bread needing at least 24 hours for the flavors to meld. It will be interesting to see what this tastes like tomorrow.
I found myself wanting to keep tasting the bread while cleaning up after lunch. It occurred to me that this is a bread I could easily make a meal of, no butter, cheese or other distractions necessary. This is definitely a bread I will want to make frequently.
Since I was going to be milling flour anyway, I figured I might as well mill enough to make a couple loaves of San Francisco-style Sourdough Bread with increased whole wheat. (See: San Francisco-style Sourdough Bread with increased whole wheat flour)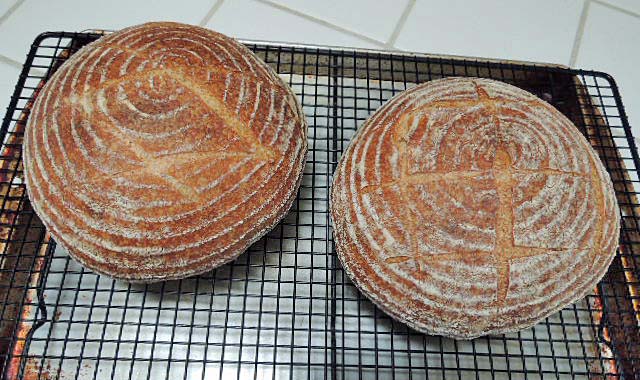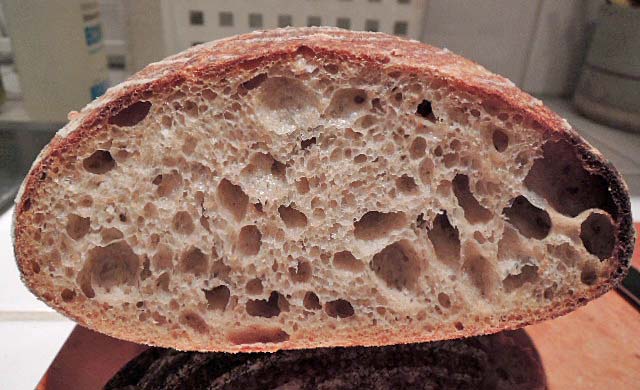 I was pleasantly surprised when I sliced the SF SD. The crumb was really nice and open. Moreover, the crumb was moderately chewy. Obviously, there is more going on than the difference in the whole wheat flour. The flavor had in common with the Pane Valle Maggia a moderate sour tang and a lovely, wheaty flavor. 
And, since I was feeding my rye sour anyway, I figured I might as well build enough for a couple loaves of Jewish Sour Rye.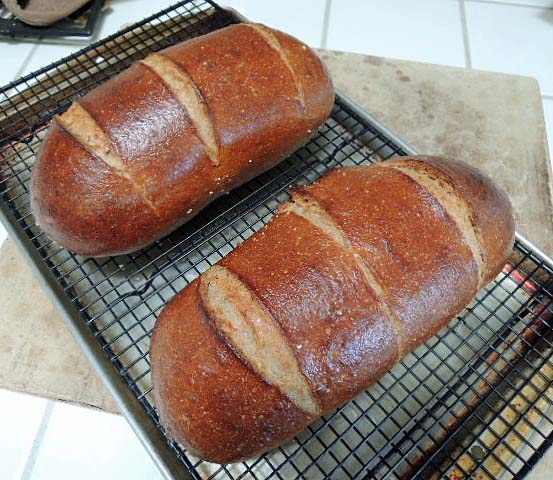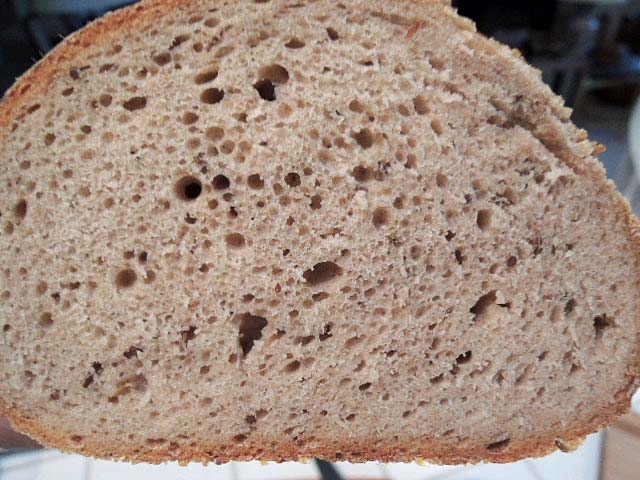 This rye, like the last ones, was baked at the higher temperature - 460 dF for 15 minutes, then 440 dF for another 20 minutes. I do like the results better than those I got baking at 375 dF. Very good when first sliced and delicious toasted  for breakfast.
All in all, a very good couple of baking days. 
Happy baking!
David