November 2, 2013 - 6:29pm
 Last week, I got a nice private message from a TFL member who had just made and enjoyed the Sourdough Italian Bread about which I blogged back in 2008. That bread was Peter Reinhart's Italian bread from BBA with the biga converted to a biga naturale, AKA firm sourdough starter.
That message reminded me that in 2011 I developed another "Italian Bread" formula that I actually preferred to the 2008 version. Coincidentally, my Italian class classmates have been harassing encouraging me to bring some of my breads to class for them to sample.
So, I decided to make the 2011 Italian Bread and San Francisco-style Sourdough Bread with Figs and Walnuts (San Francisco-style Sourdough Bread with Walnuts and Figs) to share with my class.
Sourdough Italian Bread
Those who have made my San Joaquin Sourdough may note the resemblance between the method outlined below and that for the SJSD. This is not coincidental. On the other hand, any resemblance between this bread and any bread actually baked in Italy …. Well, whatever, it is quite delicious.
| | | |
| --- | --- | --- |
| Ingredients | Wt. (g) | Baker's % |
| AP flour | 400 | 80 |
| Fine durum flour | 100 | 20 |
| Water | 350 | 70 |
| Salt | 10 | 2 |
| Sugar | 14 | 3 |
| Diastatic malt powder | 5 | 1 |
| Active Liquid levain | 100 | 20 |
| Olive oil | 14 | 3 |
| Total | 993 | 199 |
 Note: When I blogged about this bread in 2011, Andy (ananda) pointed out that the diastatic malt was probably unnecessary, since most American flour has some malted barley already, and it's redundant with the sugar. However, I did not review those comments until after the dough was mixed. Maybe next time I'll leave out the malt.
Method
In a large bowl, disperse the levain in the water.

Add the flours, sugar and malt to the liquid and mix to a shaggy mass.

Cover the bowl and let it rest for 20-60 minutes.

Add the salt and olive oil and mix thoroughly. (Note: I squish the dough with my hands until it comes back together, then do stretch and folds in the bowl until it forms a smooth ball and the oil appears completely incorporated.)

Transfer the dough to a 2 quart lightly oiled bowl, and cover the bowl tightly.

After 30 minutes, do 20 stretch and folds in the bowl. Repeat 3 more times at 30 minute intervals.

Refrigerate for 12-36 hours.

Divide the dough into two equal pieces and pre-shape as rounds or logs. Cover with a clean towel or plasti-crap and let rest for one hour.

Shape as boules or bâtards and proof en couche or in bannetons for about 45 minutes. (Note: Optionally, if proofing en couche, roll the loaves on damp paper towels then in a tray of sesame seeds. Alternatively, you can brush the loaves with water and sprinkle with sesame seeds. If proofing in bannetons, you would use the second method but after transferring the loaves to a peel, just before baking.)

One hour before baking, pre-heat the oven to 480ºF with a baking stone and steaming apparatus in place.

Transfer the loves to the baking stone. Steam the oven, and turn the temperature down to 460ºF.

After 15 minutes, remove the steaming apparatus. (Note: What I actually do at this point is switch to convection bake and turn the oven down to 435ºF for the remainder of the bake.) Continue baking for another 12-15 minutes or until the loaves are nicely browned and the internal temperature is at least 205ºF.

Transfer the loaves to a cooling rack. Cool completely before slicing.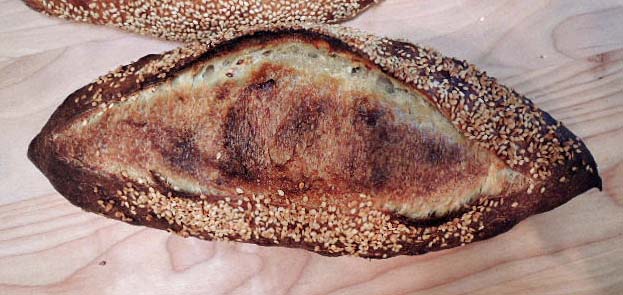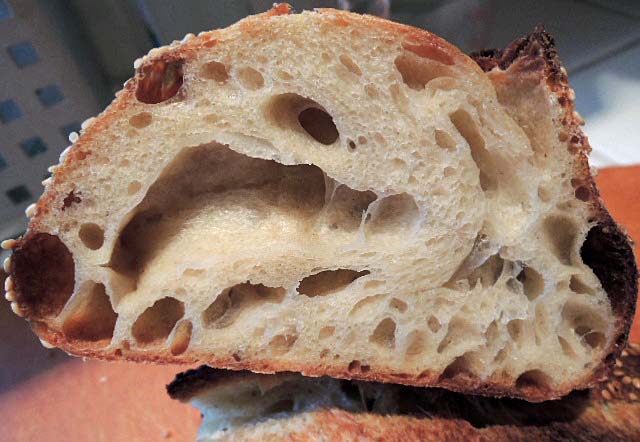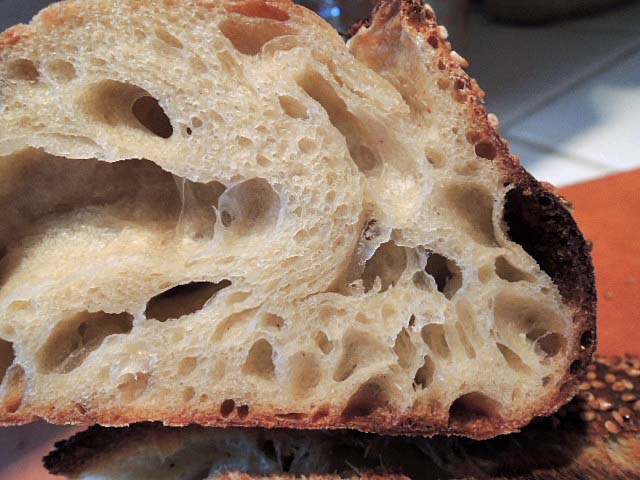 The crust was crisp at first but became soft and chewy after a few hours. The crumb was moist and chewy with a complex sweet, nutty, tangy flavor accented by the sesame seeds on the crust.
This bread is delicious toasted with almond butter or un-toasted dipped in olive oil, but it might be best just plain right after cooling.  
Happy baking!
David