October 18, 2013 - 4:12pm
Lye bath questions for large pretzels batches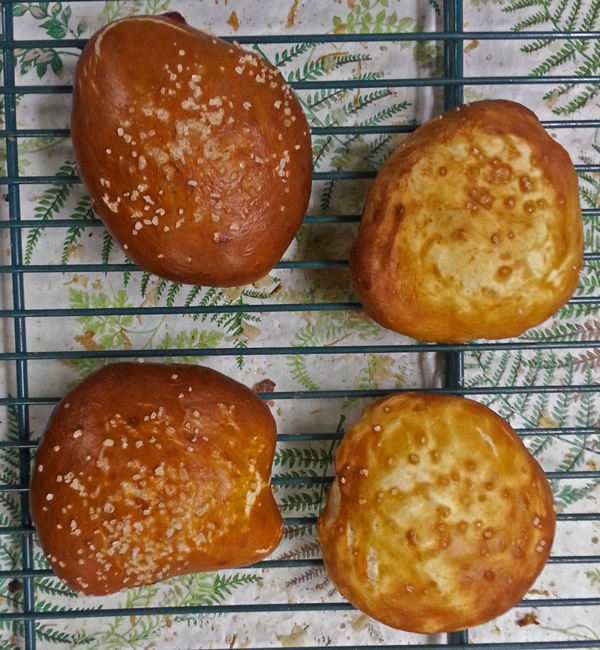 Hi,
My first post, so I don't know if this should be a topic or on the pretzel thread, but here goes:

Our pretzels, sticks and buns have caught one with a couple of brewery customers so we're making 200-300 sticks and 3-8 dozen pretzel buns at a time.
We use Hamelmanns recipe, make the buns and sticks after the first rise and then freeze them, They go from the freezer into the lye, salt, and then we fire them  As you can see they have plenty of oven spring and the flavor, well, that's why we are making so many :)
I'd appreciate advice on two things:
1. I've never read where the lye solution needs to be refreshed, but  as you can see from this photo a pretzel bun at the start of a batch (on the left) and at the end (on the right) look much different -- I had to give 4 dz to the local mission and start over.  
Does anyone have a rule of thumb on how much of a 4% is needed for a certain number of pretzels?  I used a 1/2 hotel pan (about 5.5 liters)   Any ideas on what happens to the lye? 
2.  Different recipes and bakers use a hot bath, some a boiling bath of lye, and some use a cold water bath.  Any thoughts?  We've tried cold, starting at 140F, and hot holding the bath.  Since we have this mottling problem at the same  time, apparently due to the 'wearing out' of the lye bath,  we have not been able to make any tests about hot or cold baths.
Thanks in advance for your help.
Richard