August 11, 2013 - 11:22am
I have wanted to make a potato pizza ever since I first saw a picture of one in Daniel Leader's Local Breads. I'm good at delaying gratification. So, several years later, here I am with balls of the best pizza dough I have ever made and no plans for dinner. I made potato pizza. It did not disappoint.
Since reading Leader's recipe, I also acquired Maggie Glezer's Artisan Breads, which also has a recipe for potato pizza. The pizza dough recipes are different, but the potato topping ingredients are essentially identical. 
Ingredients for one quarter sheet pan (9x13") of Potato Pizza
400 g of fully fermented pizza dough (I used this one: Pizza Bliss)
750 g Yukon Gold potatoes, peeled and sliced very thinly
120 g Onion, sliced very thinly.
1 T finely chopped fresh rosemary.
Coarse sea salt to taste
2-3 T Olive oil
Procedure
Pre-heat oven to 450 dF
Lightly oil a 9x13" rimmed baking pan.
Put the dough in the pan, and, with oiled hands, stretch it to fill the pan. If it becomes too elastic to stretch, let it relax for 10 minutes, then continue stretching. Let this proof while you prepare the topping.
Prepare the potatoes, onions and rosemary. In a large bowl, toss them together along with salt to taste (my taste is for very little).
Brush the dough with more olive oil and spread the potato/onion/rosemary mix evenly edge-to-edge.
Bake for 30 minutes or until the potatoes are very tender when pierced with a knife and nicely browned.
Eat hot out of the oven or cooled to room temperature.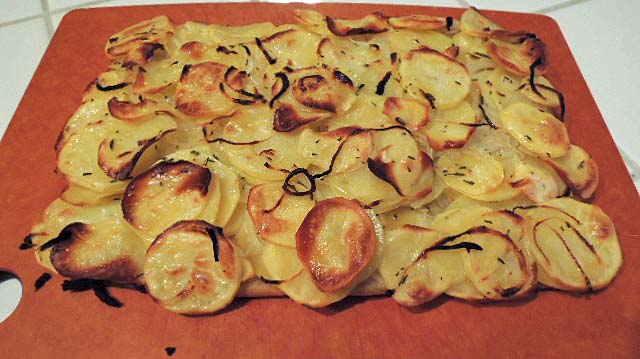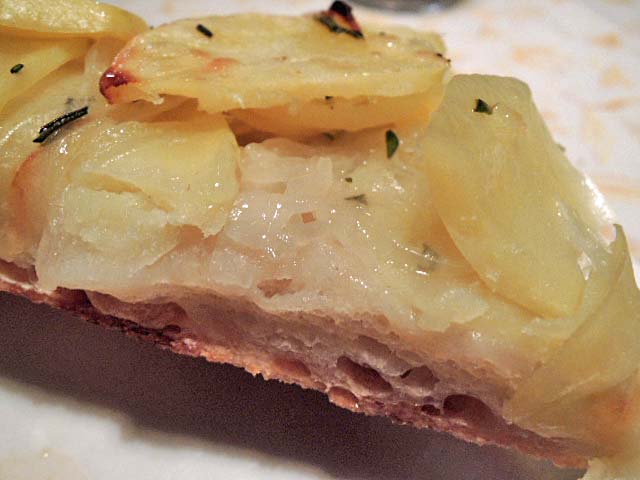 This pizza could be served as an antipasto, as a meal with a nice salad or as a side dish with almost any meat, poultry or fish dish.
Enjoy!
David
Submitted to YeastSpotting