Today I try the Vermont Sourdough from  Jeffrey Hamelman's famous book. As the author said, "this is an excellent 'everyday bread'". The hydration is appropriate and the dough is easy to handle. My friend adapted the recipe according to the hydration of starter. I baked two of them.
This is the first one. After mixing, I folded it two times and retarded for 18 hours in the fridge. I preheated my oven to the highest temperature(about 275 degrees). And I used stones in a pan to produce steam and the result is satisfying . The bread rose well in the oven and it got a big ear which made me quite excited. Because the top of the bread is too closed to the heating tube so I cover an aluminium foil. So the top of the bread looks a little too pale. It's crunchy and the taste is good.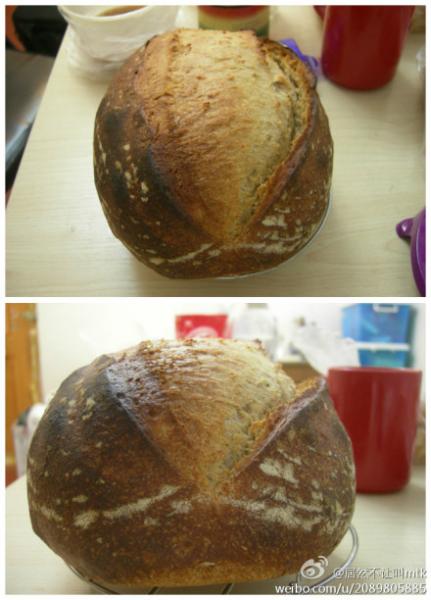 This is the second one I baked today.This time I  I didn't retard it in the fridge. The fermentation is 24 degrees centigrade. The bulk fermentation is about 2 and a half hours. I folded it two times at 50 and 100 minutes. After 2 folds:
Final fermentation:

60 minutes and 100 minutes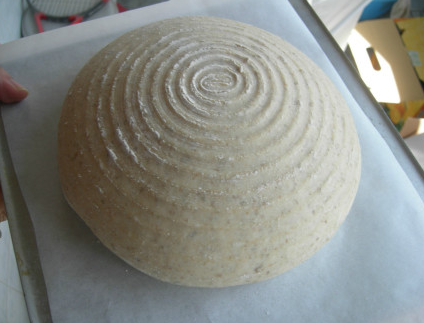 The final fermentation is about 2 hours.  This loaf is about 900 grams. I baked for 40 minutes. I produced steam in the first 15 minutes.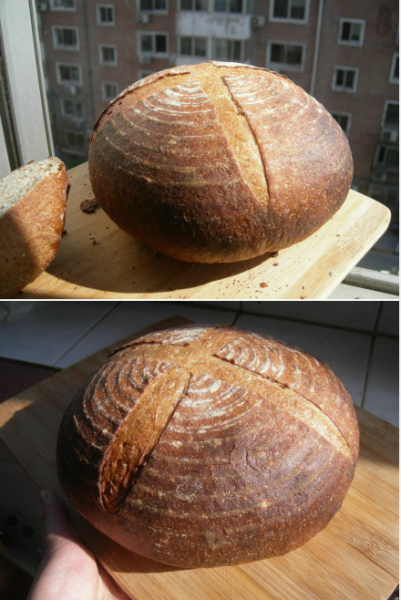 It sings for long after taking out from the oven. After cooling down,cracks can be seen on the surface.