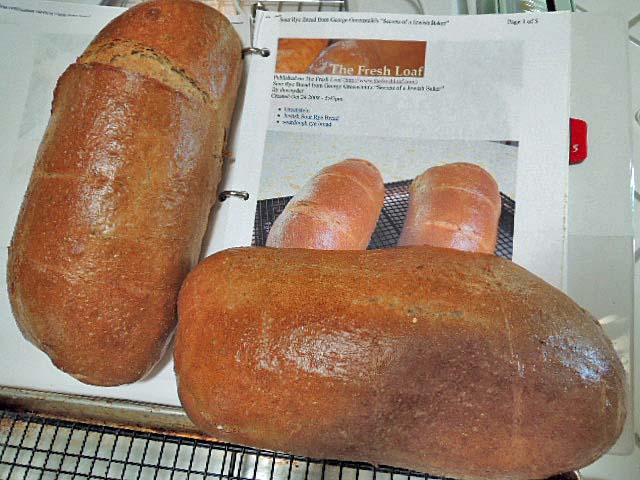 Jewish Sour Rye Bread
March 15, 2013
As some of the TFL old-timers may recall, I started baking bread again about 7 years ago, in part because I had a craving for Jewish Rye Bread, and I had no local source. One of the first baking books I bought was George Greenstein's Secrets of a Jewish Baker, and found that his recipe for "Jewish Sour Rye" produced just what I had hoped. However, Greenstein provided ingredients only in volume measurements. In October, 2008, after making this Jewish Sour Rye quite a few times, I weighed all the ingredients and have been using those measurements ever since.
Today, I baked this bread again. The formula I have been using makes two good-sized loaves of 750 g each. I am providing baker's percentages for the convenience those who might wish to scale up or down.
| | | |
| --- | --- | --- |
| Total dough ingredients | Wt. (g) | Baker's % |
| Medium rye flour | 375 | 44 |
| Bread or First Clear flour | 480 | 56 |
| Water | 615 | 72 |
| Instant yeast | 7 | 0.8 |
| Salt | 12 | 1.4 |
| Caraway seeds | 11 | 1.3 |
| Altus (optional) | 1/2 cup |   |
| Cornmeal for dusting parchment | 1/4 cup |   |
| Cornstarch glaze |   |   |
| Total | 1500 | 175.5 |
Notes: I have always used First Clear flour in the past. Today, for the first time, I used Bread Flour (14% protein). I did not use altus today.
Traditionally, Jewish Sour Rye is made with white rye flour. I found I much prefer the fuller flavor of medium rye flour.
If you have a rye sour, build it up to a volume of 4 cups or so the day before mixing the dough. If you do not have a rye sour but do have a wheat-based sourdough starter, you can easily convert it to a white rye starter by feeding it 2-3 times with rye flour over 2-3 days.
| | | |
| --- | --- | --- |
| Rye sour ingredients | Wt. (g) | Baker's % |
| Medium rye flour | 365 | 100 |
| Water | 365 | 100 |
| Active rye sour | 20 | 20 |
| Total | 750 | 220 |
Dissolve the rye sour in the water in a large bowl.

Add the rye flour and mix well.

Cover the surface of the sour with a thin layer of rye flour.

Cover the bowl and ferment until the dry flour forms widely spread "islands." If necessary, refrigerate overnight.
| | |
| --- | --- |
| Final dough ingredients | Wt. (g) |
| Bread or First Clear flour | 480 |
| Water (80ºF) | 240 |
| Salt | 12 |
| Instant yeast | 7 |
| Caraway seeds | 11 |
| Rye sour | 750 |
| Altus (optional) | 1/2 cup |
| Total | 1500 |
Method
In a large bowl or the bowl of an electric mixer, dissolve the yeast in the water, then add the rye sour and mix thoroughly with your hands, a spoon or, if using a mixer, with the paddle.

Stir the salt into the flour and add this to the bowl and mix well.

Dump the dough onto the lightly floured board and knead until smooth. If using a mixer, switch to the dough hook and knead at Speed 2 until the dough begins to clear the sides of the bowl (8-12 minutes). Add the Caraway Seeds about 1 minute before finished kneading. Even if using a mixer, I transfer the dough to the board and continue kneading for a couple minutes. The dough should be smooth but a bit sticky.

Form the dough into a ball and transfer it to a lightly oiled bowl. Cover the bowl and let it rest for 15-20 minutes.

Transfer the dough back to the board and divide it into two equal pieces.

Form each piece into a pan loaf, free-standing long loaf or boule.

Dust a piece of parchment paper or a baking pan liberally with cornmeal, and transfer the loaves to the parchment, keeping them at least 3 inches apart so they do not join when risen.

Cover the loaves and let them rise until double in size. (About 60 minutes.)

Pre-heat the oven to 500F with a baking stone in place optionally. Prepare your oven steaming method of choice.

Prepare the cornstarch glaze. Whisk 1-1/2 to 2 Tablespoons of cornstarch in ¼ cup of water. Pour this slowly into a sauce pan containing 1 cup of gently boiling water, whisking constantly. Continue cooking and stirring until slightly thickened (a few seconds, only!) and remove the pan from heat. Set it aside.

When the loaves are fully proofed, uncover them. Brush them with the cornstarch glaze. Score them. (3 cuts across the long axis of the loaves would be typical.) Turn down the oven temperature to 460F. Transfer the loaves to the oven, and steam the oven.

After 15 minutes, remove any container with water from the oven, turn the oven temperature down to 440F and continue baking for 20-25 minutes more.

The loaves are done when the crust is very firm, the internal temperature is at least 205 degrees and the loaves give a "hollow" sound when thumped on the bottom. When they are done, leave them in the oven with the heat turned off and the door cracked open a couple of inches for another 5-10 minutes.

Transfer the loaves to a cooling rack. Brush again with the cornstarch glaze.

Cool completely before slicing.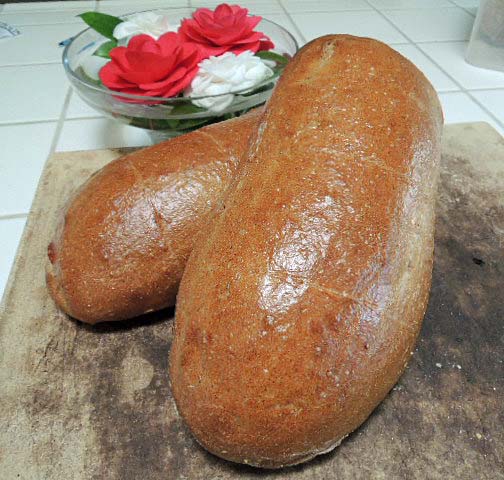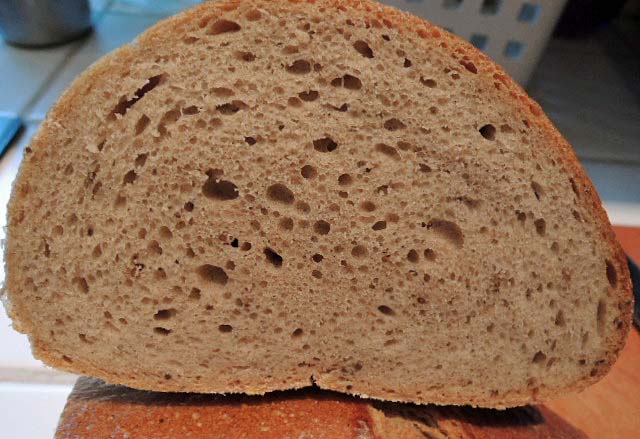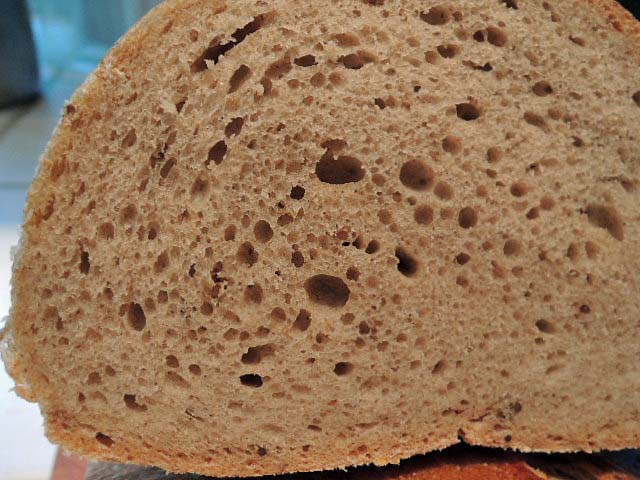 The crust was chewy as was the crumb. I have never been able to get the classic crackly crust that Sour Rye should have. The flavor was very good, with a mild sour tang and just enough caraway flavor to my taste. However, there was a flavor note missing, again, to my taste, because of my having substituted bread flour for first clear. Although KAF sells first clear flour, Hamelman never prescribes its use, even in his formula he likens to Jewish Rye. I prefer this bread made with first clear, based on today's experience, but it is really good with bread flour too.
David
Submitted to YeastSpotting
Addendum: On March 7, 2014, I amended the baking temperatures and timing. The higher temperature and shorter baking time yield a darker, crisper crust which I prefer. There also seems to be less frequent bursting of the loaves.