January 28, 2013 - 5:36pm
Purple Croissants - a hint of color
Sending this to Yeastspotting.
I have made brown croissants (coffee), green croissants (matcha), black croissants (dark chocolate), yellow croissants (pumpkin). With some purple yam on hand, it's only natural that I want to make purple croissants.
Well, it turns out complicated. Yam puree, just like potato puree, softens the crumb and weakens dough strength. As the result, if I add too much, croissants don't open up enough (i.e. no big honeycomb holes) and the texture is tender rather than crispy. However, if I add too little, there isn't enough color. After a few tries, the following recipe is what I arrived at. Still not the vivid purple I wanted, but at least that hint of color is noticable.
Purple yam croissant with Sourdough Starter
Note: for details and tips on making croissants, please see this post & this post.
Note: this recipe makes about 12 large danishes.
-levain
starter (100%), 35g
water, 59g
bread flour, 105g

1. mix and leave at room temp for 12 hours.
-final dough
bread flour, 422g
sugar, 68g
salt, 10g
instant yeast, 7g
butter, 21g, softened
purple yam puree, 200g
water, 180g
levain, all
roll-in butter, 287g
1. Mix everything but the rolling butter, knead until medium gluten developement. Then follow the steps here.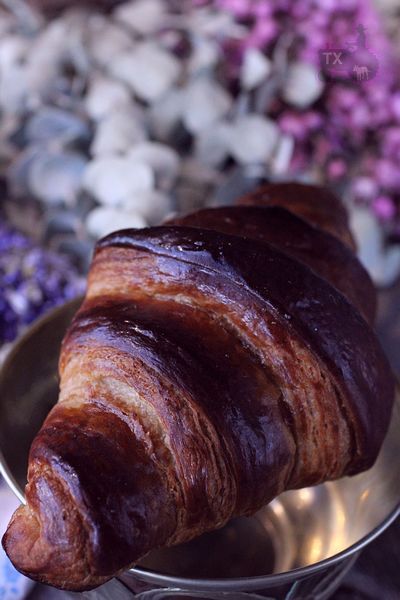 I filled them with more purple yam filling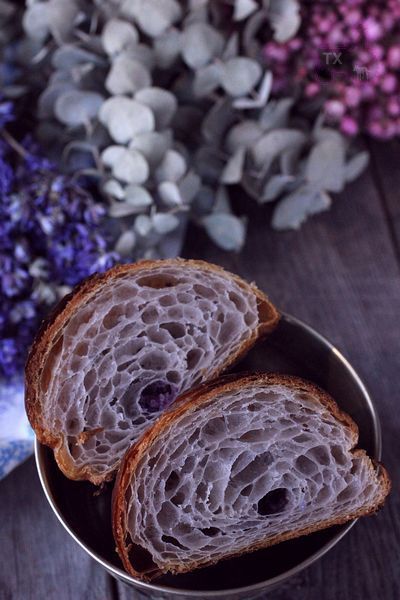 It's obvious that the cross section has less hight comparing to my other croissants, that's due to the weaker dough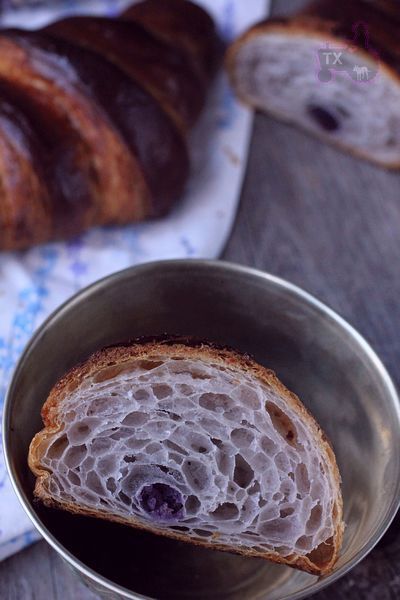 -----------
Also want to post some chocolate puff pastery I made a while ago. Recipe is from Pierre Hermes' "Chocolate Desserts"(recipe can be found here), like all PH recipes, it's horribly time consuming and fussy. Yes, it's also terribly delicious. Sigh.

This dough is on the drier side, then it needs to be folded six times!!! Let's just say between all the resting and rolling out and folding, it was a 24 hour process.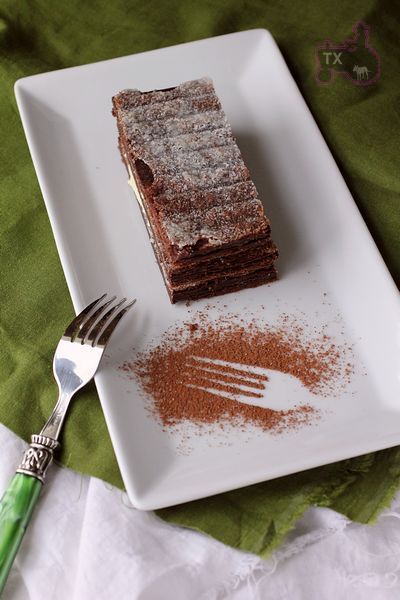 The first time I made it, I was so sick of the dough that I directly shoved it into the freezer after the final rolling, couldn't bear to use it until a month later. I of course didn't learn my lesson, made it again. Used some of it for this mille-feuille.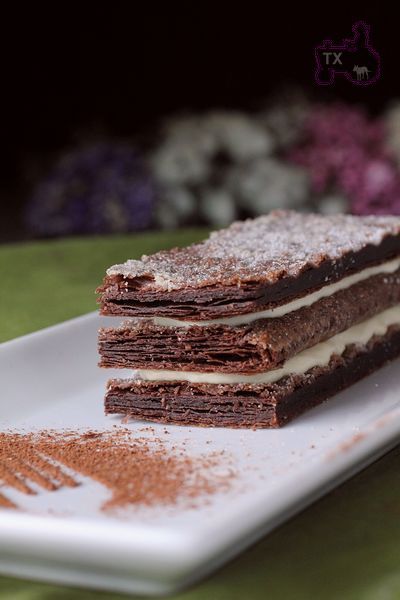 All that layers...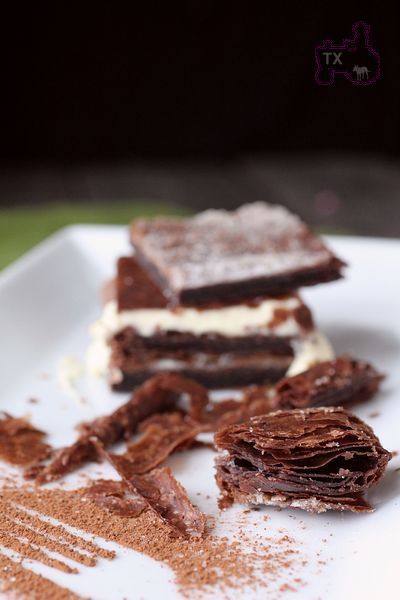 Used the rest for some very fancy apple hand pie.