January 15, 2013 - 2:22pm
I activated a dry starter from Friends of Carl on Jan 6.  It is doing nicely and easily more than doubles in 3 hours, and I am learning to bake sourdough bread with it.  I have made English Muffin Sourdough, First Loaf, Basic White, and Black Canyon Sourdough.  There is so much for me to learn, at first it was overwhelming but little by little I am getting it.
I want to make Raisin Walnut Cranberry http://www.northwestsourdough.com/discover/?p=183/ and I need 166% starter for it.  I posted about making a 166 % starter here http://www.thefreshloaf.com/node/31739/righttrying-make-166-hydration-starter and thought I understood.
My 100% starter continues to do well and double easily in 3 hours but my 166% starter is not doubling ever.  I am feeding it about every 12 hours, keeping it in a warm place (77-79f) using only spring water bottled
I started with 100g of my 100% starter added 33g water to change it to 166%
Fed with 50 flour and 83 water (fdg1)
weighed at 260g fed with 130g flour and 215g water(fdg2)
discarded all but 100g fed with 100g flour and 166g water (Mini mentioned these amounts in my other thread)(fdg3)
discarded all but 100g fed with 100g flour and 166g water ratio (fdg4)
discard all but 100 starter and fed with 100g f and 166 g water(fdg 5)
It still isn't doubling here is what it looks like 2 hours after last feeding the jar on the right is the 166% and the jar on the left is my 100%.  As you can see it isn't rising much still.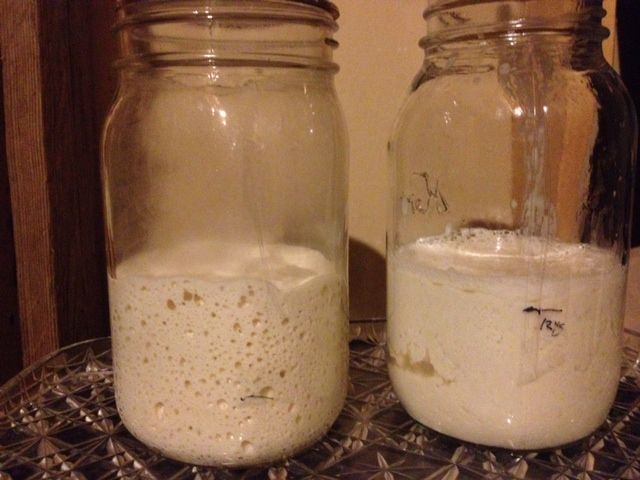 First Question Am I doing this right?