For our first official bake in 2013, we really heated up our kitchens! With the outside scenery in Barb's yard, you can see why that is a GOOD thing.  That is just one of the differences between our baking climates... This baking day brings Washington state and Texas closer together for a bit.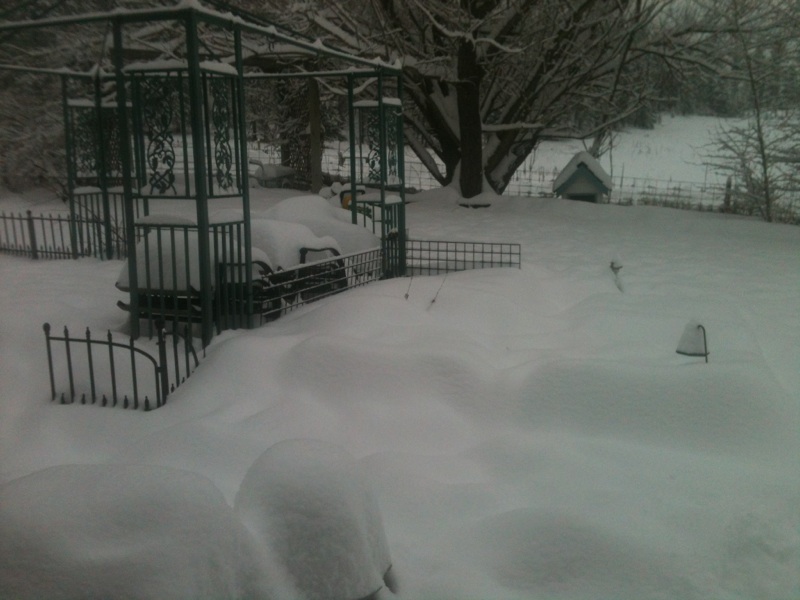 Nothing like a little snow to make you want to bake!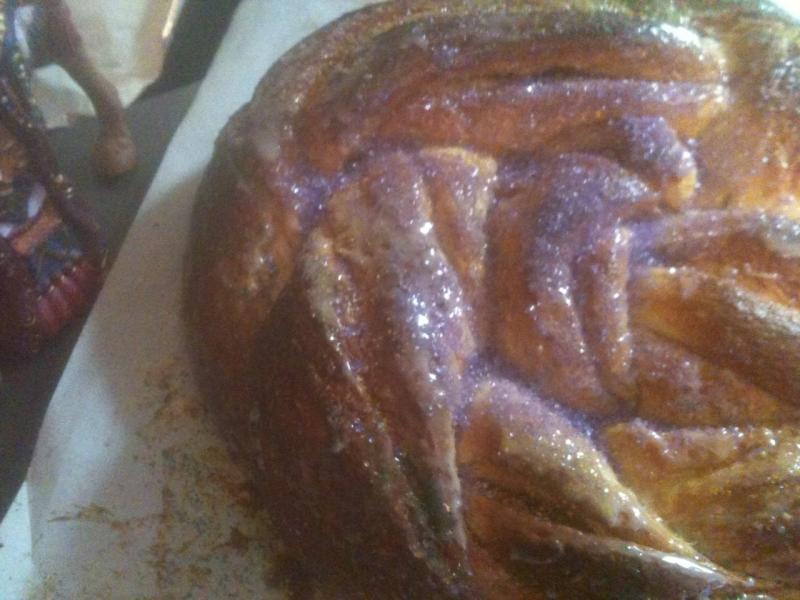 Barb started her baking day with this wonderful King's bread... sweet, kind of like a braided cinnamon roll... as you see a king dropped by for a taste.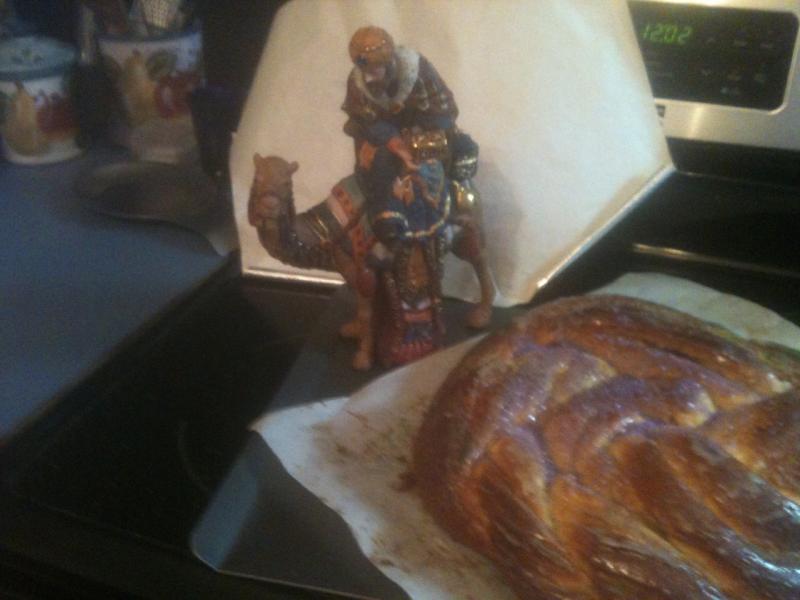 The crumb on this bread looks exceptionally good!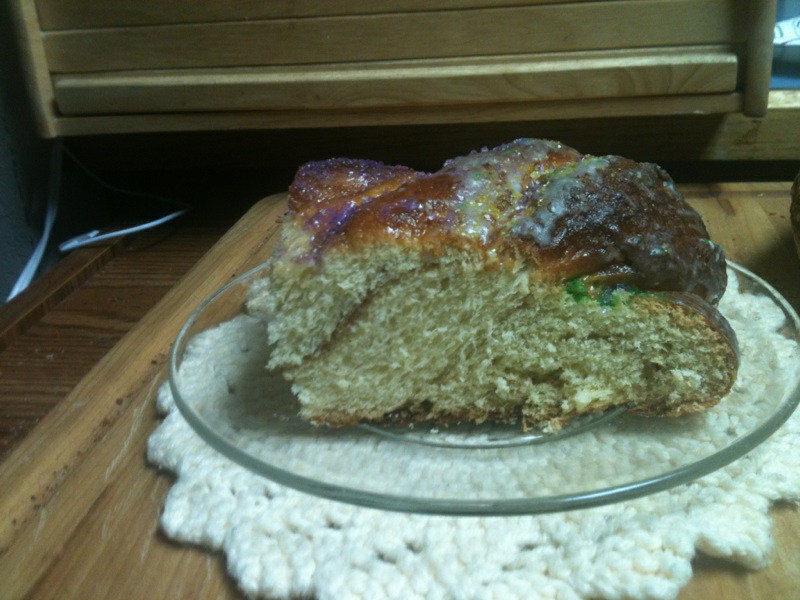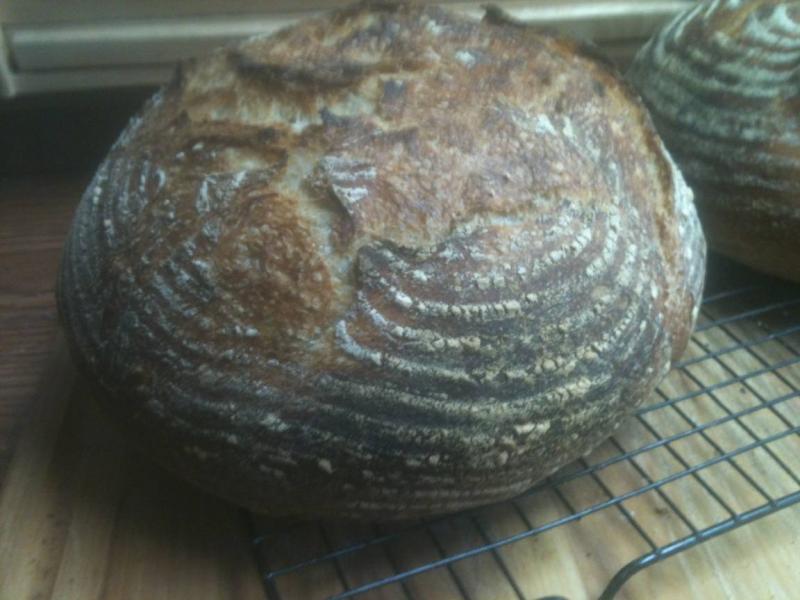 From Ken Forkish's book we all baked "Overnight Country Blonde" there is a joke in there somewhere since it takes 3 days to make thse loaves. These are Barb's lovely brotform proofed loaves.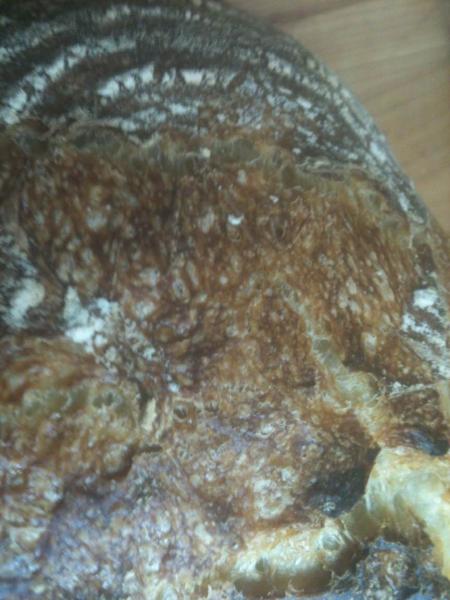 She always makes beautiful bread..... And, we all also baked a beautiful "Lemon Anise Seed Tea Loaf" from the book Bread Alone.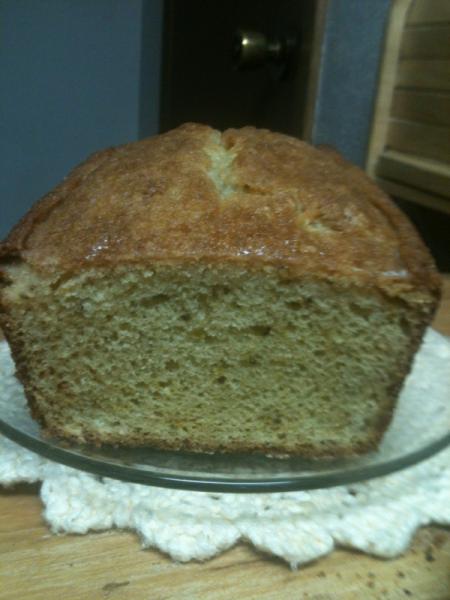 This is Barb's tea loaf crumb. Looks very tasty.
Helen went in for free formed loaves (for her pair of blondes) in order to fit them into her roaster for steaming, Included in this picture is Helen's Lemon Tea Loaf....  She titled this photo... "All in a Baking Day."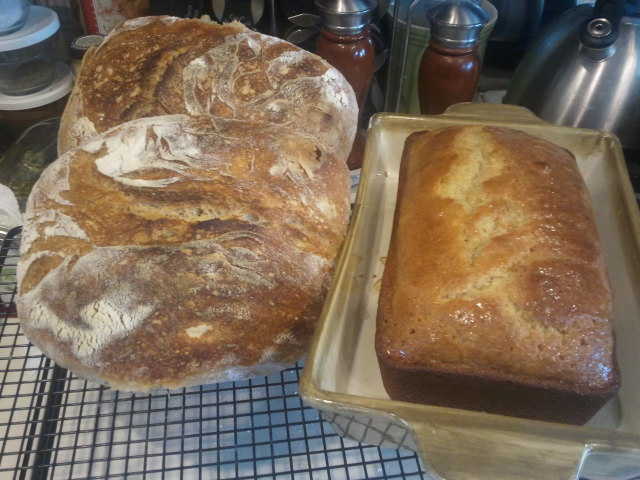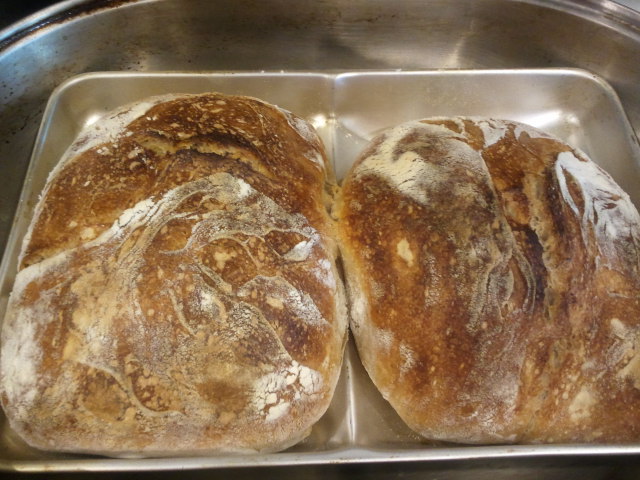 Her Blonde loaves baked side by side in her big roaster... and have a great looking crumb...  She said the bread is very light, springy, and delicious.... looks that way to me!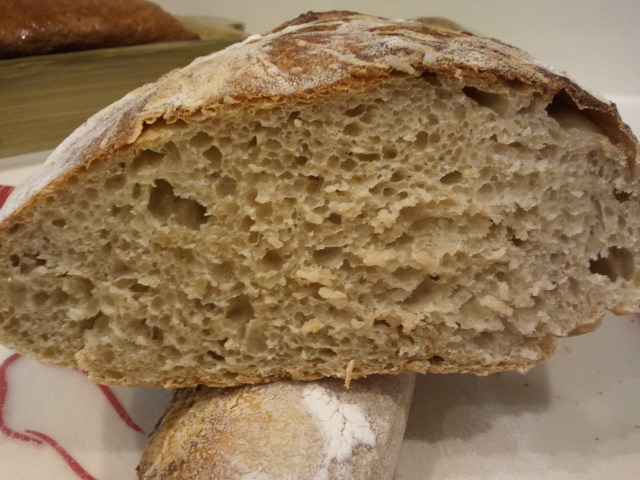 Helen's Lemon tea loaf looks great with all that sweet lemon glaze shining on there. Very nice. This is probably the best lemon bread out there.  We had never thought of putting anise seeds in lemon sponge cake, but it definitely works.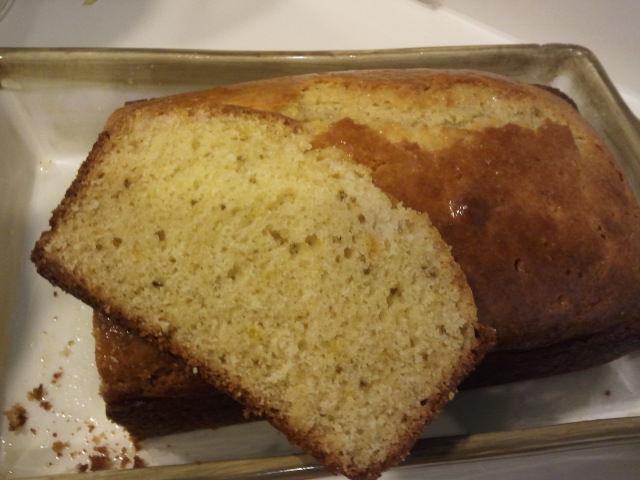 Great crumb and great flavor, that's what we are talking about!!!
My blondes remind me of Lucy... with flour tossed in her face... and that is where THIS story begins....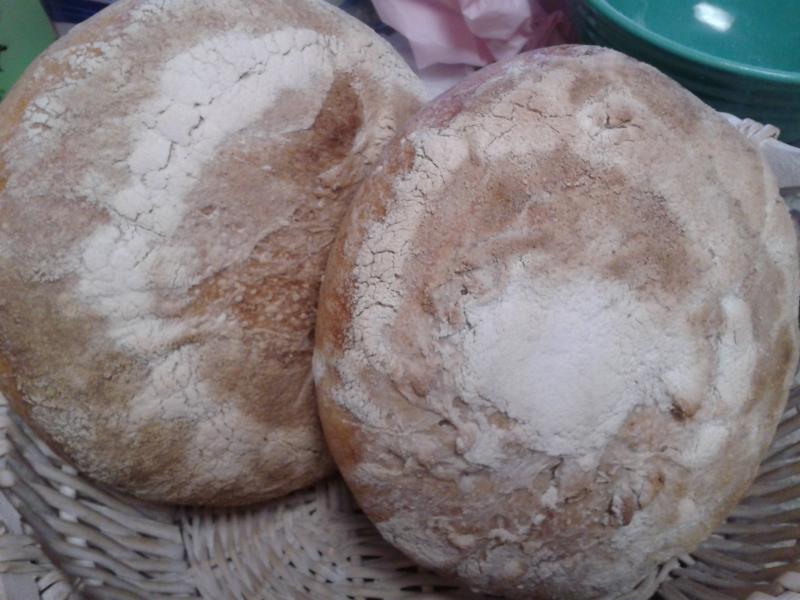 We all remember our dear baking friend "Lucille Ball" when challenges abound, we like to say "Lucy was in the kitchen" with me... the blondes did well, right up until I had to PEEL, the floured dishclothes off of their little bellies!  But the bread still had good oven springs and tastes awesome... I love the crunchy, chewy crust and the soft, springy crumb.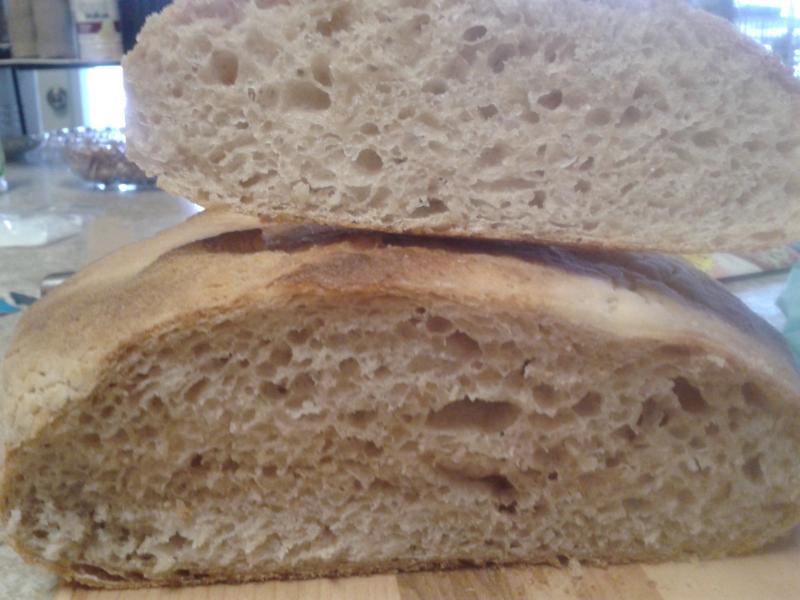 I thought Lucy had left! BUT, while I was mixing the Lemon Anise Seed Tea Loaf, she came back... first I chose a loaf pan that I was worried was too small... but popped it in the oven anyway... and then remembered that I forgot the lemon zest... pulled it right out... stirred in the zest being careful not to disturb the prepared sides and bottom of the pan... then popped it back in the oven... set the timer... and then remembered I had forgotten to put in the melted butter!!! Pulled it out again... dumped it into a clean mixing bowl... mixed in the butter... and then put it in an adequate sized loaf pan... and sat down with a cut of coffee to let Lucy sneak out... as you can see, she left and the lemon loaf is delightfully wonderful... it is sweet, like my sisters, and will be baked again and again... without Lucy!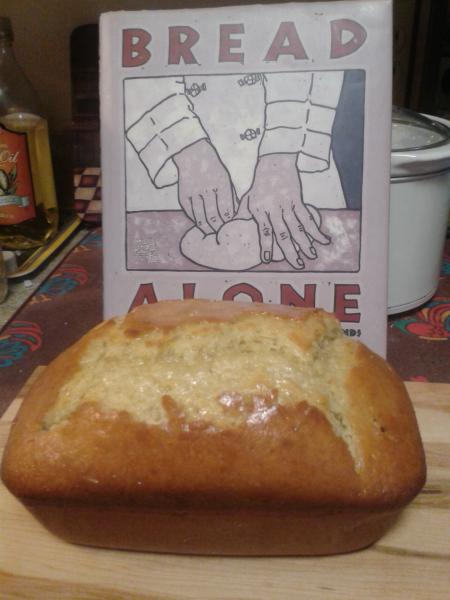 I love the crumb!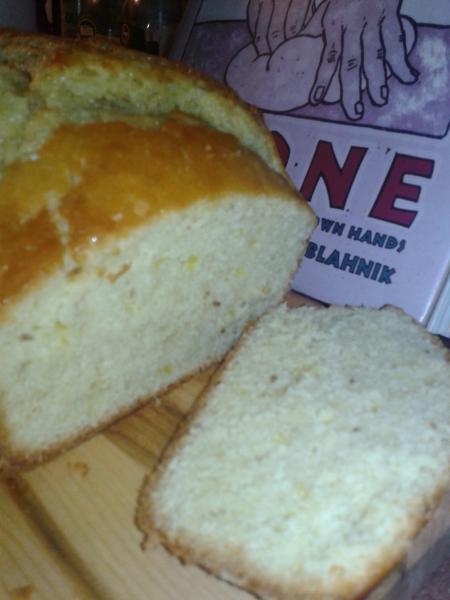 We had a great time together baking, chatting, texting and being together on Monday... making the physical distance disappear! I have no idea what we are doing next week, but I am sure it will be another gramma baking adventure. If it is post worthy, we will tell you all about it.
Happy Baking,
the 3 gmas... Barb, Diane, and Helen