December 1, 2012 - 9:53pm
Swedish Tea Ring from KAF
The latest Baker's Catalogue from King Arthur Flour has a recipe for "Swedish Tea Ring." I usually just scan these recipes and go on looking for new toys, but this one caught my eye. The sub-caption described it as a "decadent cinnamon roll in the shape of a ring," but the formula seemed the least "decadent" of any pastry I could recall – 3 1/2 cups of flour, 1/4 cup sugar, 1 egg, no shortening! Of course the filling had butter, but still … I thought maybe this was an editing error. I did a quick internet search for other Swedish Tea Ring recipes. They all had butter or oil or lard. I checked the KAF web site and found the recipe there to be just like in the Baker's Catalogue. The dough is a very simple enriched yeast dough, without any of the commonly added flavorings (citrus extract, vanilla, cardamom, etc.). That was another point in its favor, since my wife doesn't like cardamom much at all.
Well, the boys and girls at KAF generally know what they are doing, at least in the bakery. So, I figured I had to know if this was any good. If it was, I would have a (relatively) low-calorie sweet dough in my repertoire and less reluctance to bake breakfast sweet rolls, which both my wife and I do enjoy having.
The recipe for "Swedish Tea Ring" can be found here with versions for volume, English and metric ingredient measurements: Swedish Tea Ring
There were some luke warm reviews of the recipe on the KAF site, noting that the amount of filling was not sufficient and that the pastry was dry. Other reviews were more positive. I experienced a spousal veto of doubling the filling, but decided to watch the pastry carefully while it was baking and shorten the bake time, if the ring looked like it was done sooner than the recipe specified. In short, I followed the KAF recipe, except I omitted the optional glazing and ended up baking for just 22 rather than 25 minutes.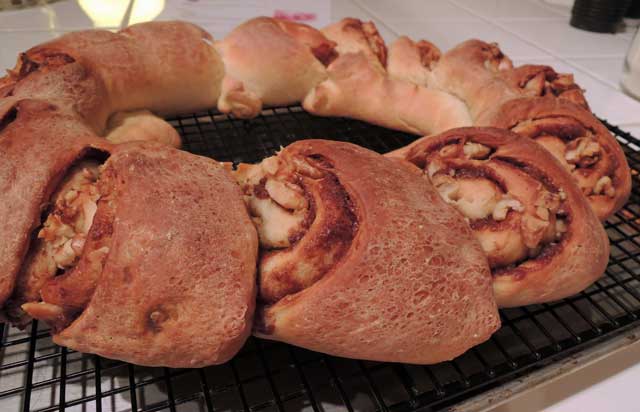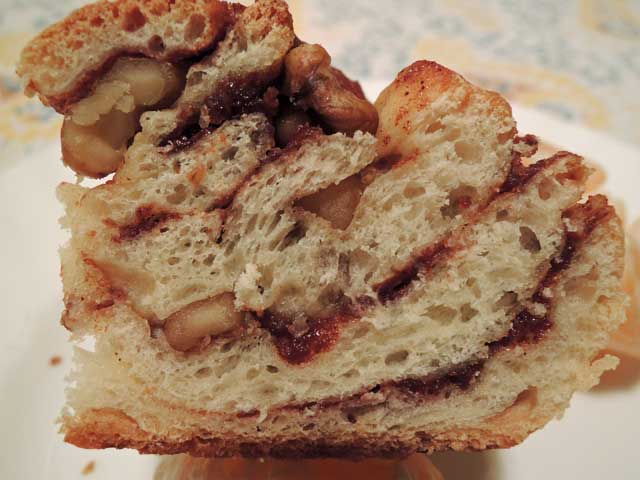 We tasted the tea ring for desert after dinner, and it is very good. The dough is sweet but not too sweet and is tender. We did not find it dry, but note that I did reduce the baking time. The filling did seem sparse when I spread it. I will increase it by 50% when I make this again. But the overall flavor balance of dough and filling was very nice. Susan had seconds.
As an added bonus, this dough is the closest I have found yet to the taste and texture of the cheese pockets from Karsh's Bakery I grew up loving and have always wanted to be able to duplicate.
I'm looking forward to making this tea ring again and to using the dough recipe for other pastries. I recommend it … even if you are already skinny.
David
Sumitted to YeastSpotting