November 14, 2012 - 3:26pm
Fleischmann's Bread Basket Cookbook - Nostalgia
Hi all-
I found something on the Intranet, so I thought I'd share my discovery with those that might be interested. I found a copy of Fleischmann's Bread Basket Cookbook and it must have been printed in the 1950's or '60's. This is purely a nostalgia item, but I've made it available to those that might be interested. I've uploaded preview images as well as a separate *.pdf document.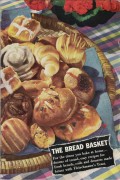 Clicking the above image will open a gallery containing all pages (in image format) of the *.pdf document.To download the *.pdf, follow this link:
http://www.mediafire.com/?m2teqg37pe947
Interestingly, the first recipe 'Cinnamon Bread,' appears at first glance to be identical to one cited in Beard On Bread, one of my favorite bread recipes and the book that first inspired my bread baking endeavors. And there seems to still be something new for me to learn within the Fleischmann book, so it might not be purely nostalgic.  Enjoy.