November 2, 2012 - 3:11pm
26% Whole Grain YW / SD Bagels with Sprouts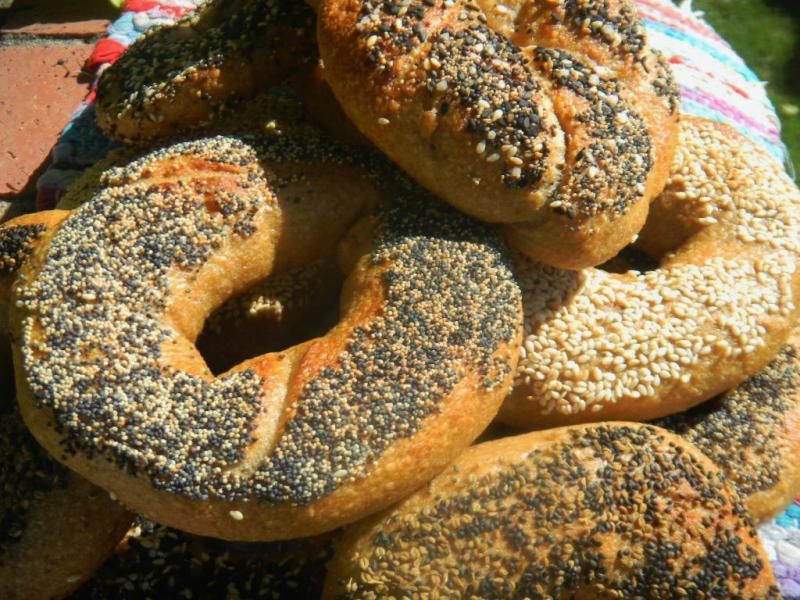 We made another batch of our YW / SD bagels trying to work out the kinks with a few minor changes starting with 26% whole grains. Instead of a 20 hour retard, we retarded the shaped bagels for 15 hours. The whole grains this time were spelt, rye and whole wheat in stead of just WW.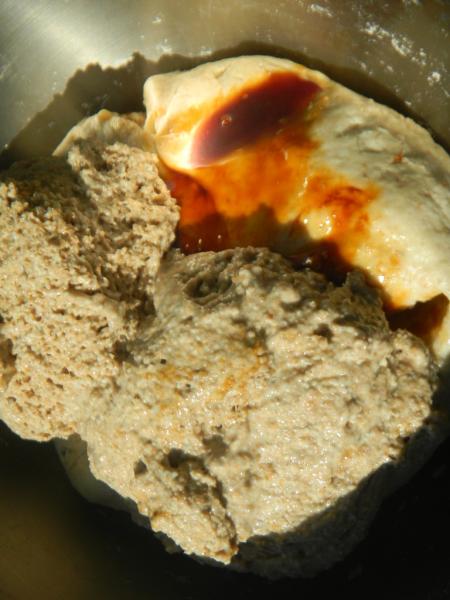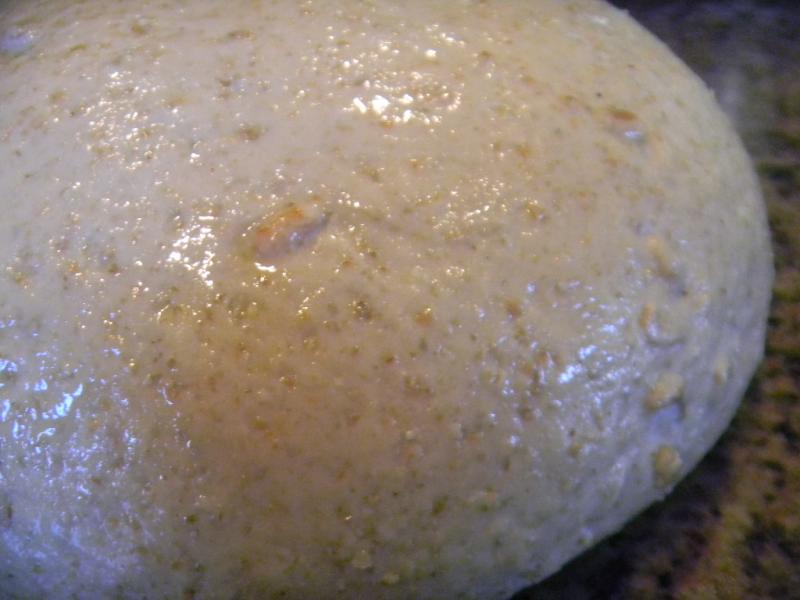 Another change we made was to use the excess sprout soaking water and yogurt whey along with water for the liquid in the dough.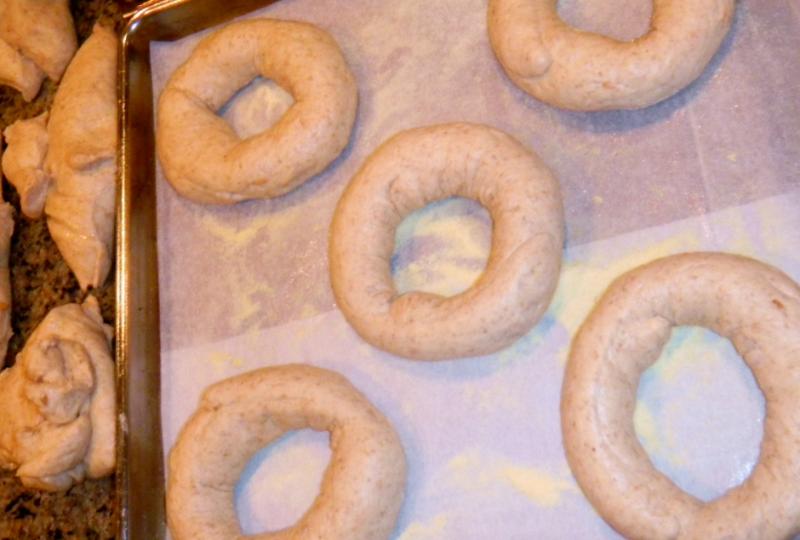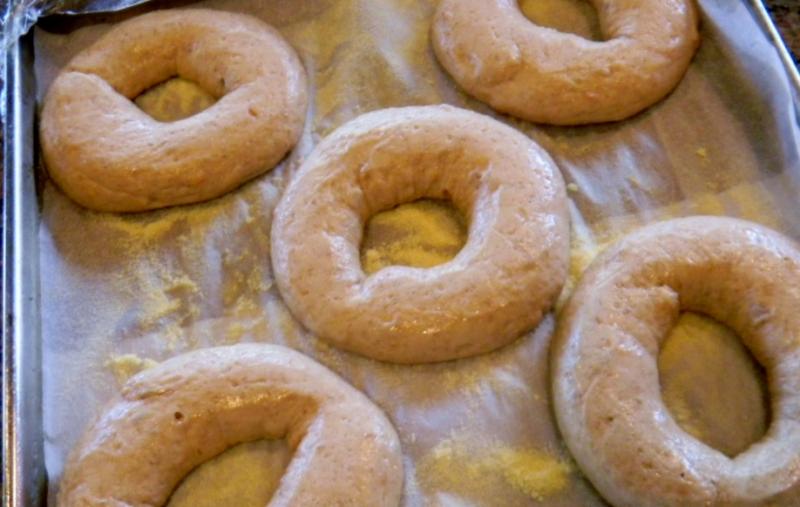 We also added some sprouts, 5%, to these bagels utilizing spelt, rye and whole wheat berries that were soaked for 3 hours and sprouted between damp paper towels under plastic wrap for 2 days. We did not use any white rye malt since we were out.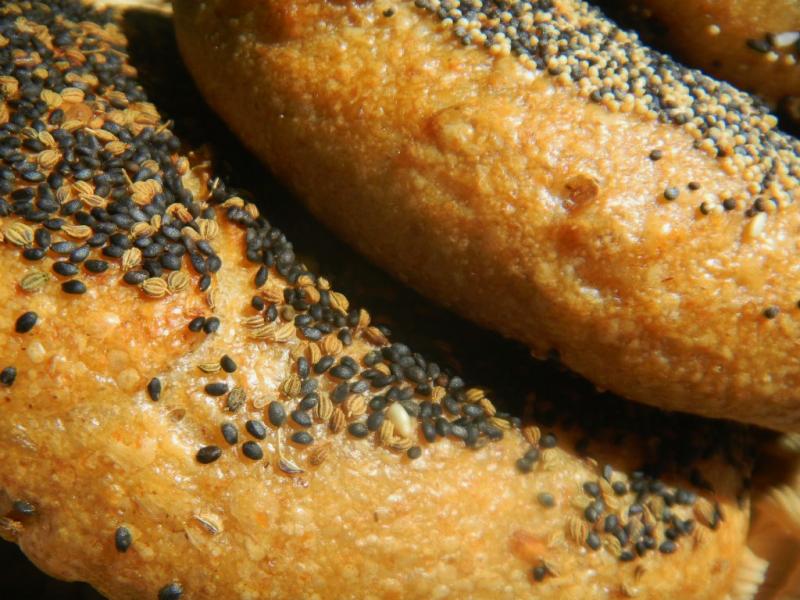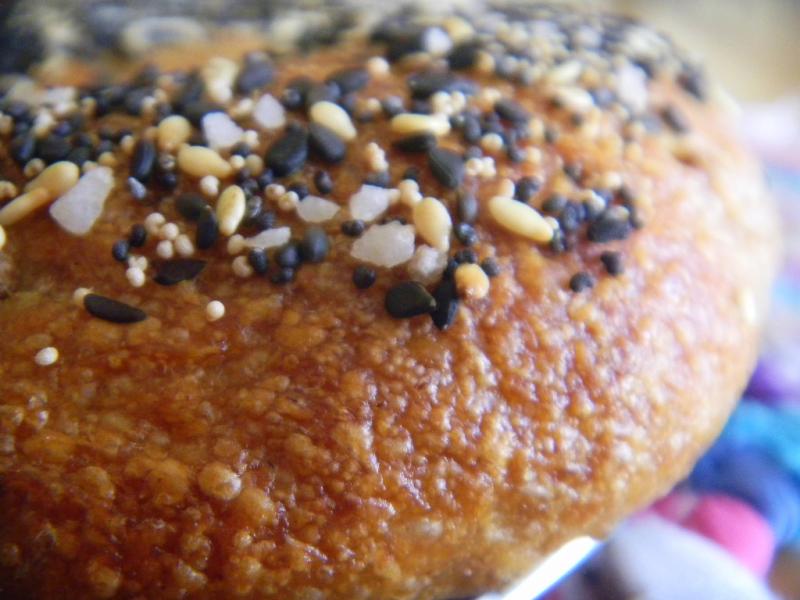 To see the modified Stan Ginsberg Favorite Bagel methods, go to here:
http://www.thefreshloaf.com/node/29681/15-whole-wheat-bagels-yw-and-sd-desem-combo-starter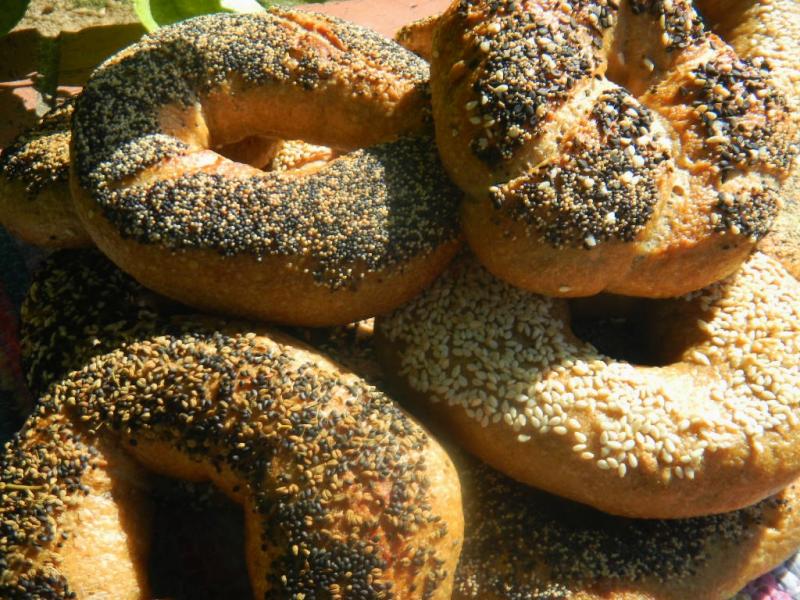 This batch did not rise as much in the oven, bake up as brown or have as many blisters as the last batch but the crumb was more open and they tasted better. Don't know why since this batch was baked in the mini oven too because of its ability to blister anything to death.
We tried one new seed combination this time adding oregano seeds to the basil seeds we like so much. Oregano seeds need to be treated like coriander – use sparingly.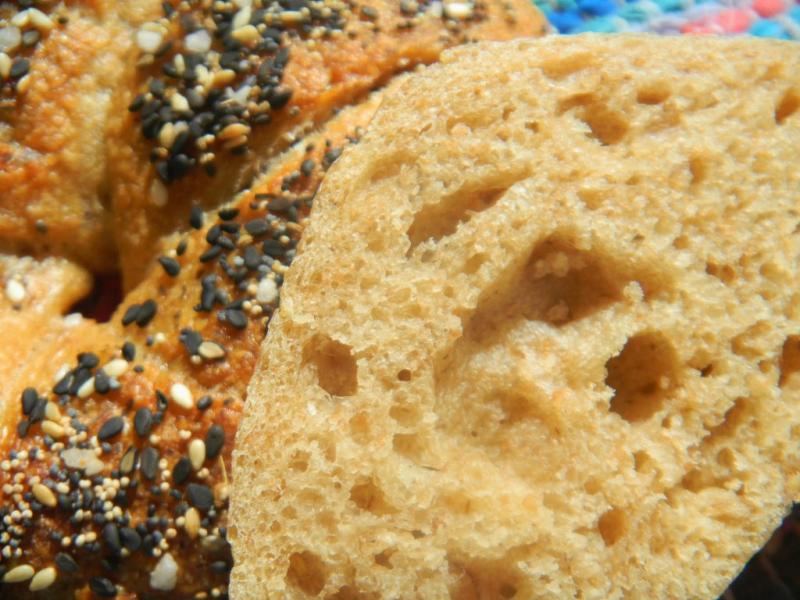 The additional seed types we used were white and black poppy seeds, white and black sesame seeds and on the combo bagel we added nigella seeds and salt with all the rest of the seeds.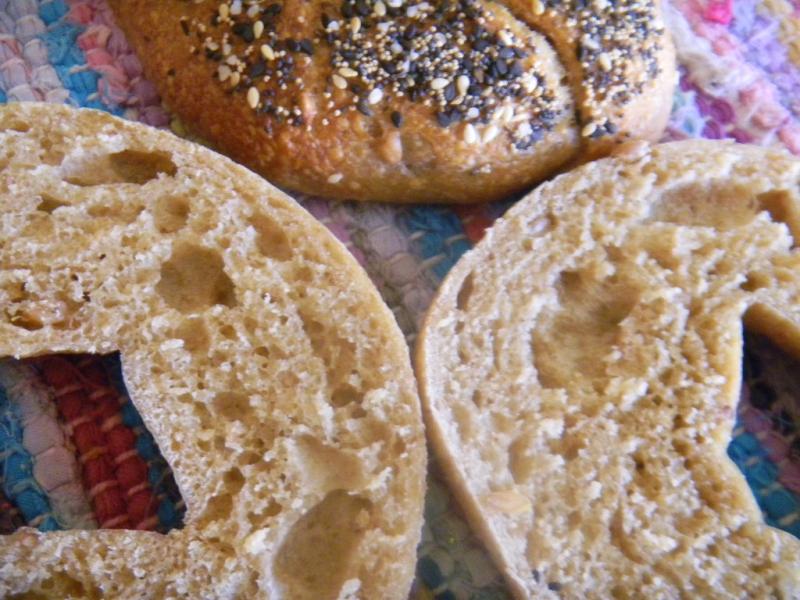 We have baked lots of bagels and think these taste the best but the 15% whole grain ones looked the best. As usual, these bagels were best toasted with cream cheese but they were not bad with butter and jam too.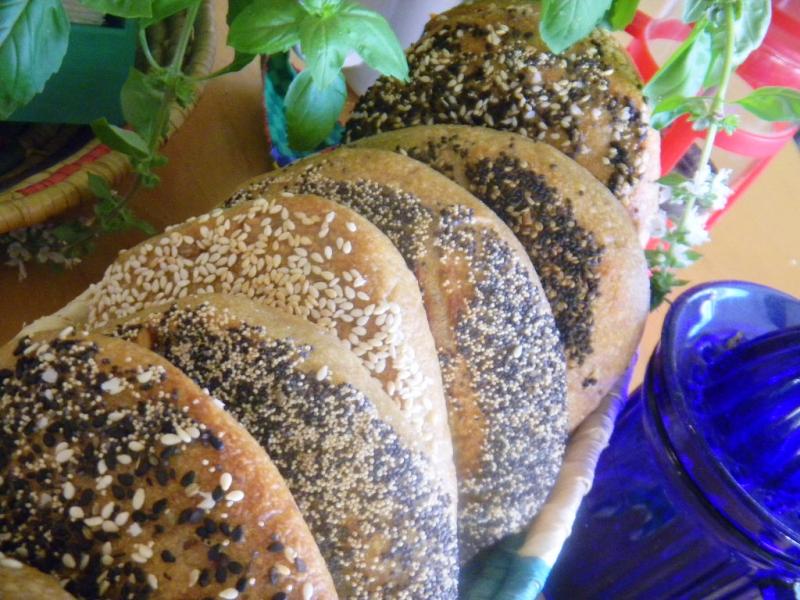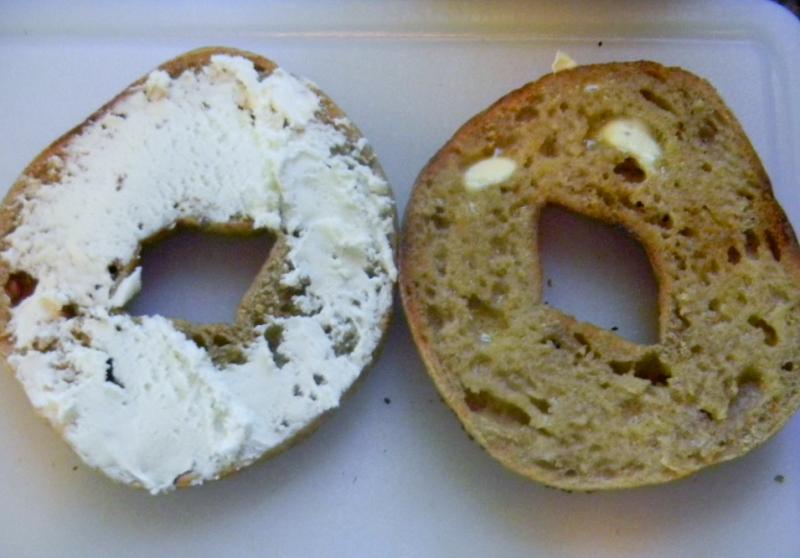 A schmear on one side Butter on the other ----Just Yummy!
Formula
| | | |
| --- | --- | --- |
| SD Starter | Build 1 | % |
| SD Desem & Rye Sour | 20 | 2.41% |
| Whole Wheat | 30 | 4.48% |
| Dark Rye | 30 | 4.48% |
| Water | 60 | 8.96% |
| Total Starter | 140 | 22.39% |
| | | |
| YW Starter | Build 1 | % |
| Yeast Water | 80 | 11.94% |
| WW | 40 | 5.97% |
| Dark Rye | 40 | 5.97% |
| Total | 160 | 23.88% |
| | | |
| Dough Flour | | % |
| Bread Flour | 245 | 36.57% |
| Whole spelt | 20 | 2.99% |
| Dark Rye | 20 | 2.99% |
| Whole Wheat | 20 | 2.99% |
| Insant Potato Flakes | 10 | 1.49% |
| AP | 350 | 52.24% |
| Dough Flour | 670 | 100.00% |
| | | |
| Salt | 13 | 1.94% |
| Sp. water 120, whey 50, water 150 | 320 | 47.76% |
| Dough Hydration | 47.76% | |
| | | |
| Total Flour | 830 | |
| Water | 470 | |
| T. Dough Hydration | 56.63% | |
| Whole Grain % | 26.51% | |
| | | |
| Hydration w/ Adds | 57.95% | |
| Total Weight | 1,369 | |
| | | |
| Add - Ins | | % |
| Barley Malt | 22 | 3.28% |
| Total | 22 | 3.28% |
| | | |
| Multigrain Sprouts | | % |
| WW | 12 | 1.79% |
| Spelt | 12 | 1.79% |
| Rye | 12 | 1.79% |
| Total Sprouts | 36 | 5.37% |