October 16, 2012 - 12:00pm
Fig Fennel Light Rye Sourdough with Hazelnuts - explosion of flavor
Sending this toYeastspotting.
Click here for my blog index.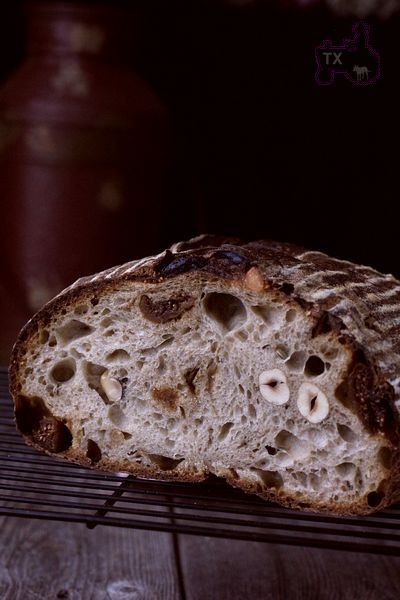 A couple weeks ago Phil's Fig & Anise bread caught my attention, sounds like a great flavor combo to try. Went out of my way to buy nice and moist organic figs just for this purpose, only to discover last minute that I ran out of anise. Oops, had to use fennel instead, which I think has a similar flavor to anise, but less intense? Also throw in some really delicious toasted hazelnuts since I love the nut&dried fruit combo in breads.
- Levain
rye starter (100% hydration), 9g
water, 68g
rye flour, 86g
mix and rise at room temp for 12 hours.
- Dough
bread flour, 510g
dried fig, 100g, chopped
fennel, 4tsp
hazelnuts, 100g, toasted
water, 350g
salt, 12g
levain, all
2. Mix flour, levain, water, together, autolyse for 20 to 30min. Add salt and fennel, mix @ medium speed for 3-4 min until gluten starts to develope. Mix in hazelnuts and dried figs by hand.
3. Bulk rise at room temp (~75F) for about 2.5hrs. S&F at 30, 60, 90, 120min.
4. Shape into batard, put in basketes smooth side down, put in fridge over night.
5. Next morning take the dough out to finish proofing, about 60min for me. Score.
6. Bake at 450F with steam(either put in preheated cast iron pot and cover with lid, or put dough on preheated baking stone and pour water in another cast iron pan to create steam) for the first 15min, take out the pan with water, keep baking for another 30-35min. Turn off oven and crack the door open a bit, and leave the breads inside for 10min before taking out.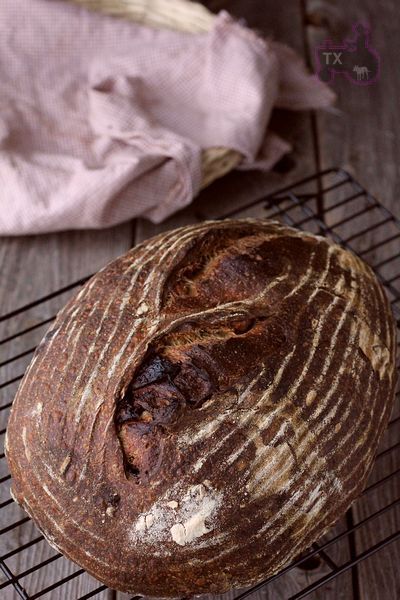 Can you see the hazelnut peeking out from under the "ear"?

Fairly open crumb for so much add-ins

Fennel, hazelnuts, and figs play well together in this bread. However, this means I still haven't tried the "fig & anise" combo, soon...