10,000 Year Vintage Miche - priceless?
Sending this toYeastspotting.
Click here for my blog index.

No, I am not exaggerating. I took a trip to Antarctic earlier this year. At the end the voyage, we had a charity auction benefitting envirnment research groups for Antarctic. I set my eyes on this bottle of 10,000 old glacier water, $200 later, it's mine. How would I use it? Making a bread of course!

What's better than a traditional miche to complement the history of this water? The formual is based on the SFBI Miche posted a while back by David (here). I have made it before (here) with my own twist, this time I did the following:
1) I used all splet flour(150g) in levain, then some of it in final dough (75g spelt) to make spelt ratio to be about 20%. For the rest of flour in final dough (900g), I used Golden Buffalo High Extraction Flour.
2) Used my usual 100% white starter
3) Baked it in my large Staub cast iron pot. Preheated at 500F for nearly one hour, slash, load the loaf, cover, bake at 450F for the first 20min, remove lid, lower temp to 430F, bake for another 40min, turn off oven, open the oven door a little, leave the loaf (in the pot) in oven for another 20min before taking out.
4)My cast iron pot is oval so I shaped the dough into a batard, which is not the "usual" shape for miche.
5)The scoring was at the request of my husband: he want something that looks like "glacier", that's the best I could do.
Everything else remained the same, including the 2KG size, wheat germ amount, as well as fermentation/proofing schedule.
This formula never fails me, and this time it's no exception. A good thing, otherwise I would be wasting some very pricy water.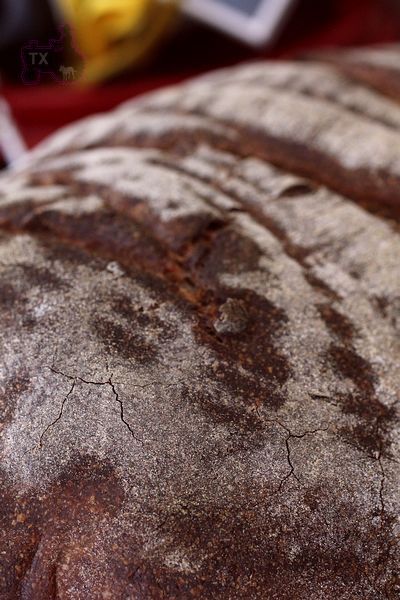 Wheat germ is the highlight of this formula, but this time, I can taste the spelt adding more layers of flavor.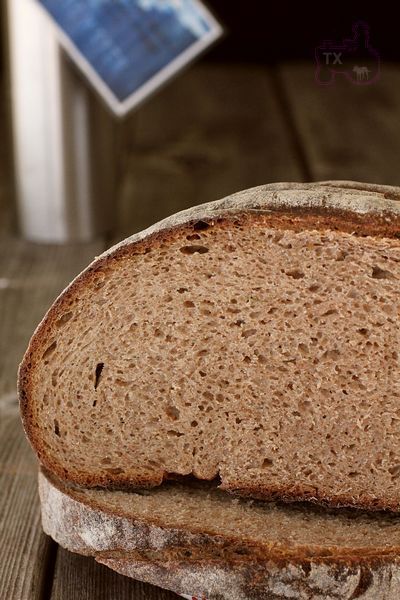 Very meaningful and delicious bread. That bottle of glacier water was sacraficed for a good cause.