Zucchini Parmesan Sourdough - the key to successful baking is
Sending this to Yeastspotting.
The key to successful baking is ... not to misread the formula and add too much water. For the first try, I got a batter out of the 100%+ hydration "dough". Had to do some really intensive kneading to keep any kind of shape. After grated zucchini was added, it was even more wet and sticky. Turned out edible at the end, but not something I would recommend repeating.
The 2nd try was much better with ingredients correctly measured, phew...
bread flour, 283g
semolina flour, 100g
starter (100%), 135g
water, 245g
salt, 7g
grated parmesan, 100g
grated zuchhini, 150g, mixed in some salt and soak for 10min, squeeze out water as much as possible
2. Mix everything together but parmesan and zucchini, autolyse for 20 to 60min,mix @ medium speed for 3-4 min until gluten starts to develope.
3. Bulk rise at room temp (~75F) for about 3hrs. S&F at 30, 60, 90, 120min, 150min, 180min. At 60min, mix in parmesan and zuchini.
4. Shape, put in basketes smooth side down, put in fridge overnight. (I divided the 900g+ dough in two, the 650g one was shaped into batard, the other shaped into triangle.)
5. Next morning take the dough out to finish proofing, about 20min for me. Score.


6. Bake at 450F with steam(batard was put in preheated cast iron pot and cover with lid, the other triangle dough was put on preheated baking stone and pour water in another cast iron pan to create steam) for the first 15min, take out the pan with water, reduce to 420F keep baking for another 30-35min. Turn off oven and crack the door open a bit, and leave the breads inside for 10min before taking out.

Both the batard baked in pot, and the triangle loaf baked directly on stone, had good expansion.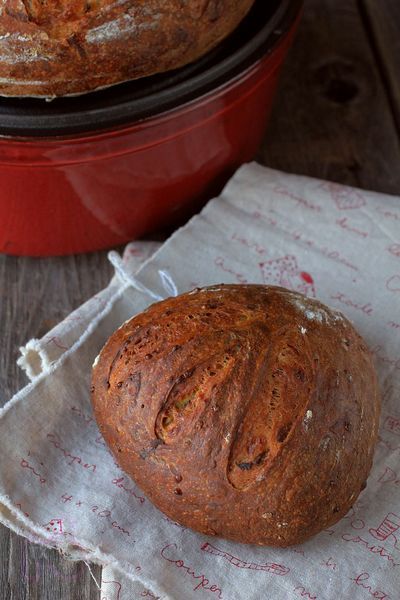 Nice, moist, open crumb. Parmesan cheese really adds a lot to the flavor.

No idea why green zucchini became yellow specks in the bread