Whey Sourdough - nothing is wasted
Sending this to Yeastspotting.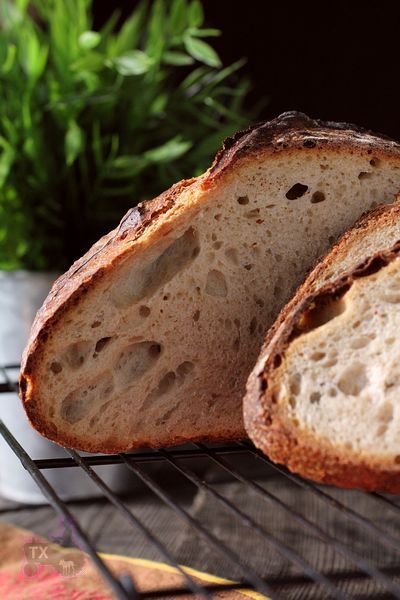 Got a lot of whey left after making ricotta (see here), which I used to make this sourdough bread. In addition to softening the crumb, whey also brings a very subtle sweetness to the flavor.
Whey Sourdough
bread flour, 325g
ww flour, 100g
starter (100%), 150g
whey, 296g
salt, 10g
2. Mix everything together, autolyse for 20 to 60min,mix @ medium speed for 3-4 min until gluten starts to develope.
3. Bulk rise at room temp (~75F) for about 3hrs. S&F at 30, 60, 90, 120min.
4. Shape into boule, put in basketes smooth side down, put in fridge overnight.
5. Next morning take the dough out to finish proofing, about 60min for me. Score.
6. Bake at 450F with steam(either put in preheated cast iron pot and cover with lid, or put dough on preheated baking stone and pour water in another cast iron pan to create steam) for the first 15min, take out the pan with water, reduce to 420F keep baking for another 30-35min. Turn off oven and crack the door open a bit, and leave the breads inside for 10min before taking out.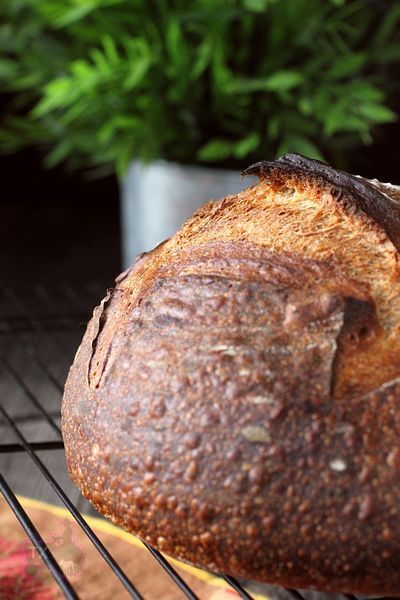 The dough wasn't that wet (only a part of whey is water), but crumb turned out to be very moist and open. Mouth feel is softer than usual hearth loaves, and slightly sweeter.