Matcha Croissant with Sourdough Starter - and red bean filling for some
Sending this toYeastspotting.
Click here for my blog index.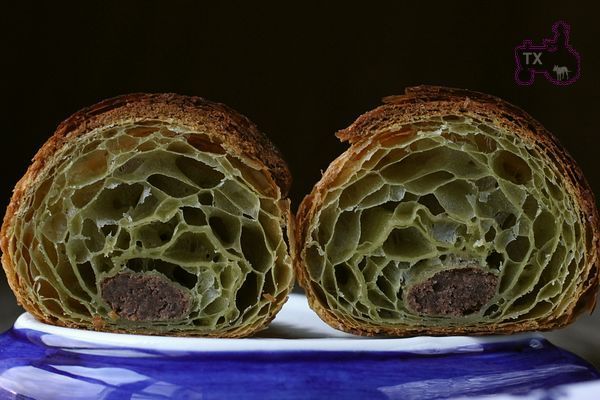 Haven't been blogging much lately, but actually baking a lot. Ever since I started making laminated breads, they have become my signature gifts to people. This batch is for some family friends. Since they are Chinese, I thought it would be nice to add some Asian elements -- mixed matcha powder into the dough, and used red bean filling for some.
Matcha Croissant with Sourdough Starter(Adapted from ABAP)
Note: for details and tips on making croissants, please see this post & this post.
Note: this recipe makes about 12 large danishes.
-levain
starter (100%), 35g
water, 59g
bread flour, 105g

1. mix and leave at room temp for 12 hours.
-final dough
bread flour, 422g
water, 148g
milk, 128g
sugar, 68g
salt, 10g
instant yeast, 7g
butter, 21g, softened
matcha powder, 16g
levain, all
roll-in butter, 287g
1. Mix everything but the rolling butter, knead until medium gluten developement. Then follow the steps here.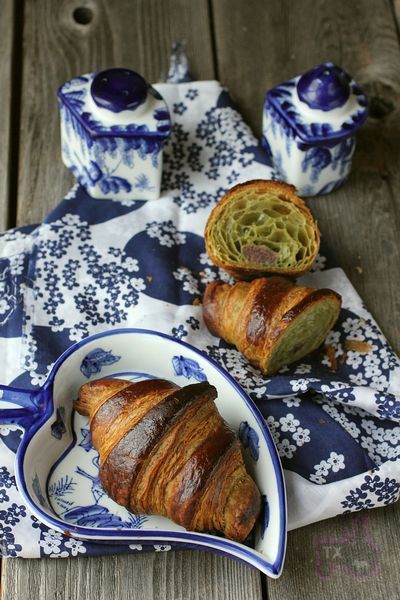 Lately I got some question in terms of the "right" dough consistency of laminated breads. I have said in a few prior posts that "drier dough yields better crumb". Now I would like to emphasize 2 conditions for that statement:
1. "Better crumb" in my mind is honeycomb like crumb with open large holes of even size. Walls of holes should be crisp and thin, clearly defined. If a different kind of crumb is desired, then this technique obviously would not apply.
2. Drier dough yields better crumb IF IT CAN BE ROLLED OUT WITHOUT BUTTER LEAKAGE. Butter leakage here means butter being smeared into dough layers. In the most extreme case, one can see butter layer being exposed. More often, the dough seems fine from outside, but there's still butter leakage inside due to warm weather, or improper handling. A sheeter can roll out doughs easily in a short amount of time, so it can handle very dry doughs. We as human with limited arm strength and varied experience in lamination would need to find a balance point: the dough is not so dry that it can't be successfully rolled out, yet it should be as dry as one can handle to achieve the most optimal crumb.
For this batch, I used 148g of water (in addition to milk). The crumb turned out very well, however, observing closely, you can see the walls being on the thicker side -- some layers are stuck together.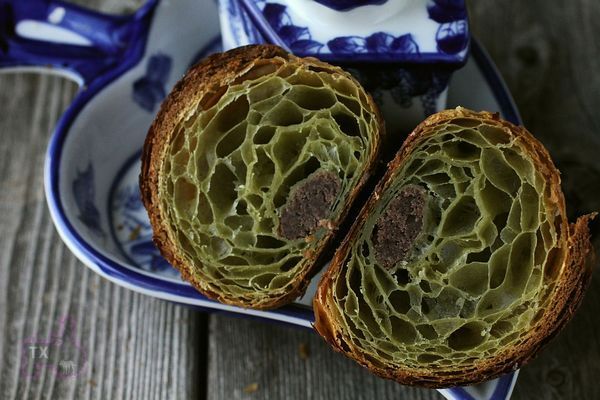 For 2nd batch, I used only 128g of water (with no filling this time). Now the walls are thinner, however, since it's dryer and harder to roll out, the holes are less even.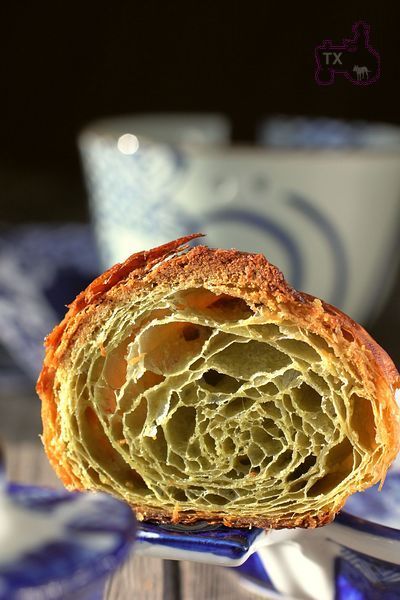 I realize that I might be splitting hairs at this point, but it's a well known fact that I am a type A obsessed lamination fool. :P For the plain ones with no filling, I smeared them with homemade kumquat marmalade, a pairing I highly recommend.