Inspired bread: Phil's 100% Whole Wheat Desem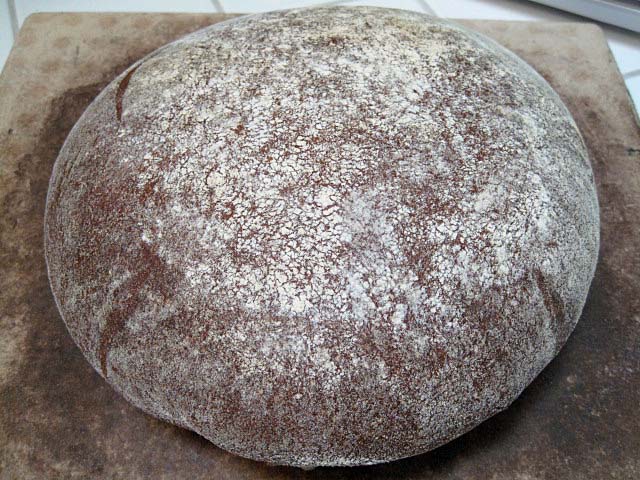 I have been meaning to make a Flemish Desem for years. I actually started making a Desem starter once from scratch, but lacked the persistance to follow through. Phil's recent blog on his Desem (See Honest bread - 100% whole-wheat desem bread and some country bread), with his gorgeous photos and clear instructions, got me back on the job. I baked a Desem according to his instructions today. It was marvelous!
I deviated from Phil's procedure in a few particulars.
1. I used a finely ground organic whole wheat flour from Central Milling rather than the freshly-milled flour Phil uses.
2. I mixed by machine rather than by hand. The autolyse was mixed in a KitchenAid stand mixer with the paddle. The final dough was mixed with the dough hook - at Speed one to incorporate the levain, salt and extra water and at Speed 2 for 6 minutes followed by a stretch and fold on the bench in place of hand mixing and kneading.
3. I proofed in a linen-lined banneton dusted with AP and Rice flour rather than WW or bran.
4. I baked entirely on my stone with steaming accomplished in my usual manner. I pre-heated the oven at 480 dF, baked with steam for 10 minutes. After 20 minutes, I turned the oven down to 400 dF and baked for another 20 minutes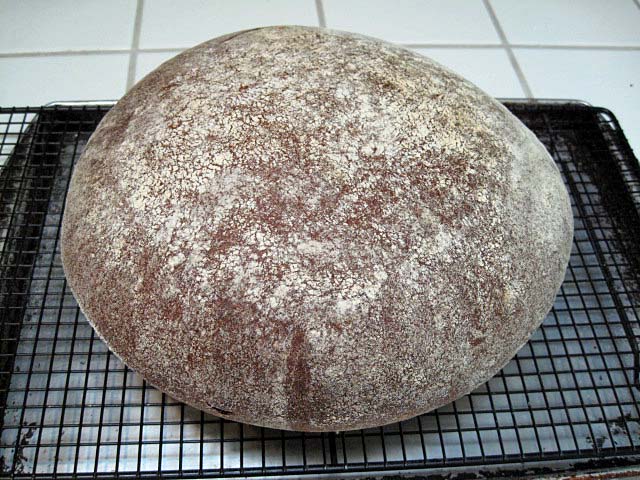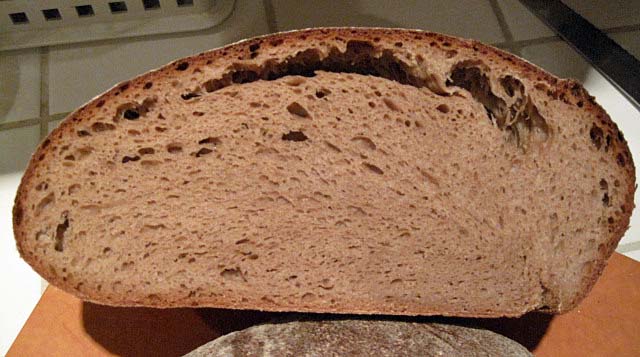 Desem cross section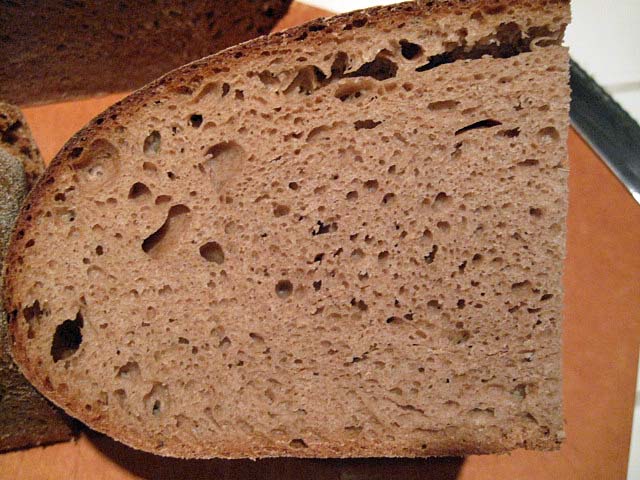 Desem crumb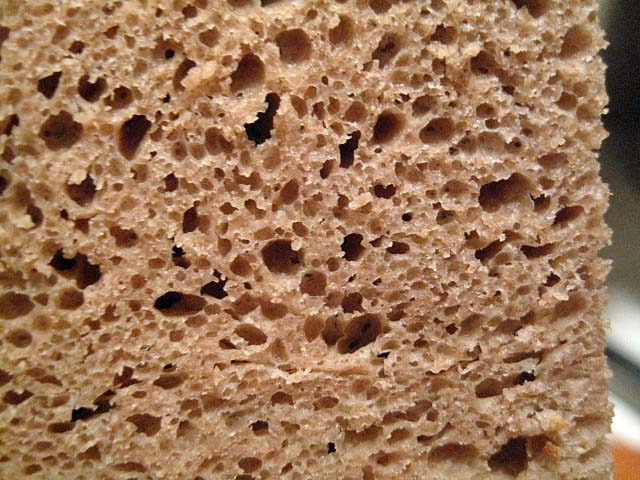 Desem crumb close-up
The loaf had good oven spring. I cooled it for about 2 1/2 hours before slicing. It was still a bit warm in the middle when I sliced it, but I wanted to have a slice (or 3) with dinner. The crumb structure was pretty similar to Phil's, except for the tunneling under the crust, always a risk when you bake a loaf without scoring.
The flavor of the bread was delicious. It had a mild sourdough tang and a very prominant whole wheat flavor but with absolutely no grassiness or bitterness and with a lovely sweet undertone. My biggest fan and harshest critic, my wife, pronounced it "very good bread" and ate twice as much bread as she usually does at dinner.
This one joins my list of regular bakes. 
David