my first attempt at 100% rye bread and some up-to-date news
I didn't plan to start this year with a bread I'm not very proud of... but a lot of things happened lately (good things!) and I can't write here as often as I would like.
In February I held a workshop here in town, with 30 participants, a introduction to sourdough bread very well received.  You can see pictures here (click for link) and a video (sorry, no English subtitles) here (click for link).
Then, in March, I made breads for an event, a bread tasting event sponsored by a big local law firm in the honour of their lady employees and lady clients. I made a total of 12 breads of 6 types, 2 loafs/type, a lot of planning and work for me (a home baker with one small gas oven) but I got a huge satisfaction in the end. The breads were a hit, all of them, and I had a really good quality time talking about each formula and story behind the bread with the ladies present. I never knew lawyers can be so warm and charming people :)) I wrote about the type of breads I made in a post on my Romanian blog, link here (click) and you can see the photos in that post or on my flickr page (link here) and here is a photo with some of them.
In the meantime, I baked some very good miche (david's formula) link here, 70% rye and 30% whole spelt bread (link here) and, my family latest obsession, Kalamata olives, lemon zest and herbes de Provence Sourdough Bread, which I made 2-3 times/week in the last 3 weeks. The formula is inspired by PiPs (Phil) post, with small modifications, and the result is quite memorable.
enough with self-praise, back to today's post subject
100% rye is been on my mind since I can't remember when. I become very found of rye bread in the last year, but I never attempted more than 80% rye. After drooling at the rye breads posted here by Andy, Varda, Phil, Mini, just to name a few, I finally decided to conquer my fear and try a 100% rye bread. I have to mention that I don't have a proper pan for it  (I used a small silicone one) and my oven is moody when it comes to low temperatures. I had in mind Andy's formula for Borodinsky, but I used a little altus too in the final dough and replaced the whole-wheat with rye flour. I halved his formula and the result is shown in the photos below. Everything was fine until I put the dough in the oven. I placed the silicone pan in a bigger metal pan and I covered the second pan with aluminum foil (from the beginning), and the free form I covered it with an old pan, after 10 minutes of steam.
I couldn't resist the impulse of cutting and tasting the bread while it was still hot (I promise I don't do this on a regular basis, but this time the smell was too good to be true...) and I felt in love with the aroma. I could distinct the honey (I replaced the molasses with honey, cause I could not find molasses here) and malt (I think it was the malt that gave it such a pleasant smell and taste), and coriander. I'm sure the taste is a success, but I can't say the same thing about the "look". I don't know how it is on the inside, I only ate the ends of both breads... but what can I do in the future to improve the way it looks?
It didn't rise much in the oven, and I don't think it was over-proofed. My rye was very active and I kept an eye on it the whole time. First fermentation was 1 hour and second fermentation max 40 min.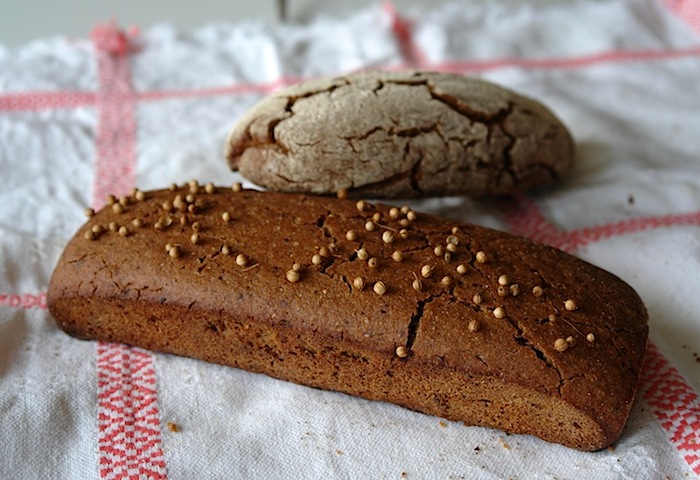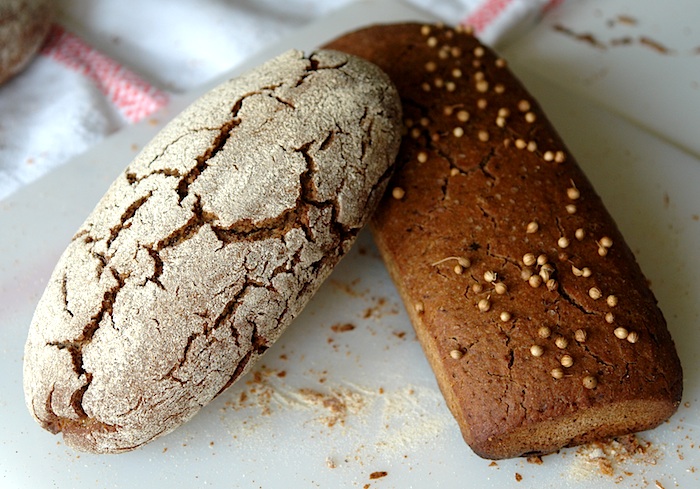 I'll upload a picture tomorrow, with the crumb.
My guesses on what did wrong are one or more of the following:
(1) I used too little amount of dough for the pan I had (~510g for a silicone pan of 23.5 x 9.5 cm x 6.5 cm height),
(2) the fact that I put the silicone pan in a bigger pan created an buffer-zone which was not hot enough
(3) the sillicone pan was not a good choice (I didn't like working with it, I'll never use it again, I don't know why they even invented it?! :))
 I'm interested in your opinions. Don't be gentle, I want to learn and to improve my next baking.
Thank you all for helping me so far!
codruta
UPDATE: CRUMB PHOTO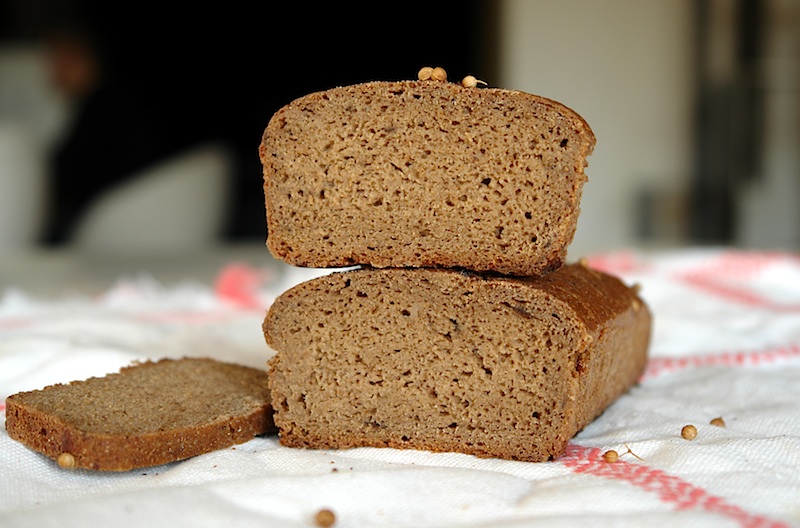 The crumb not how it should be, but I know I'm on the right track. The crust tastes better than the crumb (is sweeter and with more flavor), and fresh is better than toasted. The crumb it's a bit dense and gummy, but not sticky (I could slice it without the crumb sticking to the knife). I have to learn to set the oven temperature right. I don't have this problem at wheat breads, but with rye I'm not confident yet.
How do you know when the crumb is fully baked? and is wrong if I use my baking stone, preheat it and leave it in the oven under the pan?
that's about it, for now. Next week Ill give another try. I still have malt and a lot of altus (the free form loaf had a very thick crust, so I froze it and I'll use it for altus in the future bakes)