30% Rye Sourdough Cream Loaf with Arugula - many sources of inspiration
Sending this to Yeastspotting.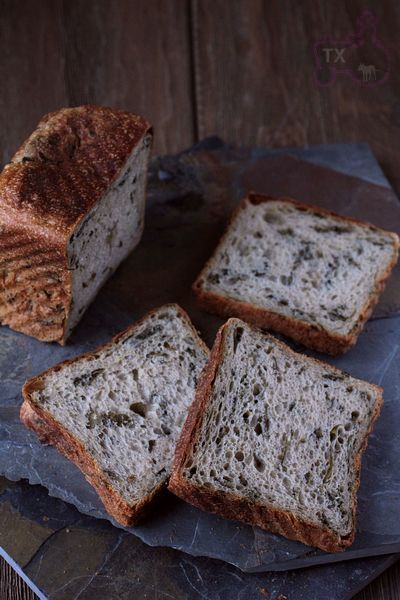 I knew it's gonna happen sooner or later when I moved to Seattle -- started an organic food delivery service last month, and loving it. Getting a box of fresh veggies and fruits every week, right at my front door (no draging pounds of grocery up to my apartment on 5th floor!), with great customer service, what's not to love. The following picture shows a part of what I got last week, yum!

It's fun to figure out how to use all those veggies. When I saw that bunch of arugula, I immediately thought of a soft Asian style sandwich loaf that I saw from a cookbook - the original version uses spinach, however, arugula is a similar but more fragrant substitute.
I didn't use the dough from that book either, instead I wanted to make use of my rye starter. I posted a 30% rye soft sandwich bread before,  so I know from experience that a soft and fluffy sandwich loaf can be made from rye starter and 30% total rye ratio. Here the same idea is applied, but with yet one more twist...
Instead of using butter or oil to soften the crumb, I wanted to use that carton of heavy cream that's about to expire, so the earlier 30% rye formula was completely revamped: using heavy cream as the main liquid source, no other fat except for what's in the cream, less sugar more salt to accomodate the flavor of arugula.
Iike all new formulas, I had to make it more than once to get it right. Rye, cream, fresh arugula worked together to make the loaf very very very moist, which means it needs to be baked MUCH longer otherwise the loaf would shrink/sink from all 4 sides while cooling. Previously, similar sandwich loaves would take about 45min to bake, this one took 70min, and the final bread was not dry at all.
30% Rye Sourdough Cream Loaf with Arugula
Note: 15% of the flour is in levain
Note: total flour is 270g, fit my Chinese small-ish pullman pan. For 8X4 US loaf tin, I suggest to use about 290g of total flour. For KAF 13X4X4 pullman pan, I would suggest using about 465g of total flour.
- levain
rye starter (100%), 11g
water, 19g
medium rye flour, 35g
1. Mix and let fermentation at room temp (73F) for 12 hours.
- final dough
bread flour, 189g (I used half KAF bread flour)
medium rye, 41g
sugar, 19g
heavy cream, 116g
milk, 57g
salt, 5g
egg, 32g
fresh arugula, 100g
1. Mix everything but arugula until stage 3 of windowpane (-30sec), see this post for details.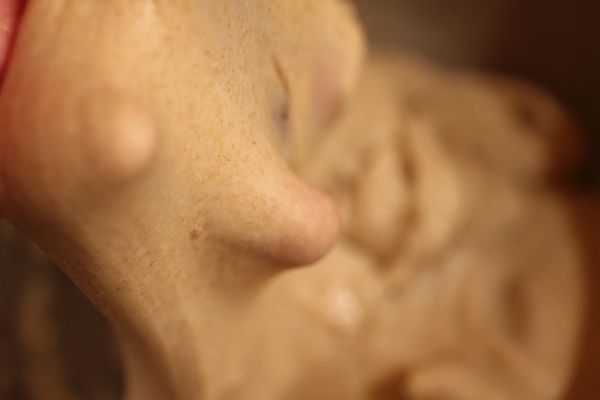 mix in arugula by hand or at low speed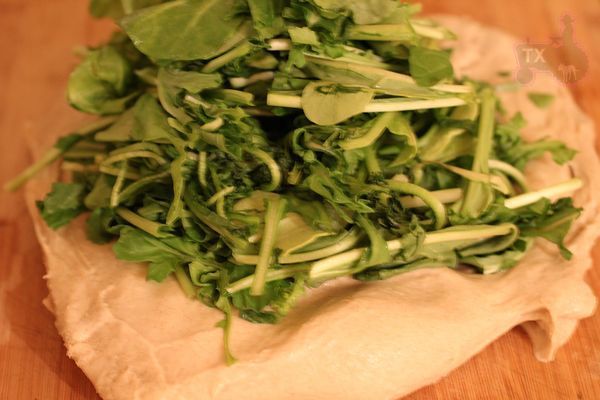 2. Rise at room temp for 2 hours, punch down, put in fridge overnight.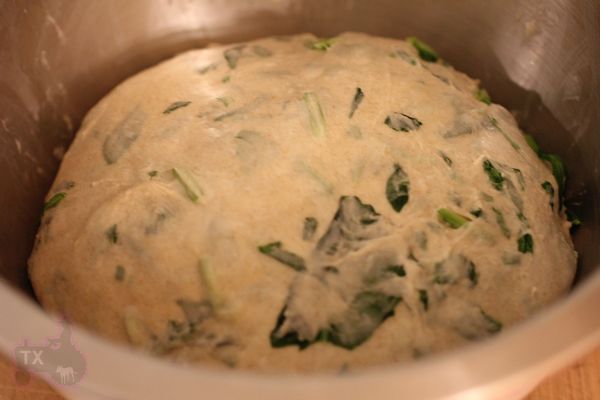 3. Takeout, divide, round, rest for 1 hour. shape as instructed here for sandwich loaf.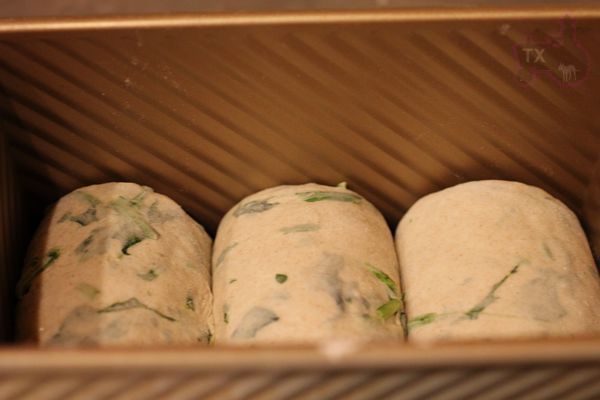 4. rise at room temp for about 5-6 hours. For my pullman pan, it should be about 80% full; for US 8x4inch pan, it should be about one inch above the edge. The dough would have tripled by then, if it can't, your kneading is not enough or over.
5. cover with the pullman pan lid, bake at 375F for 45min, then 350 for 25min. I made extra dough to bake the mini loaf in the back - it's evident that if you don't have a pullman pan, this dough can also be made into a high sandwich loaf. The mini loaf is roughly half of the size of the pullman pan, and it was baked for 45min at 375F.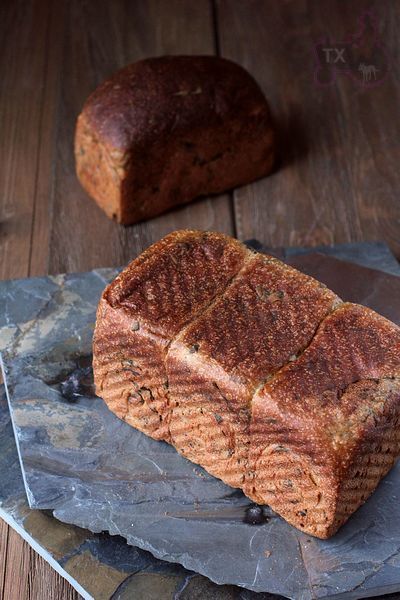 Very very very soft and moist. Fragrant from all that arugula.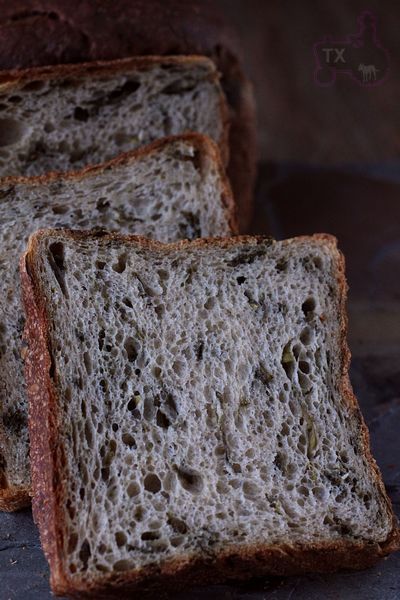 Cream tenderizes the dough, yet leaving it airy and light. Great to make a sandwich with, or just eat as is.