February 14, 2012 - 6:56pm
Country Bread - Jazzed Up With Chia Seeds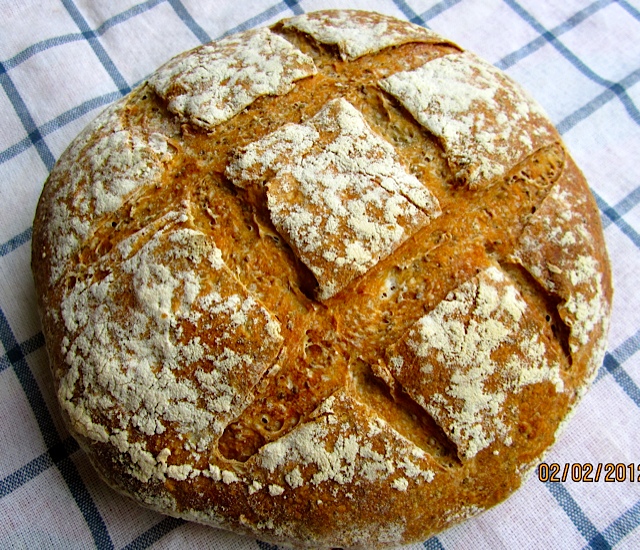 Was it my childish resistance against praying with St. Jeffrey's faithful congregation, or an unconscious dislike of dealing with a tome - so far I haven't baked a lot from Hamelman's "Bread". Though one bread, the wonderful "5-Grain Sourdough with Rye Sourdough", made it straight into Karin's Bread Hall of Fame, and his "Rye Sourdough with Walnuts" formula I used for testing a 1-step versus a 3-step starter (http://www.thefreshloaf.com/node/19814/interesting-experiment-sourdough-starters).
For my "Equal Opportunity Challenge" I wanted kill two birds with one stone, giving "Bread" another chance, and finding a vehicle for the chia seeds I had just purchased for a bargain price. Therefore I chose a simple white loaf, one of the first formulas of the book: "Country Bread".
Working with the recipe wasn't very difficult. I refrigerated the mature pre-ferment overnight, and upped the amount of water in the dough a bit to accomodate the chia seeds (I didn't soak them, since, according to the description on the tag, "you can eat them directly out of the package"). The dough was slightly sticky, as intended, and I gave it an extra Stretch & Fold right away, and let it ferment for an additional 50 minutes after the last fold.
The result was a very pretty loaf, with a pleasant, slightly nutty taste - for people who don't care too much for sourdough tang. Unfortunately, the Andersons do not belong to these mild mannered goodie-two-shoes, we like our yeasts wild and free!
Therefore, this gentle bread will have to find another home, even jazzed up with chia seeds it is a bit too tame for us.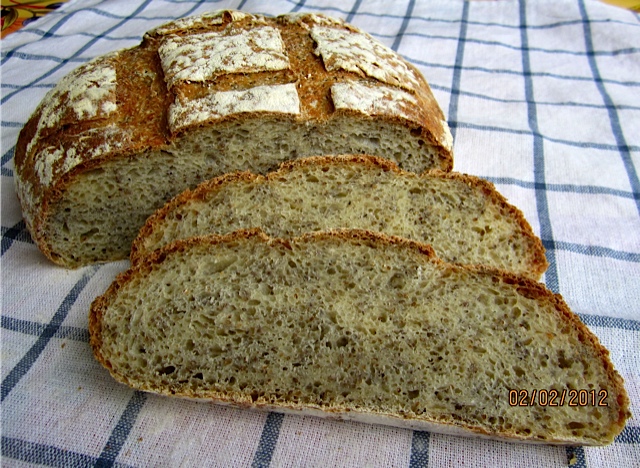 Country Bread - with chia seeds