Cheese Danish with Sourdough - all american beauty
Sending this toYeastspotting.
Click here for my blog index.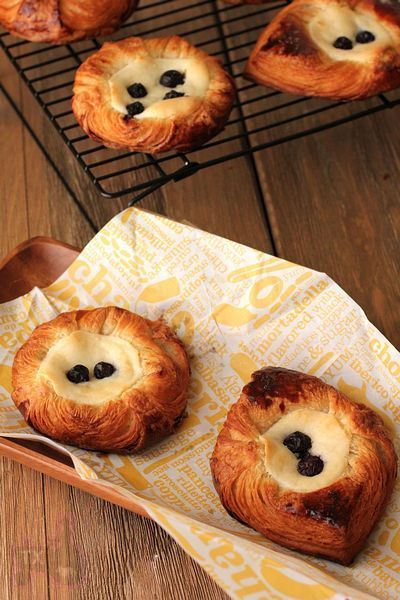 Continuing with my obession for laminated dough...
Unlike the laminated sandwich loaf  I made last time, these cheese danishes are definitely all American. The dough I used was very similar to the laminated sandwich loaf, with a tad less liquid to make the crumb layers more crisp. Since these are meant to be snacks, the dough is richer than croissants, also uses more roll-in butter. However, the lamination process is exactly the same as croissants: 3 book folds, and roll out to about 4mm thickness.
Laminated Sandwich Loaf (Adapted from many different sources)
Note: for details and tips on making croissants, please see this post
Note: this recipe makes about 930g of dough, about 12 large danishes.
-levain
starter (100%), 44g
water, 75g
bread flour, 134g

1. mix and leave at room temp for 12 hours.
-final dough
bread flour, 361g
milk, 135g
egg, 77g
sugar, 60g
salt, 10g
instant yeast, 7g
butter, 41g, softened
levain, all
roll-in butter, 310g
-cheese filling
recipe here

1. make the dough following the procedure illustrated here in this post
2. Cut the dough into 4.5X4.5inch squares, and shape into half pockets or full pockets by folding two or four corners into the center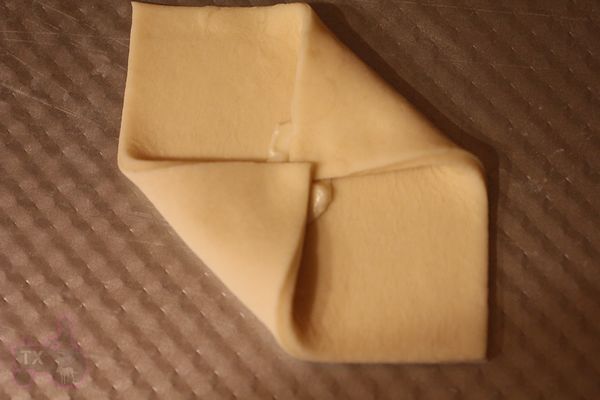 10. Proof at around 27C until more than double and layers are visible, about 3-4 hours in my case. If seal opened during proofing, press corners back into the center, and press down to seal well. Sqeeze cheese filling in the middle and decoreated with blueberries.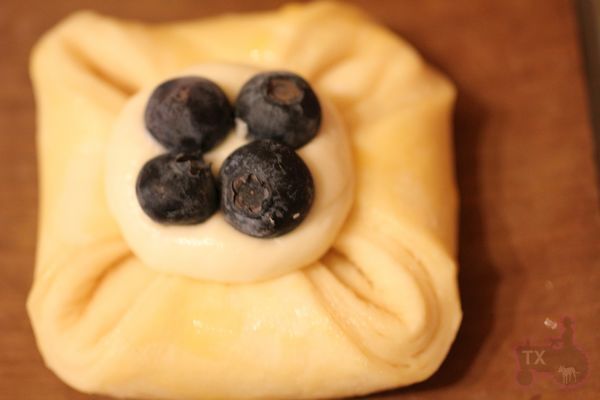 11: Bake at 425F for 10min, lowered to 375F and bake until done, about 15 min more.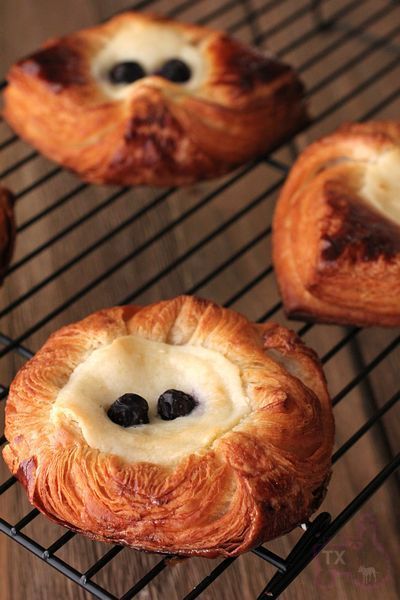 Shattering crispy layers and decadently rich flavor

Gotta say I am usually not a big fan of store bought danishes which often are doughy, flavorless, and too sweet. However, these really rock!