December 29, 2011 - 9:45pm
Barbecued Beef Sandwich on Double Knotted Rolls made with ITJB Medium Vienna dough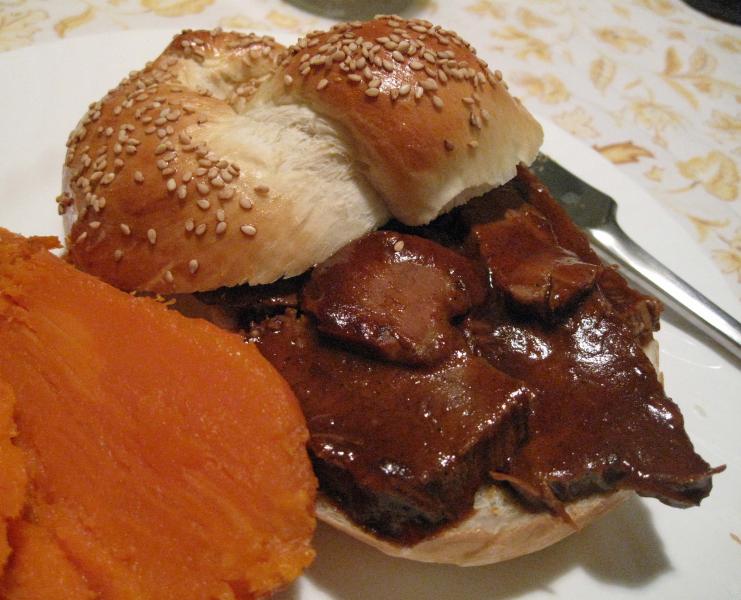 You could call it "FICTION." (Fraternal Inspiration to Cook The Identical Offerings Nightly) But it's true. Brother Glenn and I end up baking the same breads or cooking the same dishes more often than one would expect by chance alone. 
My barbecued beef sandwiches are, strictly speaking, not identical to Glenn's. He used leftover rib roast. I used braised brisket. He made hoagie-type rolls from the Vienna Bread dough in BBA. I made double knotted rolls from the Medium Vienna Dough in Inside the Jewish Bakery. I served mine with baked yams and Curtido, a South American version of cole slaw.
The ITJB Medium Vienna dough was bulk fermented to triple (2 hours at 78 degrees F).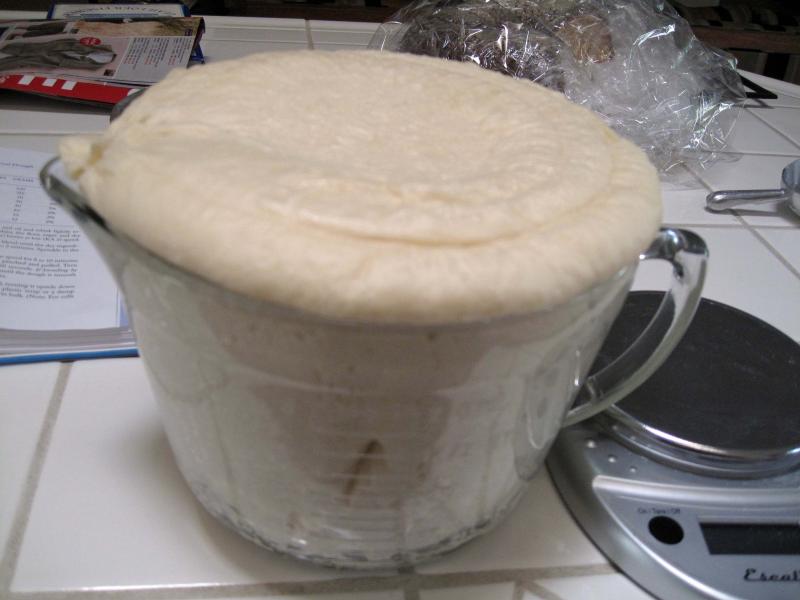 Yup. That's tripled.
Even though this is a rather low-hydration, stiff dough, full fermentation yields a roll that is light, airy and tender with delicious flavor, yet firm enough to not get soggy and fall apart when used to make a saucy sandwich. I scaled the rolls to 4 oz, 3/4 proofed them, egg washed twice, sprinkled with sesame seeds and baked them at 350 degrees for 17 minutes.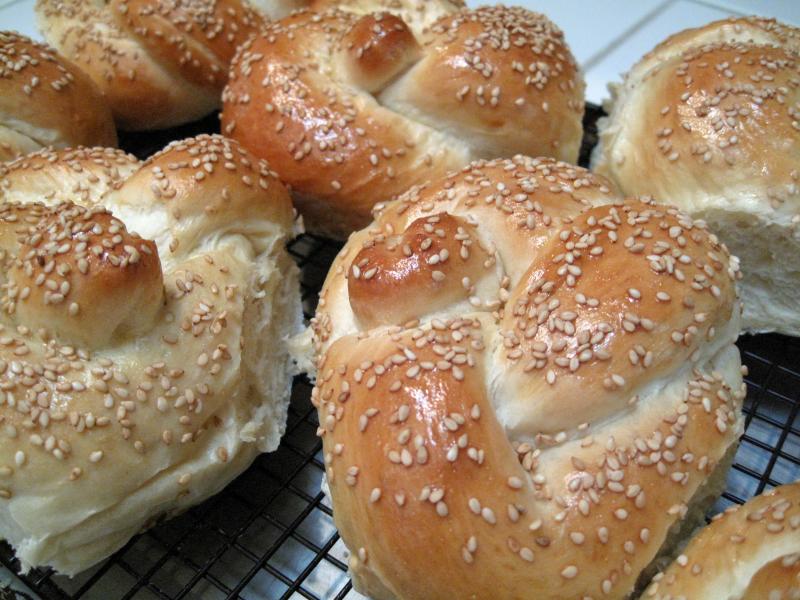 The brisket was prepared as follows:
2 lbs lean brisket, well-trimmed of fat.
3 cups sliced onions
4 cloves of garlic, crushed
2 medium carrots cut in 2 inch pieces
1 bay leaf
1/2 cup of dry wine (red, white or a mixture)
Water to just cover the other ingredients.
Note: No salt. The sauce provides plenty of salt and spice.
Place all the ingredients except the water in a heavy dutch oven with the brisket fat-side up. (I used a Le Creuset oval enameled cast iron oven.) Pour in enough water to barely cover the meat. Cover tightly. Bring to a boil on top of the stove then place in a pre-heated 350 degree F oven and bake until the meat is fork-tender (about 3 hours). Bake uncovered for the last 30 minutes or so to brown the meat and reduce the gravy somewhat.
Transfer the contents to another container to cool to room temperature, then cover and refrigerate overnight.
The next day, skim off any visible fat. Slice the brisket thinly, across the grain of the meat. Mix about a cup of barbecue sauce (I like "San Francisco's Original Firehouse No. 2 Bar-B-Que Sauce.") with a few tablespoons of gravy (without the veggies) to thin it in a cookpot large enough to hold the sauce and sliced brisket. Simmer partly covered on top of the stove to thoroughly heat the meat.
Heap meat and some sauce on rolls and serve immediately with side dishes of your choice.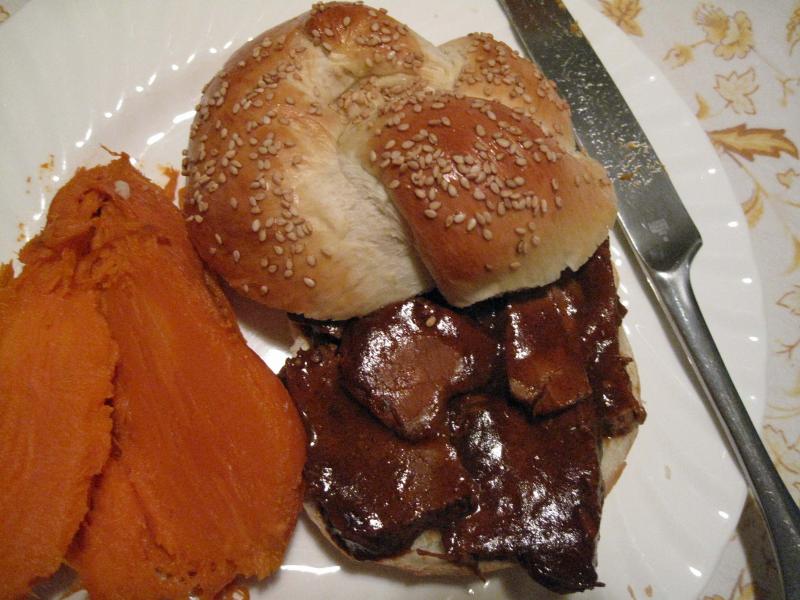 Enjoy!
This week, I also made Hamelman's "Sourdough Seed Bread." I hadn't made this one in quite a while. It was even better than I remembered. Highly recommended!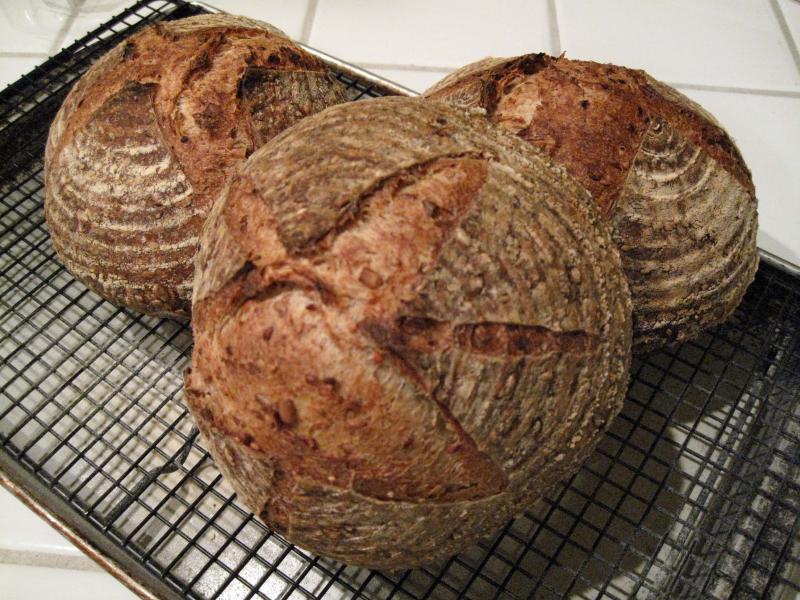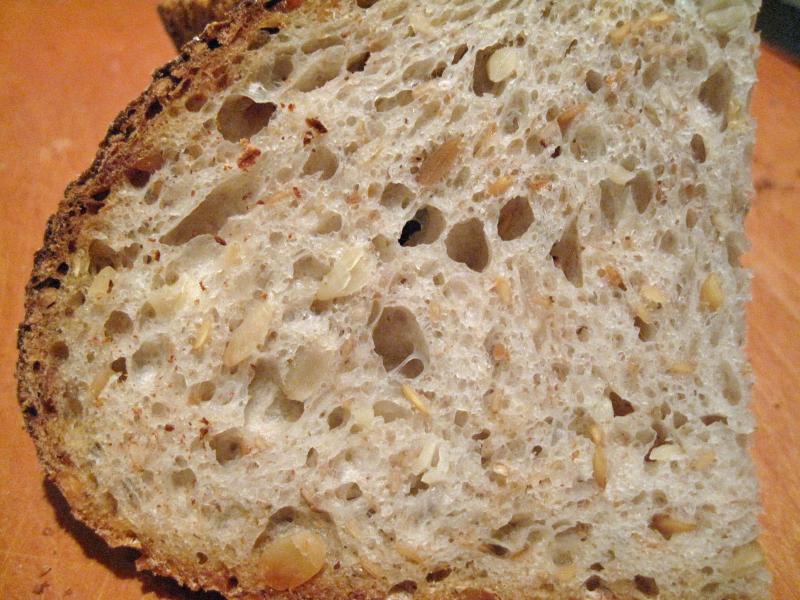 David
Submitted to YeastSpotting