Olive Bread - Sourdough Yeast Hybrid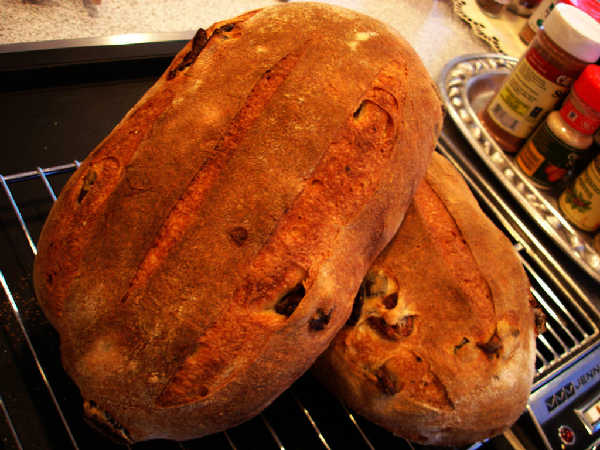 Olive Bread - Sourdough Yeast Hybrid (1) 
Olive Bread - Sourdough Yeast Hybrid (2)
My wife said we were invited to dinner and could I make some bread to bring. This was in the morning of the same day, so I was unable to do a long rising, multiple step, sourdough bread, as I would have with more warning. So, I went for a fast approach. I had some left over starter that was intended for some bread I never got to. It was 5 days old sitting in the refrigerator. I decided to use it as a flavor ingredient, and add regular yeast to the dough in a "hybrid method". I also have had some kalamata olives in the pantry, thinking I might want to make some olive bread, which I had not done before. The result was a very mild sourdough flavor combined with olive fragrance and brine flavor. It seemed to go over fairly well. I took some photos and thought I would post this recipe. It's a way to get some sourdough flavor even if your starter is not fully revved up or if you are just in a hurry.
Olive Bread - Sourdough Yeast Hybrid
For the Dough:
360 grams of 5 day old refrigerated 100% hydration sourdough culture (mine is BBA style, fed with KA bread flour)
320 grams of AP (I used KA organic AP)
100 grams sifted white wheat flour (this could just be more AP, some white whole wheat flour, or other "rustic" flour)
50 grams KA rye blend (again any rye, whole wheat, or other "rustic" flour)
285 grams water
13 grams salt
1.5 tsp instant yeast (I used SAF instant)
0.5 tsp diastatic malted barley flour (not critical - optional ingredient)
200 grams kalamata olives, pitted, halved, stored in natural brine (that's what I had, but I'm sure lots of other types would be good, too)
There is a lot of flexibility in the age of the starter and the type of starter. I'm just using it as a flavor ingredient. You could easily make this a pure sourdough recipe by using fresh starter and leaving out the instant yeast. The bulk fermentation and final proof would just run longer, maybe 4 hours for the bulk fermentation and 2 hours for the final proof if done with pure sourdough.
Autolyse
Mix flours and water together, and use frisage, dough hook, or mixer to get it reasonably well mixed. Let sit for 20 minutes.
Mixing and Kneading
Work in the starter, yeast, then salt, and use frisage or mixer to get all the ingredients well mixed. Press in olives a dozen at a time and fold dough a few times to get them integrated into the dough. Knead for a few minutes until the dough is resilient. It will probably be quite sticky. The hydration is about 71%, so it is wetter than regular french bread dough. The ripe starter will make it have a wetter stickier consistency also. Place the dough in a covered container to rise. You can spray a little oil in the container beforehand and also on the exposed surface of the dough, but it's not that critical.
Bulk Fermentation and Folding - about 2.5 hours at 78F (or a little longer at room temperature)
Fold the dough at about 1 hour and then again at about 2 hours. At 1 hour it should have risen to about 1.5 the original dough volume. At 2 hours, it should have risen to about double the original dough volume. To fold, turn the dough out onto a lightly floured surface. Spread it out, pressing down gently without ripping the dough. Then, grab one corner of the dough, stretch it out gently and fold it over itself into the center of the dough. Do this for all four corners. If the dough is hard to stretch, just do two opposite corners, like a letter, rather than all four corners.
Shaping
Turn the dough out onto a lightly floured surface. Split into two equal pieces and let rest 10 minutes. To shape, create a rectangle about twice as long as it is wide. Roll the rectangle up from the short side, tensioning the outer surface as you roll. Pinch the sides under tightly to create more tension. Then, pinch the ends under also. Let it rest ten minutes with the seams down. Place the shaped loaf seams up in a couche lined banneton floured with a very small amount of rice flour or use other rising form as you prefer and optionally spray a little oil over the exposed surface. Cover with a towel and let rise for about 1.25 hours until puffy and probably a little less than doubled in volume (I did this at 78F, so adjust times if doing it at room temperature).
Bake
Preheat oven to 500F. Turn loaves onto a peel using your favorite method. I use parchment paper sprinkled with corn meal on a peel. Slash lengthwise a couple of times. Optionally mist the loaves with water very lightly using a fine mist spray bottle. Place loaves in oven, and generate steam using your preferred method. Just wetting the surface of the loaves is one simple appproach. Bake at 500F for about 10 minutes. Open the oven door and remove all the steam generating stuff you may have, and drop the oven temperature to 450F. Bake another 10 minutes or more until internal temperature is about 207F (at sea level).
Cool
Let them completely cool before you cut into them.