November 19, 2011 - 10:21am
Experimenting with alcohol
I'm enjoying experimenting with using various other liquids instead of some or all of the water (not honestly with much success so far!)
My MIL was with us when we were shopping, and she likes the recent alcoholic ginger beer - so I thought "why not?" and bought a bottle.  I found a recipe for ginger beer sourdough (from Yozzause) and adapted it a bit.
Ingredients:
120g white starter (100%)
120 rye flour
250 strong white
250g alcoholic ginger beer (Yozzause said he'd use more in future, he used half and half water & GB)
8g salt
3g ground green cardomon
Wet dough when mixing - overnight in fridge - but once I got it out of the banneton (bit stuck) it was relatively easy to score (unusual for me!).  It didn't rise as much as I'd hoped - too much rye perhaps?  Baked in my new La Cloche for I think 25mins with lid, then 20mins without...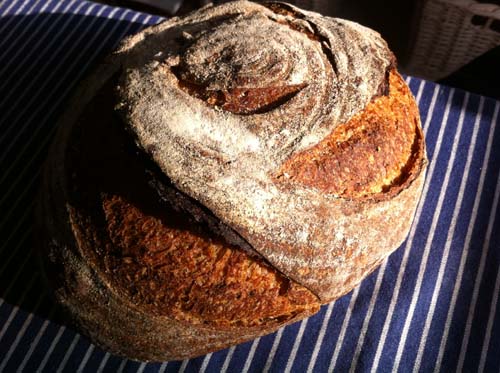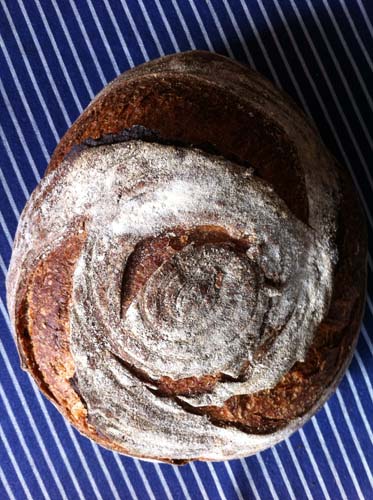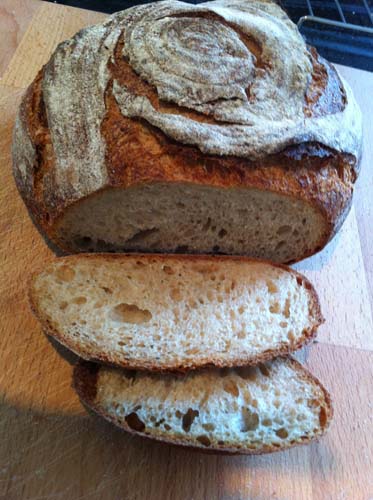 Nice flavour - but I'd increase the cardomon in future.  You could taste the ginger from the gingerbeer (quite subtle).  Dark strong crust, very nice toasted.
The challenge I think is the alcohol - would it make rising take longer?  I've had serious problems with a red wine bread - very little rise - and this wasnt as light as I'd like...  What does alcohol do to wild yeasts???