Its been a little while since i posted last, but i was particularly pleased with my last effort this morning FRIDAY 13.
Recently i invited   an old working colleague who owns and runs a very good bakery nearby to join me for lunch at the college restaurant as numbers were down and we still needed bums on seats for the hospitality students to train on. I suggested that Nick might like to bring his wife, he said that she would be unable to make it but could he bring along some one else.
Nick's friend turned out to be his flour mill technical man, so over  a 3 course lunch we had a great discussion firstly about Nick giving a young fellow some work experience as he was keen on Baking and secondly about Deans former life as a baker in the UK.
I told him that i would very much like to try some of the more interesting Flours that i had noticed they made, in particular the organic white and organic whole meal and the Rye  and course Ryemeal as well as a product we always knew as Sharps which we used for dusting purposes, it is actually semolina. Dean said that he would drop some off the next time he was passing. a week or so later whilst i was away from the office a drop off of samples was made  but not 2 kg samples that i thought i might get but 25kg bags of the stuff 120kgs in total.
I have already started to use them and have encouraged the chefs to use them too, i have also made up a selection for fellow TFL'r Rossnroller to try some too as soon as he is up and about again.
Anyway here is some of the mornings bake using 'MILLERS' RYE MEAL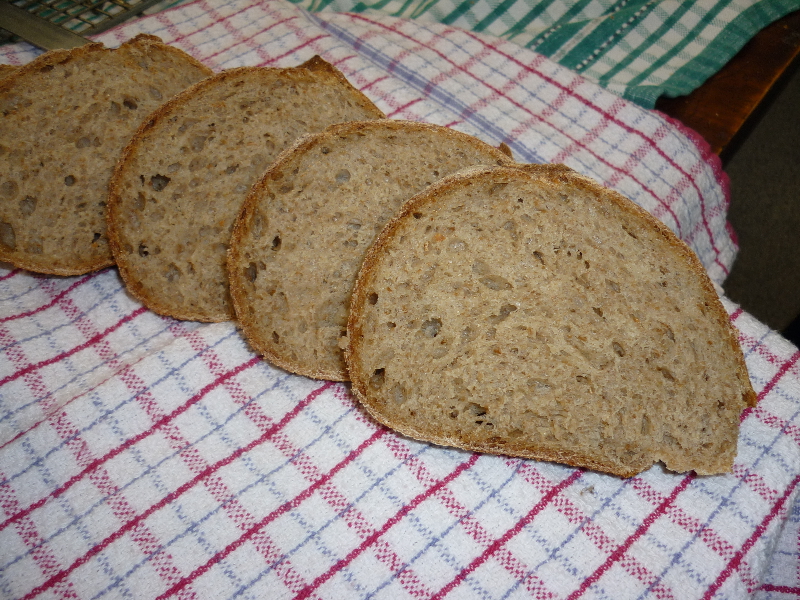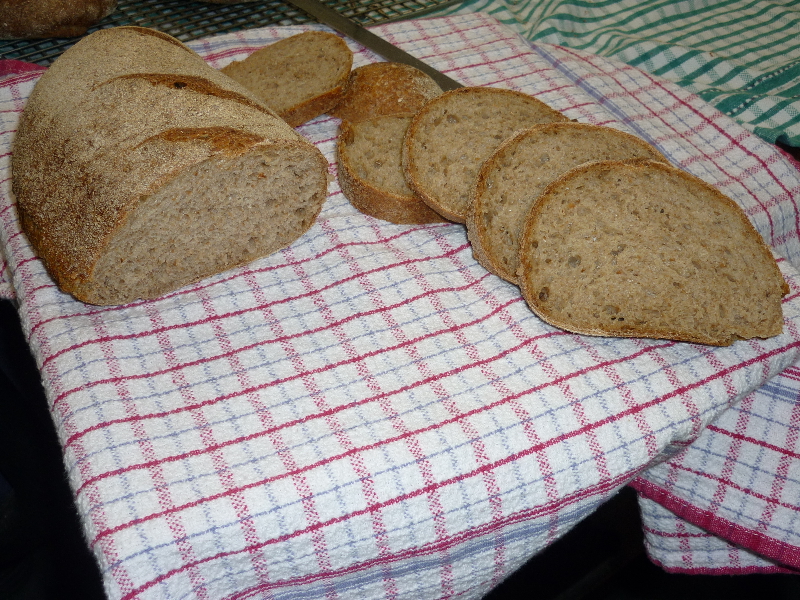 the dark seed are chia seed down on the front left there is some fennel seed we didnt have any carraway  and the other is just rolled in rye and semolina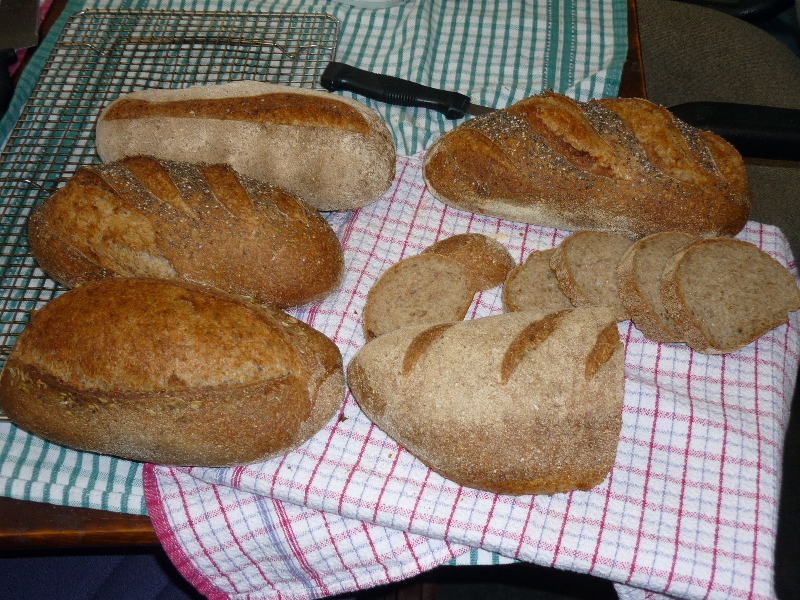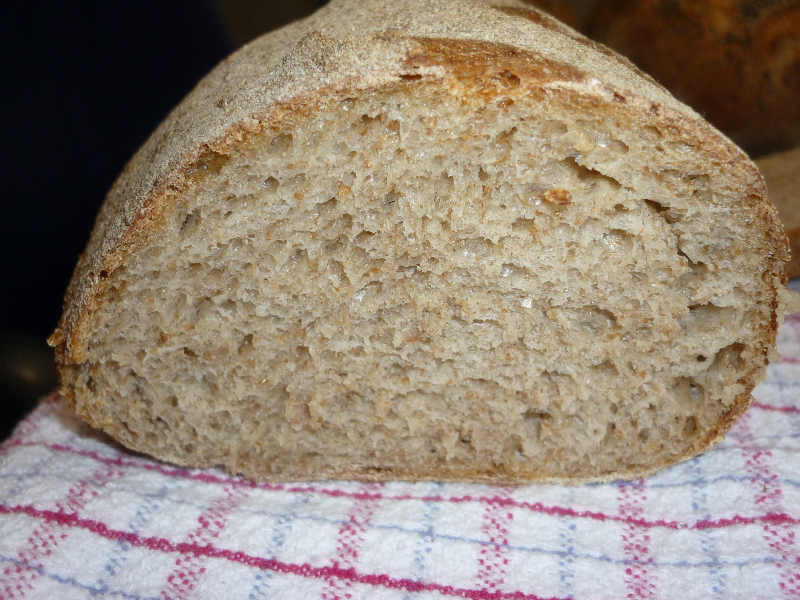 This was a sour dough 1/3 rye meal 2/3 white flour  total 3 kgs flour
2 kgs of liquid now this is where i tried something a little different, i did a batch of alcoholic ginger beer and after botlling 18 x 700ml of Ginger Beer  i was still able to draft off a further 2 litres  just below the tap before getting to the slurry on the bottom.
i was going to use the full 2 litres but as i added it to the rye it seemed pretty pungent so i thought that i would add equal amount of water to tone it down i added my 1 kg of starter and 65g of Salt i also added 100g of gluten powder.
 basicly your 3-2-1 formula
It was given a good mix in a spiral mixer and then placed in a plastic container receiving a stretch and fold after 1 hour another after the 2nd hour followed by a turn ou and scale up to 12 pieces @ 500g plus a pinch each from what was left.
The dough was then shaped and placed onto linen cloths and then placed into the retarder over night.
Next morning i came in early before classes and  put the dough pieces onto steel trays  scored and baked of in a combi oven that heats up in about 5 minutes , it also has the benefit of being able to inject  steam so that was done for 10 minutes and the loaves baked @ 200 for 35 minutes or so.
I was able vacate the kitchen and get to my office just 5 minutes after starting time. Some of my taste testers were sure there  was a hint of ginger there  but all agreed it was mighty fine. It seems that i could have used all ginger beer dregs after all as there was only the slightest hint of gingerin the final product. maybe next time
reagrds Yozza