October 30, 2011 - 11:16am
SIMIT - TURKISH SESAME BREAD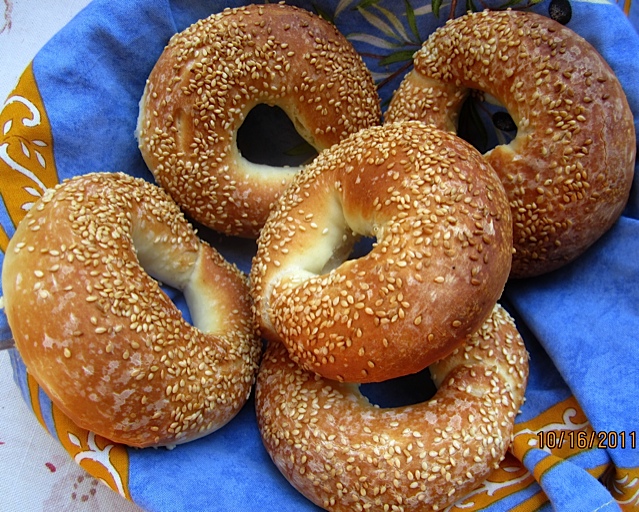 Ring shaped sesame simit is very common in Turkey, as well as in other Middle Eastern countries and the Balkans. It comes in larger and smaller sizes, and, also varies in crunchiness and chewiness, depending on the region. Some are softer, made with apple syrup and olive oil, and some are crisp and lean.

After having my first simit from a fabulous Turkish bakery in Delmenhorst/Germany (http://www.thefreshloaf.com/node/25706/turkish-delight), I was eager to try my hand in it.
I studied a lot of recipes - fortunately many Turkish women post in German cooking websites. Some of those descriptions were a bit too vague for a newbie (like Grandmother's: "Take a handful of flour, some olive oil, and then put in some eggs"), and others more specific. They varied greatly, so I decided on a lean version, like the simit I had in Delmenhorst, but I made it a little smaller, bagel size. 
The result was really nice - my husband and I loved the sesame crunch!

Dough:
500 g Italian 00 flour (or unbleached pastry flour)
4 g instant yeast
165-190 g water, lukewarm
19 g olive oil (optional)
125 g yogurt, lukewarm
7 g salt
Topping:
1 egg white, mixed with 1 tbsp. water, for brushing
sesame seeds, for sprinkling

DAY 1:
Mix together yogurt and water, and stir in instant yeast, until dissolved. Add all other dough ingredients, and mix at low speed (or with wooden spoon) until all flour is hydrated. Let dough rest for 5 minutes.

Knead at medium-low speed (or with hands) for 2 more minutes, adjusting with a little more water or flour, if needed. Dough should be supple and very tacky, bordering on sticky. Resume kneading for another 4 minutes. Dough should still be quite tacky.

Transfer to a lightly floured work surface. With wet or oiled hands, gently extend into a rough square. Stretch and fold back and front side like a business envelope, then, also left and right side.

Pick up dough package, tuck sides under to form a ball, and place, seam-side down, into an oiled bowl. Cover, and let rest for 10 minutes.

Repeat these stretches and folds 3 more times, at 10 minute intervals. After last fold, place dough into oiled container with lid, and refrigerate overnight.


DAY 2:
Remove dough from refrigerator 2 hours before using.

Divide dough into 8 equal pieces. First shape into rolls, then, with your hands, roll into 12"-14/30-35 cm strands. Or divide into 16 pieces to make braids. If dough resists, let rest for 5 minutes, before continuing. Shape strands (or braids) into rings, pressing ends together well to seal. Place rings on parchment lined baking sheet.

Preheat oven to 490 F/255 C, including steam pan. Brush dough rings with egg white, and sprinkle with sesame seeds. Spray with oil spray, cover with plastic wrap. Let rise for ca. 1 hour, or until they have grown to almost double in size.

Bake simits for 7 minutes, steaming with 1 cup boiling water. Rotate baking sheet 180 degrees, remove steam pan, and continue baking for another 8 minutes, until breads are golden brown.

Let cool on wire rack.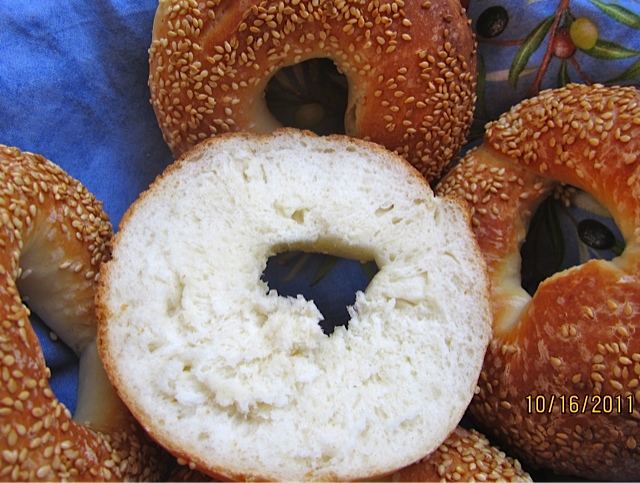 It is necessary to use a low protein flour, like the German type 450 or Italian 00. Unbleached pastry flour is a good substitute - all-purpose flour has too much gluten. Even though this bread can be made in one day, the taste definitely improves with overnight cold fermentation.
(Recipe adapted from Merosh's recipe in www.kochbar.de)

Updated 1/24/2015