October 23, 2011 - 9:41pm
Double knotted rolls from "Inside the Jewish Bakery"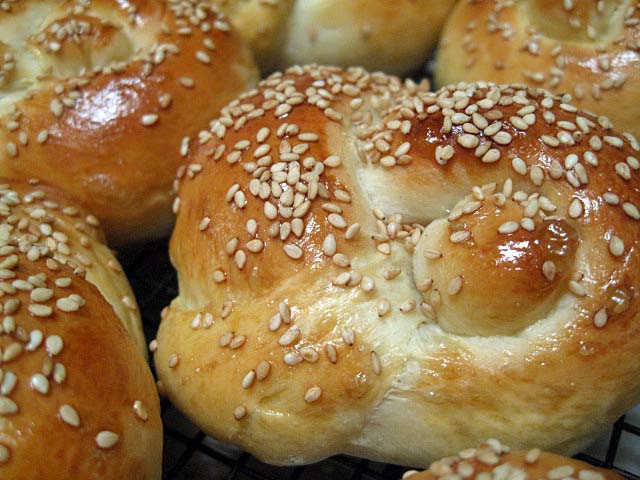 Three years ago, I made Double Knotted Rolls from a formula provided by nbicomputers, AKA Norm Berg, AKA co-author with Stan Ginsburg of Inside the Jewish Bakery. (See: Norm's Double Knotted Rolls) We enjoyed these rolls a lot, especially for sandwiches made with leftover Thanksgiving turkey.
When I received my copy of Inside the Jewish Bakery yesterday, I had already planned to make these rolls today. However, the book had no specific recipe for these rolls and no indication which of the three formulas for rolls should be used for them. I was pretty sure it would not be the "Light Enriched" dough, because that is the one used for Kaiser Rolls, and Norm specifically distinguished between the "soft roll" dough formula and that used for "hard rolls," like Kaiser Rolls. That left two formulas. Neither was the formula I had used in 2008, but I decided to use the "Sweet Egg Dough," because that looked closest. Here is the result (in photos):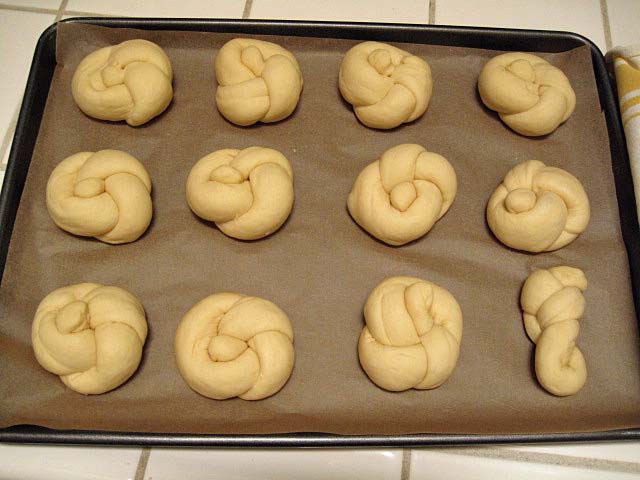 Rolls shaped and ready for proofing
Mixing followed the general instructions for mixing roll dough, and it worked well. Instructions (in Norm's words) for shaping can be found in this topic: Double knot roll. There are numerous YouTube videos of this technique, many erroneously presented as the method for shaping Kaiser Rolls. In addition, both Hamelman's Bread and Greenstein's Secrets of a Jewish Baker have good roll shaping illustrations. I scaled the rolls at 3 oz, with one bit of dough left over to make a sort of Figure Eight Roll.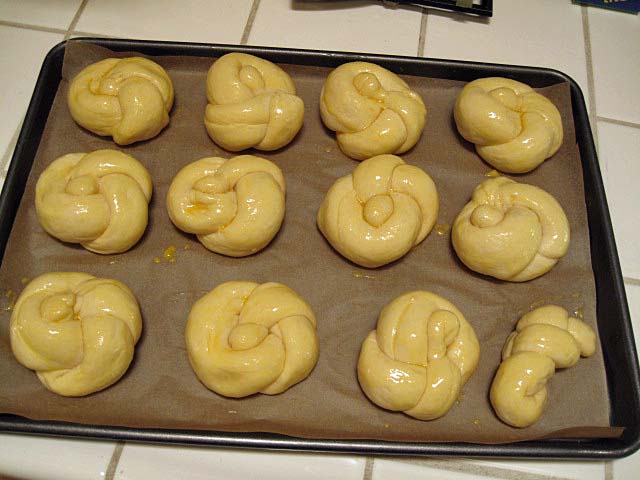 Rolls proofed and egg-washed
Inside the Jewish Bakery has an enlightening discussion of how different degrees of proofing were used for different products made with the same dough. For the Double Knotted Rolls, a 3/4 proofing is necessary to get the right crumb texture.
These rolls can be baked plain or with poppy seeds or sesame seeds. (Onion rolls are a whole other genre!) My wife much prefers sesame seeds. I can go with sesame or poppy.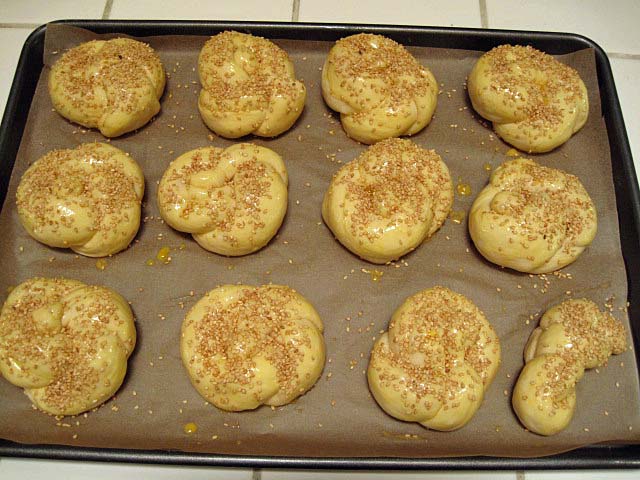 Rolls proofed, washed and seeded. Ready to bake.
I baked at 350 F for about 15 minutes. The rolls were slow to brown. Next time, I'll use the oven's convection setting, probably at 330 F.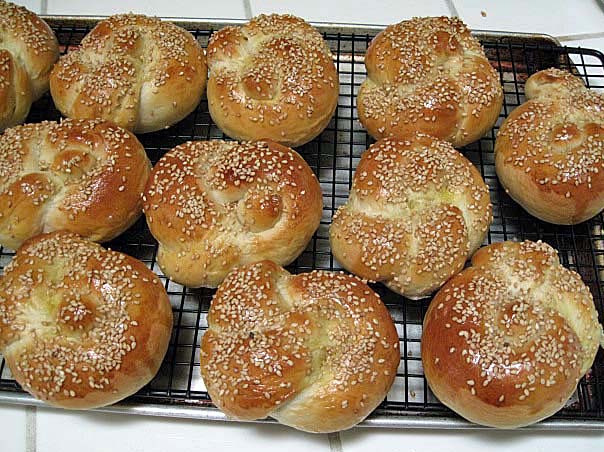 Baked and cooling
These rolls were less rich than I remember, but still very good.  Next time, I believe I would return to the formula Norm provided in 2008. Who's counting calories?
David
Submitted to YeastSpotting