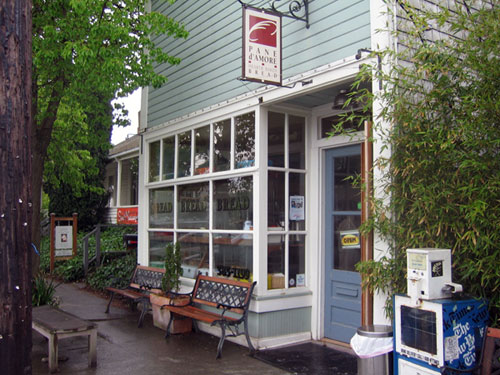 The last few times I've visited my parents' house, they've served some incredible breads from a local bakery. One time we had a roasted garlic-parmesan loaf that was to die for. This time we had an organic white sourdough with the most beautiful gringe and crust on it. The next morning for breakfast we had an organic cranberry-walnut sourdough that knocked my socks off. After finishing off an entire loaf of cranberry-walnut bread in one sitting, I thought to myself "I gotta go check this place out."
Pane D'Amore is in a teeny little storefront in uptown Port Townsend. Going by mid-day on the day before Easter was probably not the smartest idea of mine because the place was packed, so I didn't get a chance to talk to the bakery owners Frank D'Amore and Linda Yakush. But I was lucky enough to catch one of the bakers there, Ilon Silverman, as he was wrapping up for the day. He gave me a tour of the place and told me about his baking background.
Ilon told me he's been baking for close to 20 years. He got into bread baking, he said, when he first heard about baking sourdough loaves without yeast while in high school. "My initial tries came out like bricks", he told me, but he stuck with it and was eventually able to get the hang of it.
Ilon was able to get his foot in the door as a professional baker at The Berkshire Mountain Bakery in Massachusetts, getting to apprentice under the master baker Richard Bourdon. Later he landed a gig at the renowned Metropolitan Bakery in Philadelphia.
When I asked what brought him to Washington he told me a funny story. "I was out here checking out the Olympic Peninsula," he said, "when one morning I smelled bread. And not just any old bakery, but, you know, real bread." He went into Pane D'Amore and chatted with the guys for a bit, then asked if could come in and help bake the next day. So for the next two days (on his vacation, I remind you), he got up at 3 in the morning and put in a full (unpaid) shift at Pane D'Amore.
After returning to Colorado, Ilon heard that Pane D'Amore owner and head baker Frank D'Amore had been seriously injured in an accident and that the bakery needed help covering for him. Ilon called up the bakery, saying "Hey, you might have forgotten me, but I'm the guy who came in and baked with you on my vacation." He ended up coming back out to Washington to help cover for Frank while he was out of commission.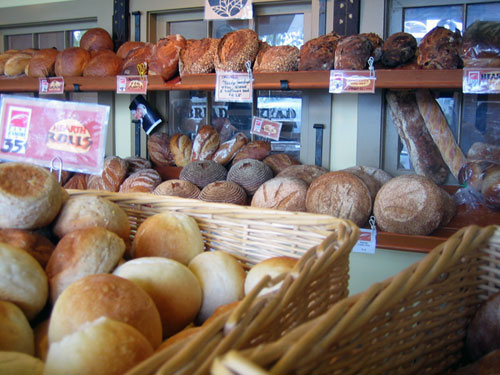 Frank D'Amore, who has been baking in Port Townsend for over 25 years, is back baking again and the bakery, which is about four years old, is going strong. The under 900 square foot joint (including the retail space) does about a thousand pounds of bread a day, with anywhere from ten to twenty different types of bread each day. All of the bread is made with organic ingredients, not just the flour but the nuts, seeds, and fruits as well. In the summertime, when the farmers' market is going on out front, the line will be out the door and they'll sell over 400 loaves of bread from the storefont alone. Pane D'Amore's breads are served at a number of local restaurants and has recently been picked up by the Safeway in town, which is the largest bread seller in the area by far.
The breads they make there are killer: aside from the ones I mentioned, they make a Fig-Anise Bread, Ciabatta, Swedish Limpa, a Flax, Oat, and Sunflower Multi-grain Bread, a 7 Grain, Panini, rolls, Ficelle and many others. About half of the breads they bake are sourdoughs, the other half yeasted. They also bake pastries, rolls, sticky buns, cinnamon rolls, cookies, focaccia, and pretty much anything else you can bake in a hot oven every day.


Pane D'Amore is located at 617 Tyler St., Port Townsend, Washington and is open 7 days a week.
Bakery Profile: Pane D'Amore