October 15, 2011 - 9:42pm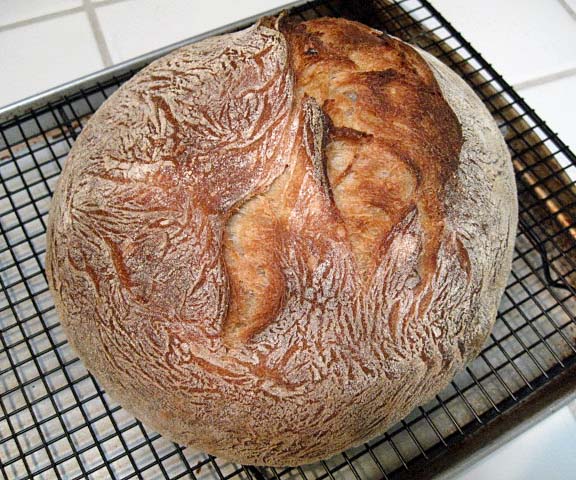 Last week's successful experiment making an "Italian" bread with bulk retardation has made me want to try other types of bread using that technique and other Italian-style breads.
I've been thinking about making a Pugliese bread ever since I first read about it in Peter Reinhart's The Bread Baker's Apprentice. Have you noticed that some thoughts take longer than others to get translated into action? Well, this one has taken about 4 years. In the interim, I have accumulated a sizable number of other bread books, and several have formulas for Pugliese. Consulting these, I find amazing variation, particularly in the flours used. Some use part or even entirely Durum. Some use partly whole wheat. What they have in common is 1) Use of a biga, 2) Relatively high hydration. Most recipes specify shaping as a round loaf with no scoring. The lone exception is The Il Fornaio Baking Book which shapes and scores Pugliese like a French bâtard. None of the formulas in the books I consulted use a sourdough biga.
The formula I ended up using is my own notion of a good rustic bread baked as a large round loaf, with a nod to Puglia. I suppose I could call it "Pugliese Capriccioso."
| | | |
| --- | --- | --- |
| Ingredients | Wt (g) | Baker's % |
| AP flour | 375 | 75 |
| Fine durum flour | 125 | 25 |
| Water | 360 | 74 |
| Salt | 10 | 2 |
| Active starter (100% hydration) | 100 | 20 |
| Total | 970 | 196 |
Note: For greater authenticity, one would use a firm starter. If you do, the water in the final dough should be increased and the flour decreased to keep the hydration the same in the formula.
Method
Refresh your sourdough starter 8-12 hours before mixing the dough.

In a large mixing bowl, disperse the active starter in the water.

Add the flours and mix to a shaggy mass.

Cover the bowl tightly and let it rest (autolyse) for 20-60 minutes. (Note: There is no harm in autolysing for longer, but do not decrease the time to less than 20 minutes. I often go out and run errands for an hour or more during the autolyse.)

Add the salt to the dough and mix it in thoroughly.

Transfer the dough to a lightly oiled, clean bowl and cover tightly.

After 30 minutes, do a "stretch and fold in the bowl" for 15-20 strokes. Repeat 3 more times at 30 minute intervals.

When the dough has expanded by 75% or so (about 30 minutes more), transfer it to a floured bench.

Pre-shape into a ball and let the dough rest for 20 minutes to relax the gluten.

Shape the dough as a boule and place it seam-side down in a floured banneton.

Place the banneton in a food-safe plastic bag or cover with a damp towel. Proof the boule until the dough springs back slowly when you poke a finger into it.

45 minutes before baking, preheat the oven to 490ºF with a baking stone and steaming apparatus in place.

Transfer the loaf to the baking stone, seam-side up, steam the oven and turn the temperature down to 460ºF.

After 15 minutes, remove the steaming apparatus. Bake for another 30 minutes or until the loaf is done. The crust should be nicely colored. The internal temperature should be at least 205ºF.

Leave the loaf on the baking stone with the oven turned off and the door ajar for another 10 minutes to dry the crust.

Transfer the loaf to a cooling rack. Cool completely before slicing.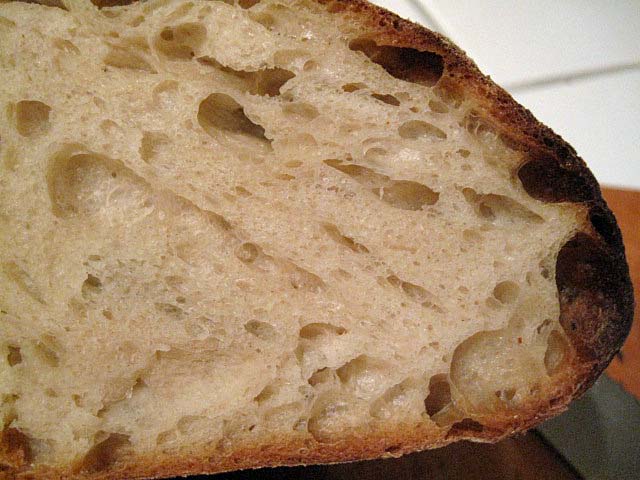 Pugliese Capriccioso crumb
The crust was crunchy, and the crumb was quite chewy. The flavor was remarkably sweet, especially given that there was no sweetener in the formula. The nutty flavor of the durum flour came through and was even more present than in the breads I've baked with a higher percentage of durum. There was little sourdough tang, although that might increase by tomorrow.
This is a bread I will be making again. I think it could stand an increase in hydration, maybe even up to 78% or so.
I also made a high-extraction miche today. This followed my formula and procedures for the San Joaquin Sourdough. The only changes were 1) I used Central Milling's "Type 85 Unmalted" organic flour for the final dough, 2) I added 5 g of diastatic malt powder to the mix, 3) rather than pre-shaping and resting for 60 minutes, after cold retardation, I let the dough ferment at room temperature until almost doubled, then pre-shaped and rested for 20 minutes, and 4) I made one large boule with the entire dough.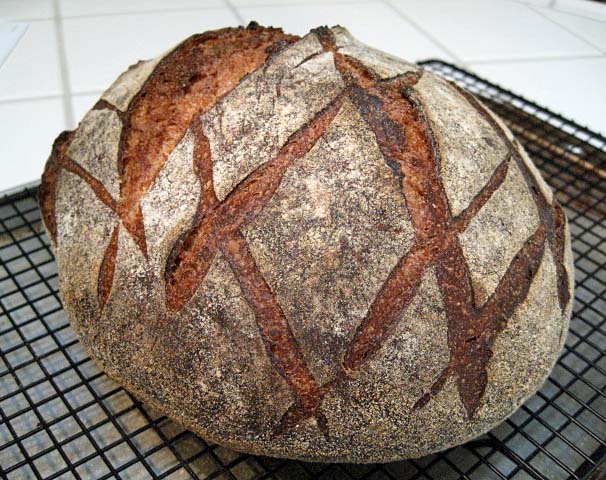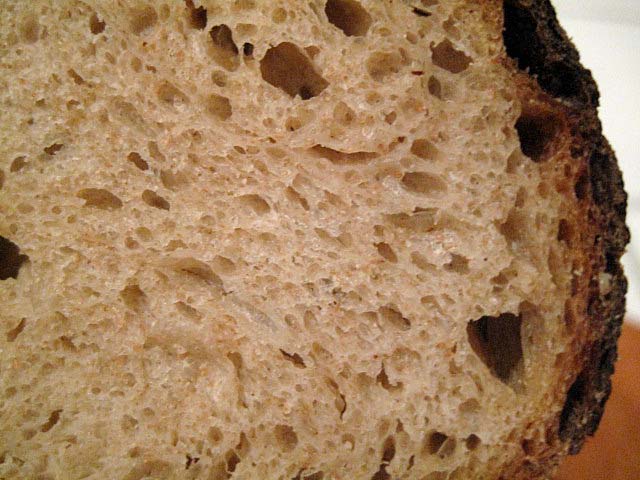 The crust was quite crunchy with a sweet, caramelized sugar flavor. The flavor of the crumb was sweet and earthy with moderate sourness. It was quite delicious 3 hours out of the oven, and I think it will have a long shelf life and make wonderful toast.
This is another bread I expect to be making again.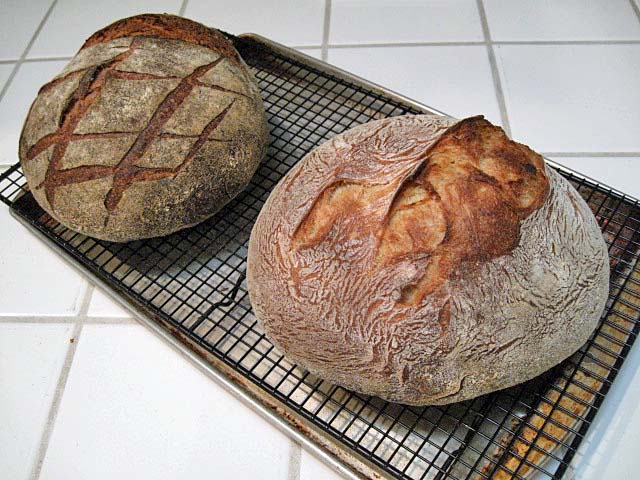 I enjoyed a slice of each with our dinner of Proscuitto with melon and Fedelini with roasted San Marzano tomatoes, garlic, bread crumbs and fresh basel.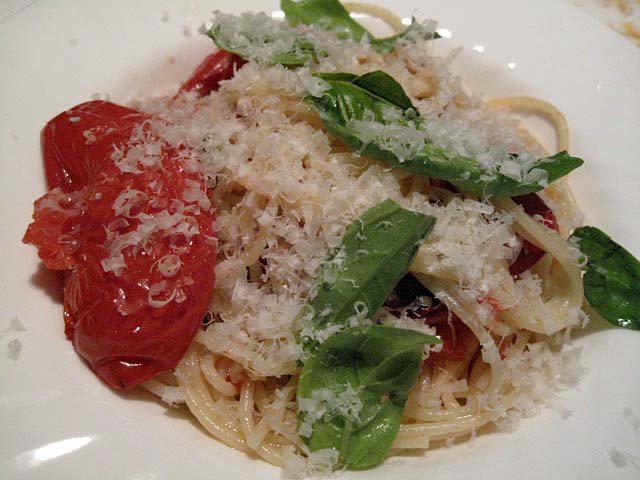 David
 Submitted to YeastSpotting