October 14, 2011 - 7:52pm
80% Sourdough Rye with Rye-flour Soaker from Hamelman's "Bread"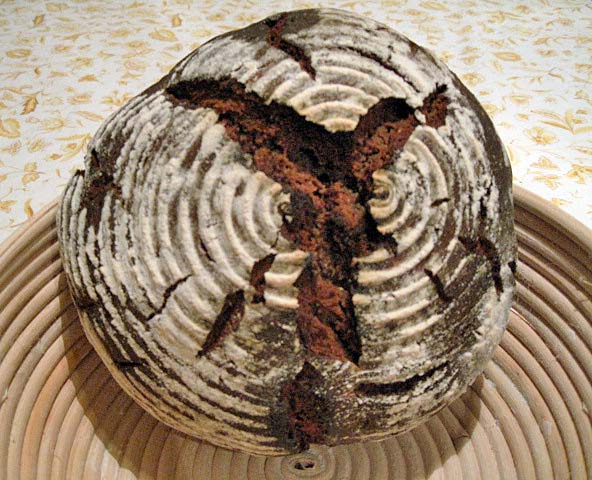 It has been almost a year since I first made the "80% Sourdough Rye with Rye-Flour Soaker" from Hamelman's Bread. At the time, I said it was my new favorite high-percentage rye bread, and I can't say its status has changed. Actually, it's been a while since I have made a high-percentage rye bread. I've been thinking about it, but Codruta's lovely bake of this bread finally inspired me sufficiently to do it.
There are some surprising things about the dough for this bread. Hamelman describes it as "loose and sticky," but the last time I made it, I now recall, both the hot rye soaker and the final dough were less loose and less sticky than I thought they should be. Looking back at my notes of last November, I said I would double check the numbers in the "Home" version of the formula, which I used, against the formula Hamelman provides for a larger production. Well, the numbers check out okay. I also looked at the Errata Sheet Hamelman made available in May, 2010, and there are no corrections to the formula for this bread.
Hmmm … Maybe my whole grain rye flour is thirstier than Hamelman's. In any case, I did add an extra 1/4 cup (2 oz) of water during the mixing of the final dough, which took the total dough hydration from 78% to 84% hydration.
| | | |
| --- | --- | --- |
| Overall Formula | Wt. (oz) | Baker's % |
| Whole-rye flour | 25.6 | 80 |
| High-gluten flour | 6.4 | 20 |
| Water | 27 | 84 |
| Salt | 0.6 | 1.8 |
| Instant Yeast | 0.16 | 1.5 |
| Total Yield | 59.76 | 187.3 |
| | | |
| --- | --- | --- |
| Rye Sourdough | Wt. (oz) | Baker's % |
| Whole-rye flour | 11.2 | 100 |
| Water | 9.3 | 83 |
| Active levain | 0.6 | 5 |
| Total | 21.1 |   |
| | | |
| --- | --- | --- |
| Soaker | Wt. (oz) | Baker's % |
| Whole-rye flour | 6.4 | 100 |
| Boiling Water | 6.4 | 100 |
| Total | 12.8 |   |
| | |
| --- | --- |
| Final Dough | Wt. (oz) |
| Whole-rye flour | 8 |
| High-gluten flour | 6.4 |
| Water | 11.3 |
| Salt | 0.6 |
| Instant Yeast | 0.16 |
| Soaker | 12.8 |
| Sourdough | 20.5 |
| Total | 59.76 |
Procedure
Mix the rye sourdough and ripen it for 14-16 hours at room temperature.

Mix the soaker at the same time as the sourdough. Weigh the rye flour into a 6 cup mixing bowl, and pour the boiling water over it. Cover tightly immediately and let it cc sit at room temperature with the sourdough. (Note: Hamelman says the soaker will be thick and will have absorbed all the water. On both occasions I made this bread, there was dry flour left in the soaker, even when I mixed it. I think, for future bakes, I will add extra water to the soaker – maybe 2 or 3 oz.)

Add all the Final Dough ingredients to the mixing bowl of a stand mixer and combine using the paddle (2 minutes). Then, switch to the dough hook and mix at Speed 2 for about 6 minutes. There will be little if any perceptible gluten development. (Note: I combined the soaker, sourdough and water and mixed thoroughly. In a large bowl, I weighed the two flours, salt and yeast and whisked them to distribute the ingredients. I then added the dry ingredients to the mixer bowl and mixed with the dough hook. I added the additional water mentioned above during this step, but, in the future, I think I would add it to the soaker, as noted above.)

Scrape the dough together. Cover the mixer bowl tightly and bulk ferment for 30 minutes.

Scrape the dough onto a lightly floured or a wet board. With wet hands, shape it into a ball, as smooth as possible on the top side, gathered on the bottom side. (Note: I made one large round loaf. Alternatively, you could divide the dough into two equal pieces to make smaller loaves, and shape as above.)

Place the loaf (or loaves) seam side down into a well-floured brotform (or two). Place in a food-safe plastic bag.

Proof for 50-60 minutes at 80ºF. (Note: I heated a mug of water in the microwave for two minutes, then put the bread in the microwave to proof.

45 minutes before baking, pre-heat the oven to 490ºF with oven stone and steaming apparatus in place.

When it is proofed, transfer the bread to a peel, seam side up, and then to the baking stone.

Turn the oven down to 470ºF. Steam the oven. Bake for 15 minutes.

Remove the steaming apparatus. Turn the oven down to 430ºF, and bake for another 45-50 minutes, or until the bread is nicely browned and the internal temperature is at least 205ºF.

When the bread is done, transfer it to a cooling rack. When it is completely cooled (2-4 hours), wrap the bread in baker's linen or a clean kitchen towel and leave it on the cooling rack for at least 24 hours to stabilize the crumb texture before slicing.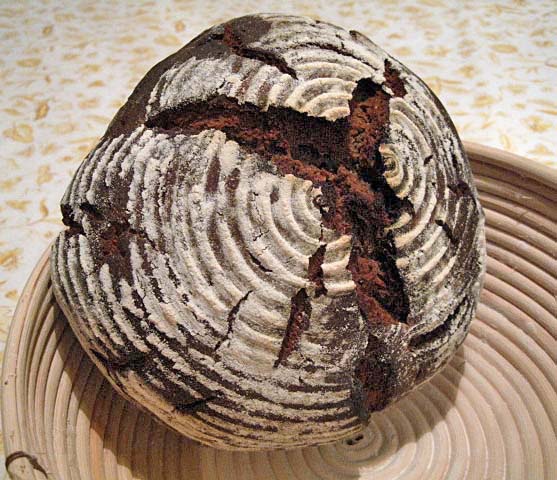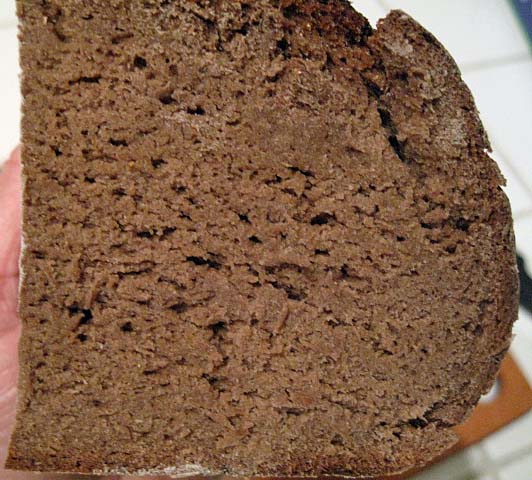 The crumb was dense and a bit sticky. My analysis is that the dough was under-fermented, and the loaf was under-baked. This loaf is larger than what Hamelman specified, and, in hindsight, should have baked longer, probably with an additional lowering of the oven temperature for the last portion of the bake.
The flavor, on the other hand, was assertively sour with a delicious earthy rye flavor. I'm hoping that toasting can salvage this bread. Otherwise, I have an abundant supply to use as altus in future rye bakes.
When well-made, this bread is best, in my opinion, sliced thin and eaten with smoked meats or fish, pickled fish, strong or smoked cheeses and dark, braised meats. It has amazing keeping qualities and also freezes well.
Enjoy!
David
Submitted to YeastSpotting