September 17, 2011 - 3:10am
Rye-Einkorn Bread (two sourdoughs, and one AYW)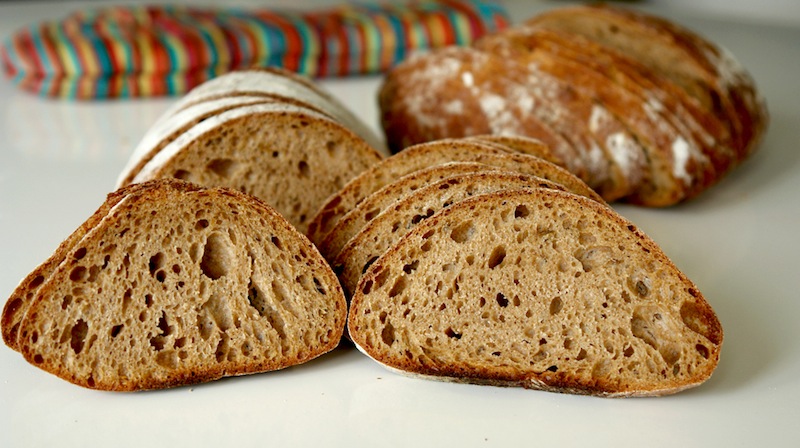 Recently, I bought a flour with a confusing romanian name "alac". The seller told me that is spelt, or something similar with spelt.  It was a very expensive bag of flour and I decided to use it with care. After the first bake, I was surprised by the flavor: I never felt such a deep wheaty nutty strong flavor in breads made with spelt. I thought is pure luck to find such a good flour, or maybe just an impression. I made another loaf, with AYW, using same flour, in the same ratio as before (60% "alac" flour, 10% rye flour and 30% white flour). The same wonderful result: deep rich wheaty taste, with a vague hint of bitterness. All this time I was convince I'm using spelt flour. I made a third bake, with sourdough, roasted fennel seeds and anise seeds (inspired by Hanseata and her post linked here) - this loaves were the best I've ever tasted. After that, I decided it's time to find out more about "alac" and, surprisingly, I found out that "alac" is not Spelt, but Einkorn. So... I used Einkorn flour all this time without even knowing it. That made me sad, somehow. I went back at the shop, and I bought another bag. That made me happy again.
back to bread
For the last bake, I used this formula:
Overall Formula:
- Italian white flour type "0", bio (corresponding to French T65, if I'm correct): 185 g ……………………………… 28.5%
- Einkorn Flour: 400 g ………………………………… 61.5%
- Rye Flour: 65 g ………………………………. 10%
- Water*: 495 g ………………………………………………………….. 76.1%
- Fennel seeds, roasted and crushed: 5 g ……………….. 0.77%
- Anise seeds, roasted and crushed: 2 g ……………….. 0.3%
- Salt: 13 g ……………………………………………………………… 2%
dough: 1165 g ………………………………………………. 179.2%
*I used 80g water in the levain, and 415g the water in which I boilled some beet roots, that's why the red-orangish colour.The stiff levain was build in two builds:
first build:
- White flour: 35 g
- Water: 35 g
- Sourdough (100%): 10 g
second build:
- White flour: 30 g
- Rye Flour: 40 g
- Water: 40 g
- Levain from first build: 80 g
results 190 g stiff levain 72.7%
For the final dough:
- Italian white flour type "0", bio: 115 g
- Einkorn Flour: 400 g
- Rye Flour: 25 g
- Water: 415 g * see the note
- Stiff levain: 190 g
- Fennel seeds, roasted and crushed: 5 g
- Anise seeds, roasted and crushed: 2 g
- Salt: 13 g
I let the dough autolyse for 40 minutes (just water and flour, without levain and salt), Than I added the levain and the salt, I knead by hand using folds in the bowl technique and in the end I added the roasted seeds, and knead again, a few folds. The dough temperature was 24-25C. I transfered the dough in a oiled container, did 2 S-F at 50 minutes interval, for a total fermenattion time of 2h:30min. I divided the dough, shaped it and let it proof 1h:40 min, then I baked it on a baking stone, with steam for the first 15 min.
When I shaped the batard I used Khalid technique, illustrated here. I like it.
Batard: While I transfered the dough from the linen to the parchement paper, and while I scored it, I was talking on the phone. I wasn't paying attention to what I'm doing, and the batard sticked a bit to the transfer board. That's why is a little asymmetrical and the scoring is not perfect.
Round loaf: I proofed it with seams side down, hoping for a nice pattern to form while baking. Instead, I got a dome with no cracks. I have to practice more.
Here are the photos: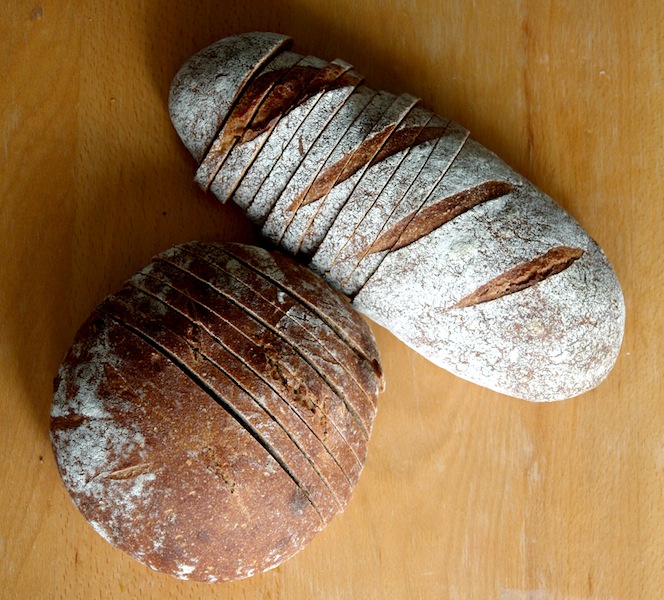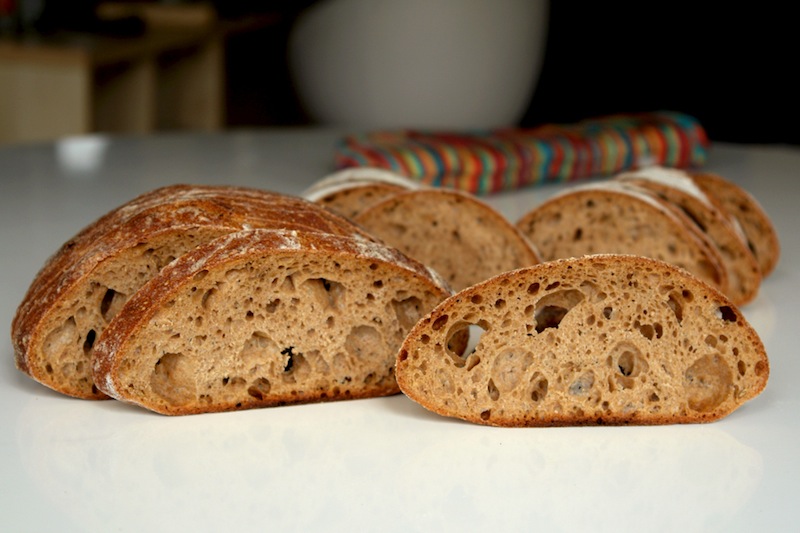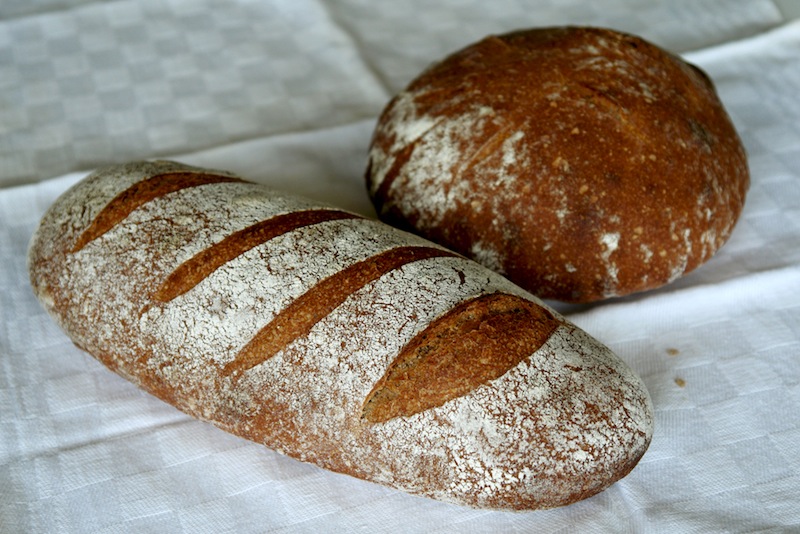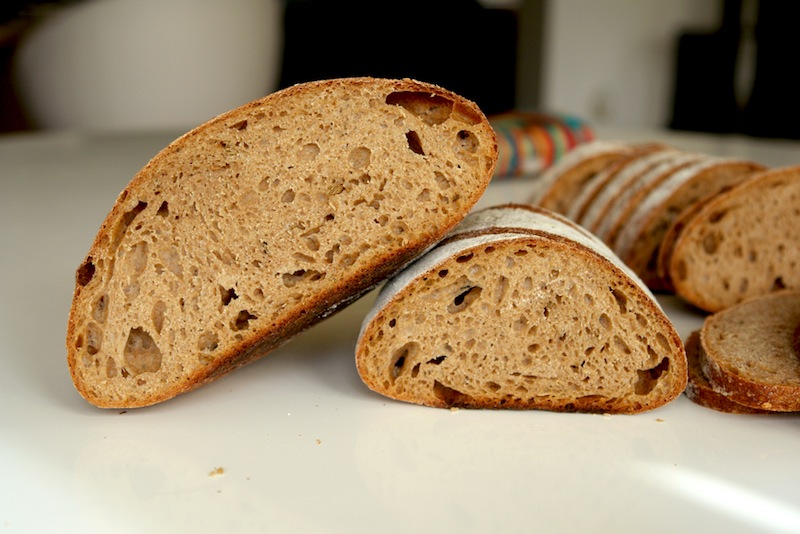 The bread I made before with AYW was 60% Einkorn Flour, 10% Rye Flour, 30% White Flour, 73% Hydration (2/3 yeast water, 1/3 water) and here are two pictures: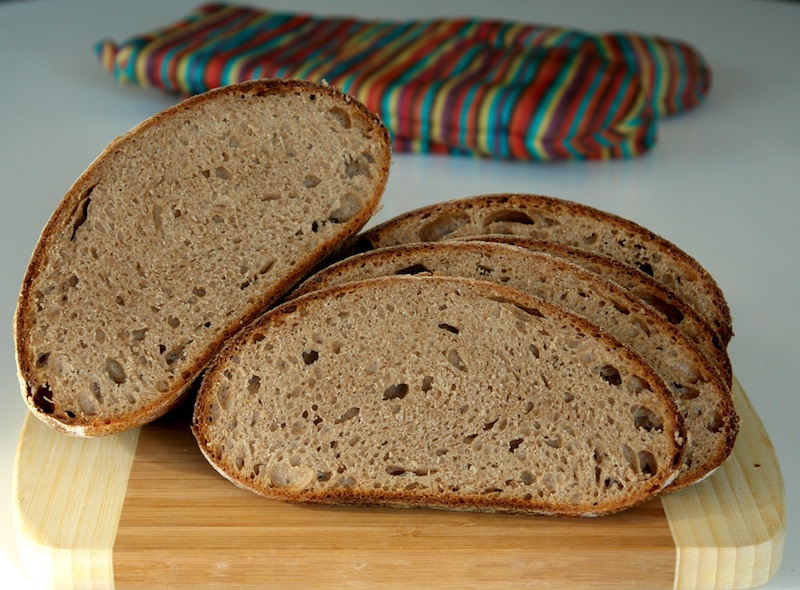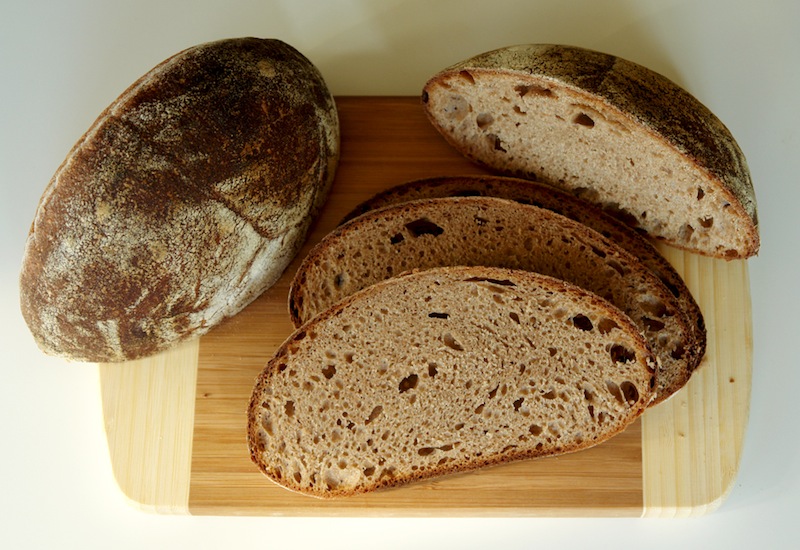 The first try with this flour was a sourdough bread. I didn't used seeds, but I used rolled germinated ryes. 60% Einkorn Flour, 10% Rye Flour, 30% White Flour, 10% rolled germinated rye, 80% Hydration, 16% prefermented flour. Photos attached below: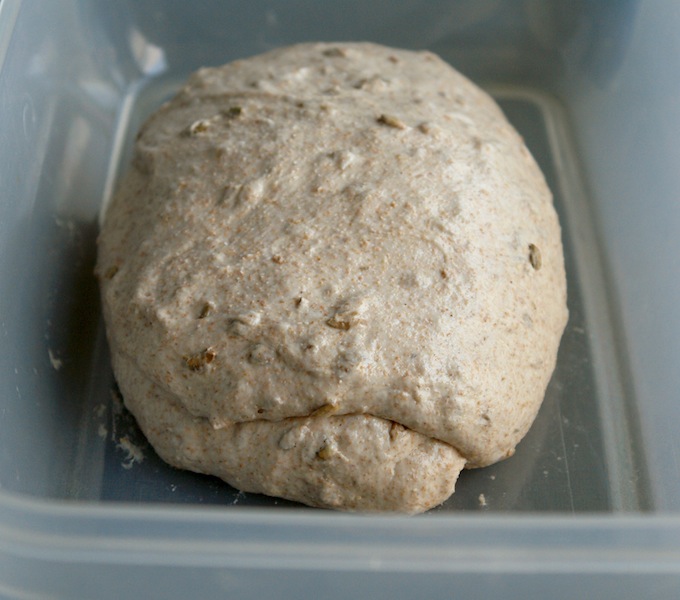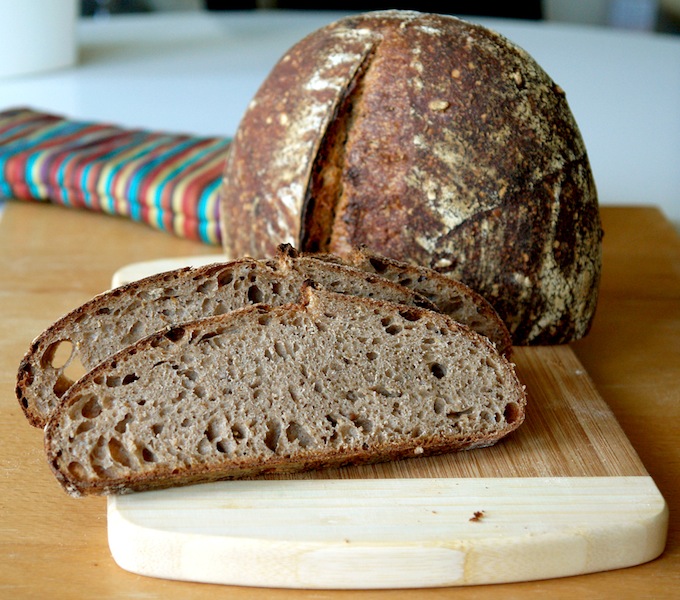 I never wrote a text so long in english. I hope my text is readable and comprehensible, and please correct me if some words are wrongly used.
If you'd like, you can check my romanian blog, Apa.Faina.Sare.
codruta