February 16, 2011 - 10:29am
Dinkel-Walnussbrot - Spelt Walnut Bread
This German 100% spelt bread is one of my most favorite loaves. When I bake it to sell to our natural food store, I always make one extra loaf for us.
This is made with a biga, but a sourdough would certainly be good, too. And, of course, you can also work just with the soaker and S & F.
I know many American find the idea of using bread spice quite outlandish, or even repulsive (thinking, perhaps, of the caraway overdoses in some Jewish ryes) - but PLEASE don't follow the old German adage "Was der Bauer nicht kennt, dass frisst er nicht" (= what the farmer doesn't know he won't eat") - at least TRY it with the anise and fennel. These spices are not predominant, but add a subtle very nice flavor to the bread.
DINKEL-WALNUSSBROT - SPELT WALNUT BREAD
SOAKER
47 g spelt chops                     (1.66 oz)
180 g spelt flour                     (6.35 oz)
4 g salt    (1/2 tsp.)                (0.14 oz)     
210 g buttermilk                     (7.41 oz)
 
BIGA
227 g spelt flour                      (8 oz)
1 g instant yeast  (1/4 tsp)       (0.04 oz)
170 g water                             (6 oz)
 
FINAL DOUGH
57 g spelt flour                         (2 oz)
12 g agave nectar or honey       (0.42 oz)
7 g salt                                    (0.25 oz)
3 g instant yeast                       (0.18 oz)
2 g anise seeds                         (0.07 oz)
2 g fennel seeds                        (0.07 oz)
70 g walnuts, toasted and coarsely chopped  (2.47 oz)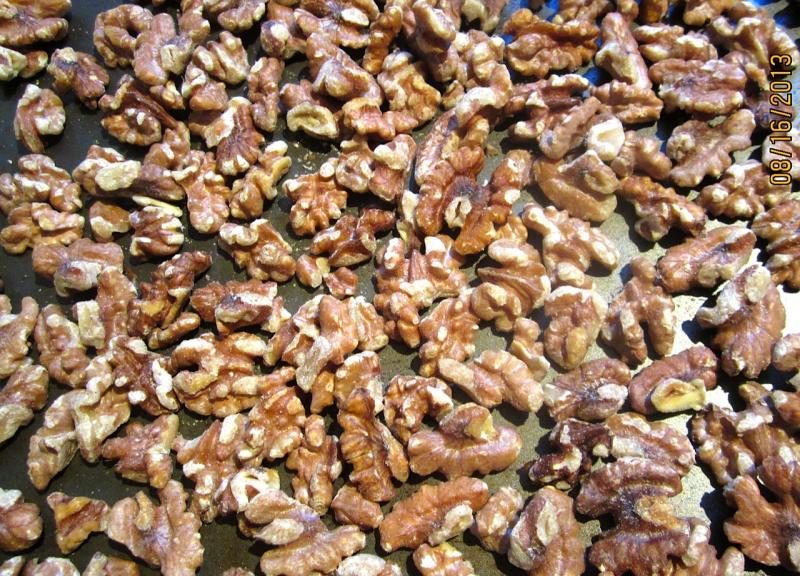 The walnuts taste better when slightly toasted
DAY 1
In the morning, prepare soaker and biga. Refrigerate biga.
In the evening, prepare final dough: mix all ingedients (except for the walnuts) at low speed for 1 - 2 min., until coarse ball forms. Then knead at medium-low speed for 4 min., feeding the nuts slowly to the dough. Let dough rest for 5 min., resume kneading for 1 more min. (or work just with a soaker and S & F). Transfer to lightly oiled container, and place in refrigerator overnight.
DAY 2
Remove dough from refrigerator 2 hrs. before using.
Preheat oven to 425 F/220 C. Prepare for hearth baking with stone and steam pan.
Shape batard, place in banneton, and let rise to 1 1/2 times its original size. Turn out onto peel or parchment lined baking sheet. Slash.
Bake bread at 350 for 20 minutes, steaming with 1 cup of boiling water. Rotate 180 degrees, remove steam pan and continue baking for another 30 minutes (internal temperature should be at least 195 F, and loaf should sound hollow when thumped on the bottom)
Let cool on wire rack.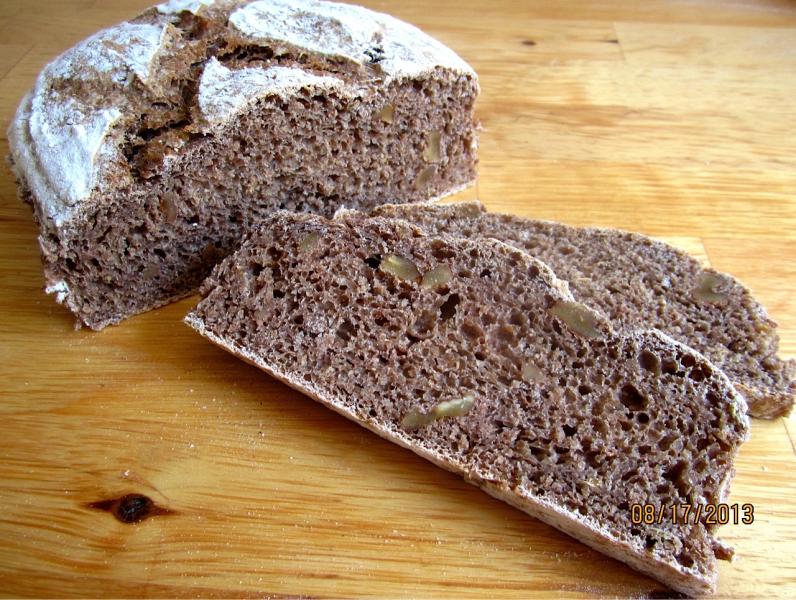 Walnuts dye the crumb to a dark, reddish brown
8/19/13 updated with new photos and some adjustments to the formula.