Sending this to Yeastspotting.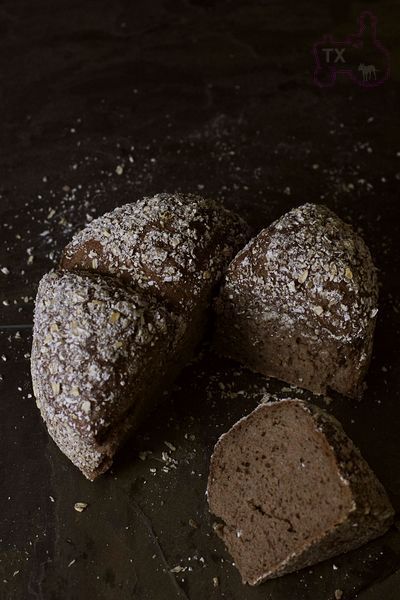 Another great loaf from the book "A Handmade Loaf". 73% whole wheat, 27% rye (all in starter), and lots of oatmeal on the crust, it's a flavorful whole grain loaf.
The following is my adaption of the formula: cut the amount by half, baked in a 6inch cake tin, and increased hydration a tad. My kneading method is also different from the original.
water, 140g
rye starter (100%), 150g
instant yeast, 2g, about 1/2 tsp
ww flour, 200g
salt, 4g
oatmeal, 37g, coarsely grounded
1. mix water, starter, ww flour, autolyse for 30min, add yeast and salt, knead until gluten starts to form (about 5min at medium speed for my KA).
2. bulk rise for 70min, S&F at 25min and 50min.
3. oil the spingform round tin (I used one with removable bottom), spread half of the oatmeal on surface.
4. preshape, relax, then round the dough and put into the tin, flatten and push to the edge. score deeply (all the way to the bottom). spread the rest of oatmeal on top.
5. proof until spring back slowly and partialy, about 75% larger in volume, 45min for me (75F room temp).
6. bake at 410F for 20min, then 375F for 20min. remove from tin, cool on rack.
The crusty oatmeal shell contrasts nicely to the soft and moist crumb.
Noticably sour, but not overboard, I love the flavor combo of ww and rye.